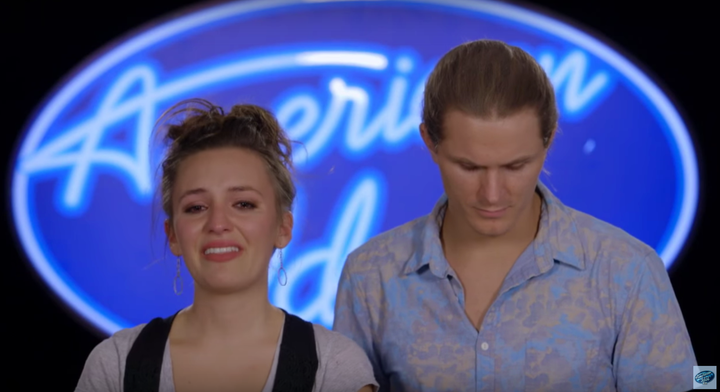 The final season of "American Idol" premiered on Wednesday night, and gave us one of the realest auditions we've seen to date.
The two hammed it up for the camera, playing up the whole "friendly competition" angle, while baby Westlund giggled along as her parents declared her the show's new mascot. 
"I'm the better singer. Sooo, don't tell him I said that, because he really thinks he is," Alex told the cameras before entering the audition. "We've never had an opportunity to really be competitive. So now we're like, 'Oh, it's on! You're going down.'"
Things were going great when they entered the audition room, where they were happily greeted by judges Jennifer Lopez, Harry Connick Jr. and Keith Urban. But things got real tense, real fast when Alex was rejected and Jordan made it through to Hollywood. 
Alex was unable to impress the judges with her rendition of Bruno Mars' "Count On Me," and as Connick Jr. noted, her husband and baby were "highly distracting." When it came time for Jordan to sing, however, he wowed the judges with a Celine Dion cover. (Of course he did.) 
J.Lo and Alex (standing on the side with her baby girl) both got a little teary-eyed while Jordan sang, and Urban couldn't help but notice the "light" emanating from the couple. 
When they left the room to greet their family, Jordan flashed his lone ticket. 
"I'm going, she's not," the young father told everyone. 
Of course, Alex passive-aggressively put the blame on Jordan, claiming the distraction was all his fault. (Was this all part of his plan?)
"Well, Jordan was dancing with her on the ground," she said.  
The tension heightened when she turned to her husband and added, "I've never been good enough, and I watch you follow your dreams. It's just heartbreaking."
Here's to hoping they don't let the "Idol" fame come between them. 
PHOTO GALLERY
13 Best 'American Idol' Performances Ever
REAL LIFE. REAL NEWS. REAL VOICES.
Help us tell more of the stories that matter from voices that too often remain unheard.