Saturday will mark the one day of the year when couples in many parts of the world pull out all the stops to make romantic gestures for their special someone. But one New Jersey man really has made every day Valentine's Day for his wife for nearly 40 years. "I began when we were dating and when it began it wasn't every single day," Bill Bresnan, 74, told The Huffington Post. "I'd give her a note or scribble on a napkin for her and send postcards. That evolved into everyday."
Bresnan says sometime in the early '80s he made a conscious decision to start giving his wife Kirsten, 74, a note every night just as they were getting into bed. "I didn't think I'd keep it up for this long!" he said. Perhaps that's why the couple, married since 1977, say they haven't had a single fight in all these years. "We've never gone to bed mad or without kissing. All issues and arguments ended at night. It's one of the keys to a happy marriage. She looks forward to getting the notes every single day."
He estimates his wife's collection of love letters from him is in excess of 10,000 notes, scribbles and cards, all of which have been kept carefully organized in hanging files, dating back to when they met in 1974. Besides just being a token of their love, Bresnan says they help keep alive the memories of everything he and his wife have experienced over the years.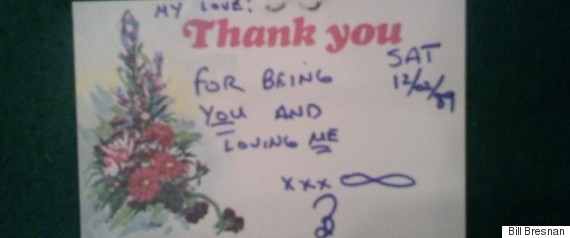 "In our files we can look back and see what we did on any exact date and see a card, note and scribble saying we were on a cruise or at a dinner, so it's a combination of a diary and love diary together. Every single one is an expression of love," he says.
And he has advice for the younger generation, too. "You'll see a young couple at restaurant, the people are just sticking heads into devices instead of looking into each other's eyes... If you concentrate on each other and don't be distracted by all the other minutiae outside, you will be fine. It worked for us!"
So this Valentine's Day, his wife can look forward to a card in the morning and of course, a well-timed love letter just before bed.
Calling all HuffPost superfans!
Sign up for membership to become a founding member and help shape HuffPost's next chapter
BEFORE YOU GO