Barbara Autrey was sure she'd struck photographic gold when one of her assistants got the idea to have Kim the kitten pose underneath Ninja the husky's legs.
It had been her hope to capture an utterly adorable image that would make even more people want to adopt from the shelter, and hopefully get Kim and Ninja new homes, too.
Kim had been chosen for the shoot on account of her cuteness, and because Autrey was "figuring a kitten would be safest in composure." She had initial reservations about pairing a kitten and a dog, but warmed to the idea of having them pose together once she saw Ninja's file, which said he'd been surrendered to the Fairfax shelter from a home with cats. As it turns out, she found Ninja to be "like a big stuffed animal!"
"They were a match made in heaven," says Autrey.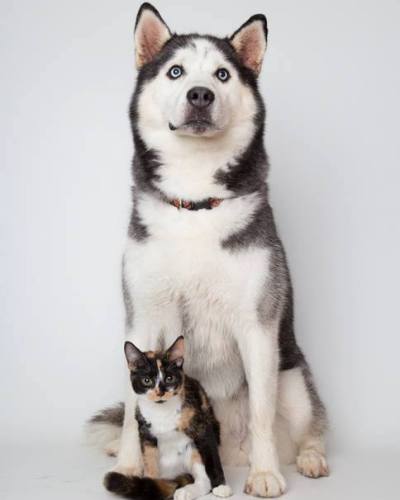 Yep, heavenly.
This past winter, Autrey was trained by Deb Cobb and Steve Sloop of the Shelter Art Foundation, a California-based nonprofit that offers workshops and other services to help shelters and rescue groups take excellent pictures of their animals.
"It was also Deb who had introduced me early on to mixing puppies and kittens together, and she was an inspiration to me for Ninja and Kim," says Autrey, who started volunteering with the Fairfax shelter two years ago, after her own dog's death. She considers photos like these to be an important step toward getting shelter animals into new homes.
"I like to think we are saving lives," says Autrey. "My goal is to see the adoption rate increase through the ceiling!"
Meantime, some folks have asked if, in Autrey's pursuit, she Photoshopped pictures of Ninja and Kim beyond their organic level of awwww.
Find out more about Ninja and Kim, and the Fairfax County Animal Shelter's other adoptable animals, on the FCAS Facebook page. While you're there, be sure to check out this bonded pair of elderly pups who are looking for a new home together:
UPDATE, September 23, 6:00 p.m.: Happily, Autrey tells HuffPost that both Ninja and Kim have been adopted (not together, alas, but to very good families all the same)! We are hoping to have photos of the pets in their new homes to share -- but for now, here is the adoption listing for Kim's mom Mable, who is still very much on the market for her own new family.
Get in touch at arin.greenwood@huffingtonpost.com if you have an animal story to share!
REAL LIFE. REAL NEWS. REAL VOICES.
Help us tell more of the stories that matter from voices that too often remain unheard.
BEFORE YOU GO
PHOTO GALLERY
Unlikely Animal Friendships