By James Pearson and Jack Kim
SEOUL, Oct 9 (Reuters) - The man in the olive drab uniform and oversized Soviet-style military cap who strode through South Korea's main airport last week has climbed from an obscure desk job in North Korea to the most powerful position outside the ruling Kim family.
Hwang Pyong So, now a top military aide to the North's leader Kim Jong Un, has had an unprecedented rise to the top rungs of North Korea's leadership in the space of a few years. With intense speculation on the whereabouts of Kim after his disappearance from official media for over a month, Hwang is even more in focus.
Last week, Hwang was at the head of a delegation that visited South Korea for the closing ceremony of the Asian Games in the city of Incheon with little advance notice.
He is the most senior official from the North to have ever come to the South, and opinion is divided on whether this could be a sign of turmoil in Pyongyang.
Hwang, who is 64 or 65, was in the Organization and Guidance Department (OGD), a powerful and secretive body that finalizes appointments within North Korea's leadership, and rose to be its second-in-command, according to North Korea experts and South Korea's Unification Ministry.
At the time, the OGD was headed by Kim Jong Il, the father of the current leader.
Hwang was associated with Kim Jong Un in the late 2000s when the young man was first named in state media reports announcing his party and military credentials.
When Kim Jong Un took power after his father's death in 2011, Hwang was among his coterie of advisers. As others fell by the wayside, Hwang became chief of the General Political Bureau of the army, a powerful position that mobilizes the military for the leader, earlier this year.
Last month, he also became vice chairman of the National Defense Commission, considered one of the most important posts in North Korea. Kim Jong Un is chairman.

Jang Jin-sung, a North Korean defector who previously worked at a propaganda unit in the North's ruling party, said it was unusual for an OGD veteran to rise to such a prominent position.
"These are the people who come to the forefront only when there is a purge or an execution," said Jang.
Pyongyang's military leadership has been in a state of perpetual reshuffle since Kim Jong Un took power.
Kim's uncle Jang Song Thaek, who was once seen as the No.2 in Pyongyang, was purged and executed late last year.
Jang's replacement, Choe Ryong Hae, has been demoted several times since then. Now head of the state sports commission, a role Jang also held before being executed, Choe accompanied Hwang on the visit to South Korea.
A source with ties to the leadership in Pyongyang and Beijing said Choe fell from grace for not preparing troops in his role as political head of the North Korean army.
North Korean state media in April said Kim noted "serious defects" with an artillery unit within the army that he said failed to carry out "party political work" - a task within Choe's remit.
Kim Jong Un further lost confidence in Choe when he learned the 65-year-old had stashed millions of dollars in a secret Chinese bank account, the respected Seoul-based Daily NK website reported in July.

Despite little military experience, Hwang wears a rank equivalent to a four-star general - not unusual in a top-heavy military leadership where party cadres often rotate in and out of uniform.
"Hwang was promoted because Kim Jong Un was impressed with his division, the most combat-ready of the ones Kim inspected," the source with ties to the leadership said.
Known as a close confidant of the young dictator, Hwang had few official dealings with people outside the reclusive North before leading the delegation to South Korea on Saturday.
He arrived on a VIP plane bearing the emblem of the North Korean state, flanked by suited bodyguards wearing sunglasses and earpieces.
During his 12-hour trip, Hwang smiled often, watched fireworks and Korean pop music at the closing ceremony, and at times spoke in a way that made it impossible to ascertain what he was saying, official transcripts show.
Michael Madden, an expert on the North Korean leadership, said people who have met Hwang described him as lacking arrogance, favoring consensus and "very pleasant to interact with."
He cuts a more formidable figure at home.
At a military rally in Pyongyang in July, Hwang told troops to prepare for nuclear armageddon against America.
"If the U.S. undermines our sovereignty and right to exist with its nuclear weapons and aircraft carriers, our army will launch a nuclear-armed rocket at the White House and major U.S. bases in and around the Pacific," Hwang said.
Hwang first emerged in state media reports 10 years ago as greeting leader Kim Jong Il with "stormy cheers" at a concert.
South Korea's Ministry of Unification has published little on Hwang beyond his job, rank and year of birth - 1949, the same generation as many of the cadres around Kim Jong Un. Kim's father, by comparison, was often accompanied by octogenarians.
Experts are divided as to how much control the OGD, and Hwang, have over Kim Jong Un, but there is general agreement that there has long been mutual dependency between party cadres and the Kim family.
"Hwang is the guy who made the leap from the shadows to sunshine," said Jang, the defector. (Additional reporting by Benjamin Kang Lim in BEIJING; Editing by Tony Munroe, Raju Gopalakrishnan and Mike Collett-White)

Related
Before You Go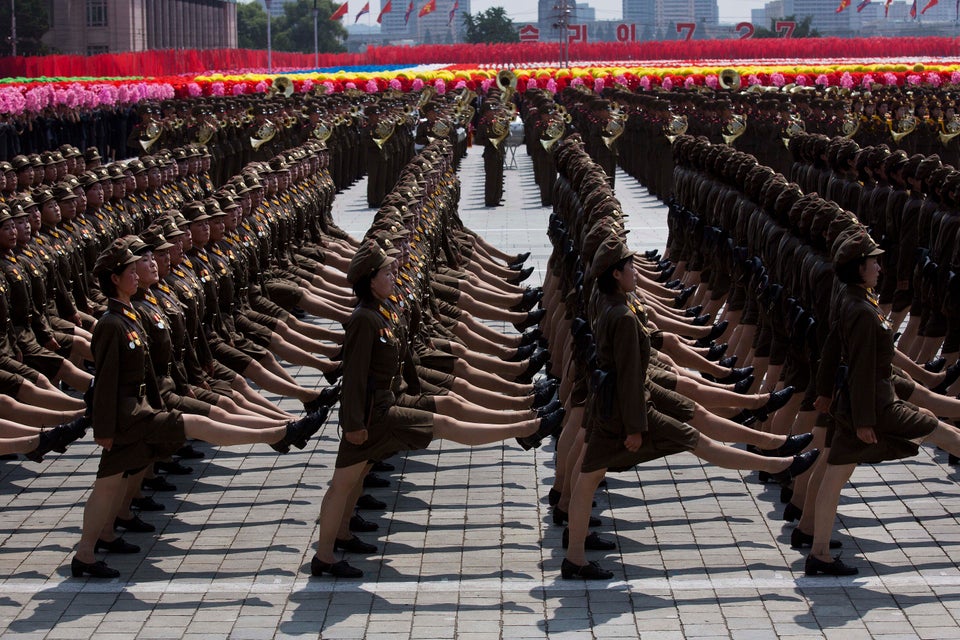 Pyongyang Celebrates 60th Anniversary Of Armistice
Popular in the Community