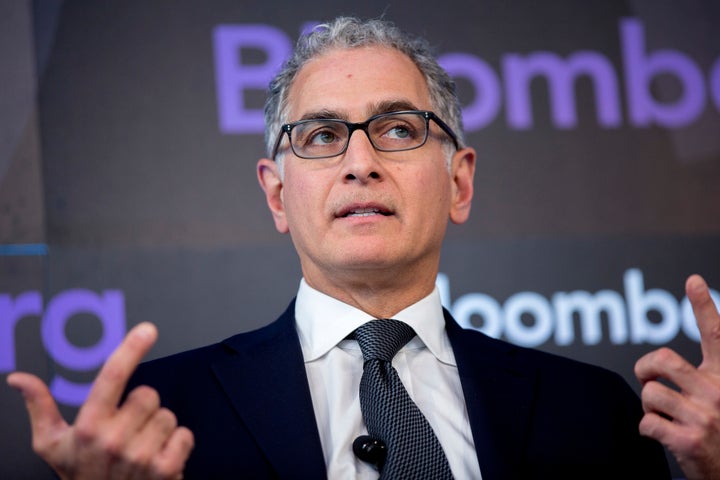 Weeks after a Hyatt hotel in Virginia hosted the annual conference of an anti-Muslim organization, the CEO of Hyatt Hotels Corporation has announced that the hotel chain will no longer rent space to hate groups.
"If a group is primarily focused on disparaging a group by virtue of their identity... that's really where we need to draw the line," Mark Hoplamazian told an audience at a travel industry conference in New York on Sept. 27. "We're going to apply our values to making these decisions along the way."
On Sept. 28, the Los Angeles Times reported that Hyatt, which operates nearly 800 hotels across the country, sent a memo to employees spelling out the new policy.
Hyatt declined to provide a copy of the memo to HuffPost.
"On the heels of some guest and colleague feedback we received about groups, we decided it was the right time to take a fresh look at our practices around hate groups," a Hyatt spokesperson said in a statement. "This is a complex and emotional issue, but what we've concluded is that we need to commit to a higher level of vetting such that groups using hate speech, primarily seeking to disparage or demean a particular group, are not welcome in our hotels."
On Sept. 4 and 5, the Hyatt Regency in Crystal City, Virginia, hosted the annual conference of the anti-Muslim hate group Act for America.
HuffPost was the first to report on the Hyatt Regency's decision to host Act for America, which the Southern Poverty Law Center has designated a hate group. A spokesperson for that hotel told HuffPost at the time that it would "not unlawfully discriminate against groups who wish to hold lawful meetings at the hotel."
Muslim Advocates launched a petition calling on Hyatt Hotels Corp. to cancel on Act for America. The hotel company declined to do so, and the conference went ahead as scheduled.
Act for America claims a (likely exaggerated) membership of 750,000 people. Although it bills itself as the "NRA of national security," it mainly focuses on vilifying Muslims, spreading baseless conspiracy theories and lobbying legislators to pass discriminatory laws.
Last year, the group held anti-Muslim protests across the country that attracted neo-Nazis, white supremacists and armed anti-government militia members.
Brigitte Gabriel, Act for America's founder, has repeatedly made bigoted comments about Muslims. She has stated, incorrectly, that "practicing Muslims, who believe in the teachings of the Quran, cannot be loyal citizens of the United States of America." She has said that Muslims are a "natural threat to civilized people of the world, particularly Western society."
In 2007, she told a crowd that "the difference, my friends, between Israel and the Arab world is the difference between civilization and barbarism. It's the difference between goodness and evil. And this is what we're witnessing in the Arabic world. They have no soul! They are dead set on killing and destruction."
At this year's Act for America conference, Gabriel bragged that she worked "very closely with the office of the President" on issues related to national security.
"I actually want you to know we have a standing meeting at the White House once a week," she told the audience. "We have a president that likes us, President Trump." (It's not clear whether Gabriel's claim of a standing meeting is true.)
Although the hotel chain ultimately didn't heed that request, Muslim Advocates was encouraged by Hoplamazian's decision to no longer host hate groups.
"Hyatt's announcement is a welcome one for consumers who want their hotels to be safe spaces to relax and be themselves free from hostility and discrimination," Muslim Advocates' public advocacy director Scott Simpson said in a statement.
"We organized, we signed petitions, and we called their offices to tell them that there should be no room for hate at Hyatt," he said. "Now it's up to the other major chains to decide if they want to be resorts for racists."
America does not do a good job of tracking incidents of hate and bias. We need your help to create a database of such incidents across the country, so we all know what's going on. Tell us your story.
Popular in the Community