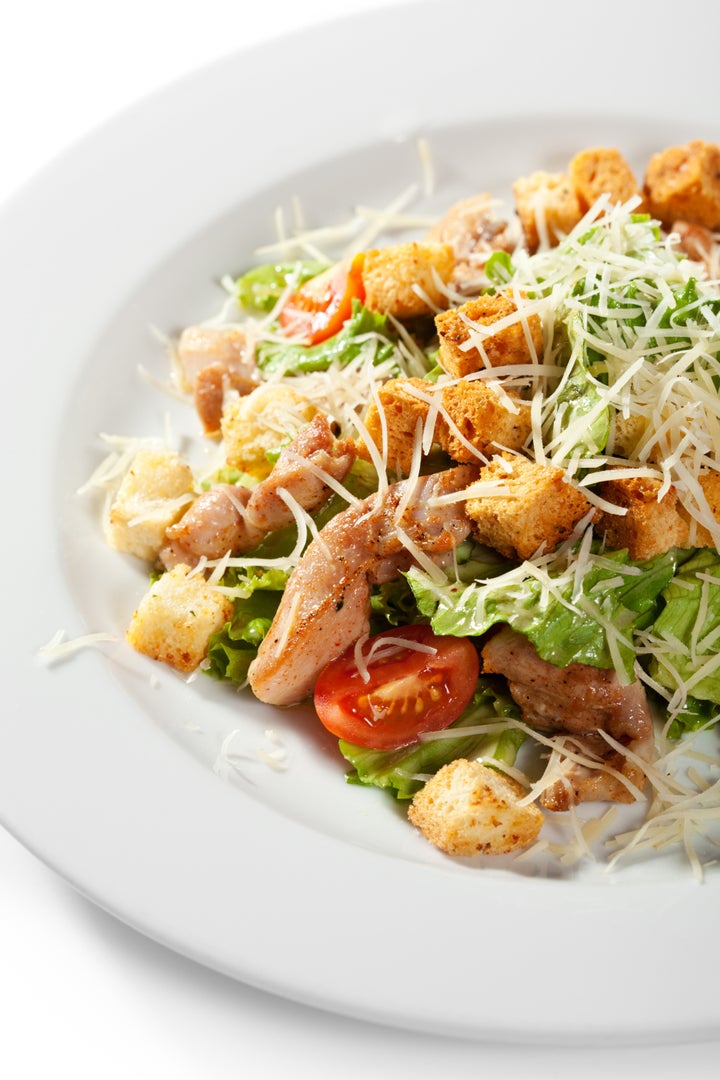 On my recent trip to Arizona, I ate at Denny's. Twice. It's not that I'm a fan of Denny's but traveling in Arizona without a car, I was restricted to eating in restaurants within walking distance of my hotels. Denny's wasn't the only choice but it was the healthiest choice. Don't choke on your escarole. I'm not kidding.
In spite of a menu that includes a 770 calorie omelet, a cheeseburger with 1810 mg of salt and a key lime pie with 87 grams of carbohydrates and a predominance of offerings that are just over-the-top fattening, there are a few selections for the health-conscious. Which is how I wound up eating a fresh, filling and healthy chicken spinach salad (hold the bacon) once for dinner and the next day for lunch.
I remembered this travel dining dilemma while attending a lunch at New York City's Grand Hyatt Hotel recently. I'd been invited to a presentation about the hotel's new "food philosophy" and its agreement with the Partnership for a Healthier America to serve meals that will be better for guests, for the community and for the planet.
"It shouldn't be hard to eat healthy on the road," Dr. James Gavin, the chairman of the partnership said. And he's right. But as a frequent traveler I can testify it is. Which is why when a hotel chain puts it all out there, with a legal contract-sized list of commitments for how it is going to redefine its menu, it is time to raise a glass and say "cheers!"
Here are some of the ways that the menu at Hyatt will change. Let's start with the kids menu. I have been known on special occasions to take my kids to eat at the beautiful atrium restaurant at the Hyatt Regency in Old Greenwich, Connecticut, where I have also been seen stealing French fries off their "kids menu" plates.
But Hyatt's new kids menus will feature fruit or vegetables on the side. Beverages? Milk and water will be featured prominently with free refills. (Okay, the free refills on water is no big deal.) The featured children's meal will be a maximum 600 calories, low sodium and low sugar. I'm thinkin' it's 86 on the French fries for the featured meal.
The menu for the rest of us will feature more healthy options with the hotel chain promising to reduce the overall calories by 10 percent by 2016. Healthy choices will be economical too. Two will be either equivalent to or lower priced than other menu items.
Look, I'm no sourpuss, I like to eat as much as the next gal. And traveling offers so many opportunities to experience local flavors; halva in Jordan, custard pastries in Lisbon, wasabi KitKats in Japan. Eating local is part of the travel experience.
In her presentation, Hyatt's vice president for food and beverage, Susan Santiago, said Hyatt chefs will be doing more on that score, too. Locally grown food will play a larger role with at least five indigenous items. That may be easy in Orlando but likely more challenging in Minneapolis.
Still, when hotels start paying more attention to the health of the traveler and the impact on the local economy of feeding all those out-of-towners, that's an opportunity to spread the benefits around and its a big, fat, sweet and juicy piece of news. Denny's, you listening?