It's been six years since Hurricane Katrina battered the Hyatt Regency New Orleans, but it's hard to forget the images: blown-out windows, glass shattered, torn curtains, a shredded American flag blowing in the wind from what was the hotel's front entrance. The shattered building served as a place of refuge for recovery crews, city officials and medical personnel in the days after Katrina, but eventually had to shut its doors due to extreme damage. Since Katrina, blueprints, backdrops and bank accounts have traipsed through the iconic hotel. Now, $275 million and six years later, a new glammed-up Hyatt Regency New Orleans will reopen to the city of New Orleans and its guests.
The 32-story hotel opens its doors on Wed, Oct. 19, with nearly 1,200 new guest rooms, 200,000 square feet of meeting space, and a 7,600-square-foot freestanding restaurant run by James Beard award-winning New Orleans chef, John Besh. The hotel, still anchored to the famous Louisana Superdome, has transformed itself from the traditional bricks-and-mortar box building to a trendy, more contemporary design. The new look is meant to appeal not only to the convention and exhibit business it's built for, but to the leisure travelers who want to experience one of New Orleans' favorite comeback stories, just blocks from the French Quarter. (*SEE PHOTOS BELOW*)
The Hyatt New Orleans, however, is more than just a renovation. "It's a transformation," said Michael Smith, general manager of the hotel. The hotel first opened in 1976 and welcomed guests for nearly 30 years, until it was forced to shut down in 2005 after Katrina. Today, as the hotel prepares to open its brand new doors, Smith said there's a lot of excitement buzzing around the building.
"The energy and vibe in the building is unbelievable," said Smith. "We have approximately 1,000 people in the building prepping for opening and final touches. putting up artwork, lighting, prepping for lunches, dinners and banquets. The activity in the building is electric - people are cheering, clapping and going through the process of long days with excitement."
And for good reason. This isn't the same old Hyatt Regency you once visited before a New Orleans Saints game or for your company's national business conference.
The Hyatt New Orleans, armed with $275 million, heeded an opportunity to come back bigger and better than before. They've started by moving the entrance to the other side of the building, on Loyola Street, rather than using the driveway from Poydras Street that took guests underground into the hotel. Inside the new Hyatt New Orleans you'll now find a Starbucks and 24-hour fresh market and convenience store, perfect for stocking the refrigerator that comes with every guestroom. You'll also find a 20,000-square-foot outdoor pool and deck, 200,000 square feet of meeting and event space, concierge and business services, and the addition of award-winning chefs Besh and Brian Landry, who will cook up coastal Louisiana seafood at the hotel's restaurant Borgne, one of four dining venues you'll find here.
"This is a great moment for New Orleans, in many ways. As we all are moving forward [from Katrina], the re-opening of Hyatt is helping the Loyola Corridor, adding rooms, revenue the city needs, in addition to the numerous employment opportunities and job growth this city is ready for," said Will Poole, chef and co-owner of Maison de Macarty, a New Orleans bed and breakfast. "The food and beverage outlets, with named Chef backing, only adds value to the world-class dining scene that we are notably recognized for."
But Smith said there's more to this hotel than what's inside. The hotel is part of an $8 billion economic development in the city of New Orleans that also includes a new trolly system, new medical district, new Superdome embellishments, and new housing and retail, many of which is located across the street from the Hyatt. The Hyatt Regency itself was responsible for adding 800 jobs in the hotel, 600 construction jobs over the last year, and $25 million worth of tax revenue for city and state, according to Smith.
"The city has been very generous to us and extremely helpful in getting Hyatt back to New Orleans," said Smith. "This has been an odyssey. I've been with Hyatt for 33 years and this project for four and a half years. This has been a labor of love to come back and do the right thing for the city of New Orleans and for Hyatt."
Smith said the hotel will continue to contribute to the rebuilding and redevelopment efforts in New Orleans, including working with the Make It Right Foundation (chaired by Brad Pitt) to bring 150 new, environmentally-friendly homes to New Orleans' Lower 9th Ward, which was hit hardest by Hurricane Katrina.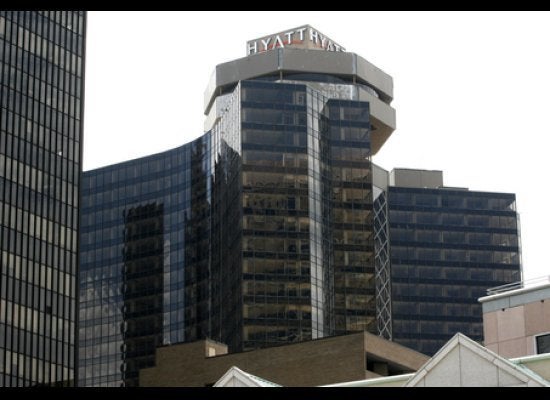 Hyatt Regency New Orleans