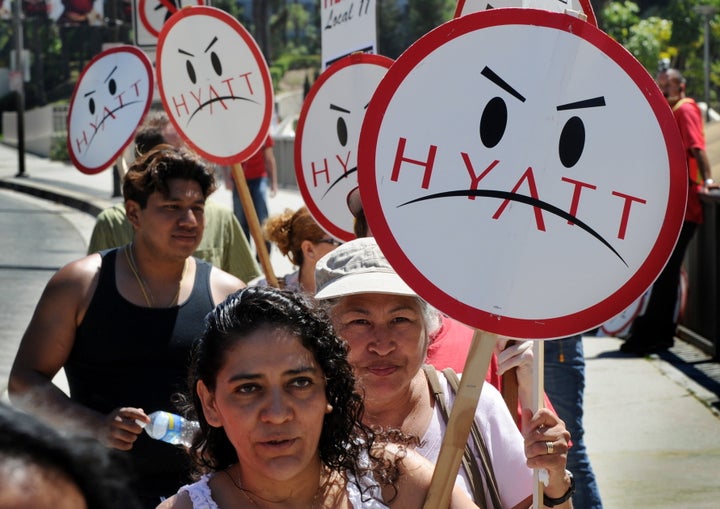 Hyatt hotel workers in Chicago on Thursday morning joined their fellow unionized workers in three other cities with the launch of a weeklong strike outside the Hyatt Regency Chicago and Hyatt Regency McCormick Place.
"Hyatt is one of the most abusive hotels in their treatment of housekeepers and has the worst record on subcontracting," Henry Tamarin, president of Unite Here Local 1, the union representing the workers, told the Sun-Times.
"The only reason the union has taken to the streets instead of staying at the bargaining table and securing raises for our hardworking associates here is that they are focused on organizing non-union hotels in other markets," the spokeswoman said. "This apparently is just union politics at its worst."
Nevertheless, a Local 1 spokeswoman told the Tribune that work rule changes are what their union is seeking -- not a change in wage or benefit packages, both of which she acknowledged are on par with other employers in the industry.
The hotel, in response to the incident, apologized for the heat lamps being turned on and "determined that the decision to turn on the heaters was made by a manager." The hotel maintains that they have "a long history of respecting our associates' rights and caring about their well-being and this unacceptable behavior is certainly is not illustrative of that history."
Workers in Los Angeles, San Francisco and Honolulu are also participating in the week-long strike outside Hyatt hotels.
Popular in the Community