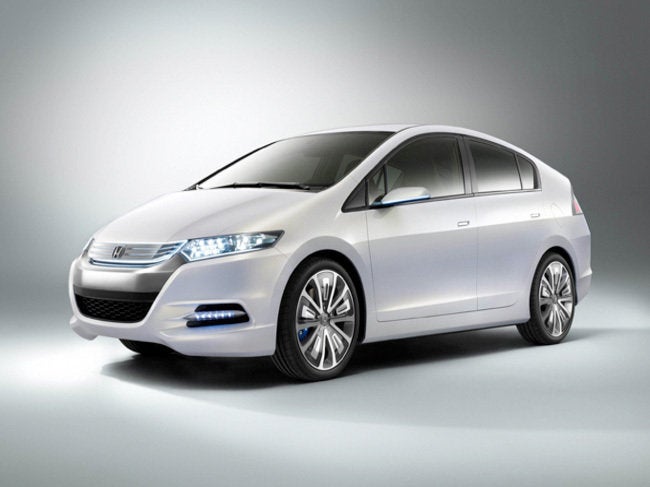 Honda hopes to aggressively compete with the Toyota Prius by unveiling its own affordable hybrid car that will hit markets in the relatively new future, according to Autopia:
Honda's finally pulled the sheet off the world's cheapest hybrid, a $19,000 five-seater that resurrects the Insight name and looks a lot like the car it's meant to unseat as the must-have ride of the eco-conscious set.

The company won't formally introduce the Insight until the Paris Motor Show next month, but the photo it released today shows a car bearing more than a passing resemblance to the Toyota Prius. Yeah, that front end was clearly inspired by Honda's eco-flagship, the FCX Clarity fuel cell vehicle, but there's no mistaking the general shape of the car.
That price tag is pretty impressive, especially since I've been staring at Chevy Volt material for weeks -- you know, the plug-in hybrid electric vehicle that will probably cost more than $40,000.
Not only does the company think it can make an electric engine small enough to fit in the narrow confines of a motorcycle frame, but it plans to offer full electric bikes as early as 2011.

The Times didn't offer a lot of detail but says Honda will offer the hybrids in displacements ranging from 50 cc to 1,000 cc, and the gas-electric drivetrain will offer a 50 percent improvement in fuel economy. Sharing components with Honda's hybrid cars will cut down on production costs.
Related
Popular in the Community