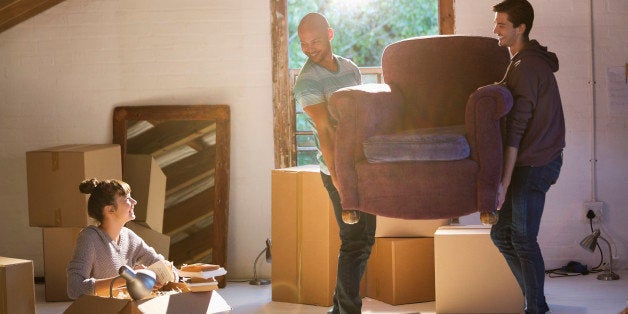 People move for work and love, school and adventures, neighbors and community. To move is to change is to live.
The only problem is that moving is a pain in the you-know-what, and you swore you'd never do it again. Besides, your brother and best friend still aren't talking to you after being forced to lift that giant couch down two flights of harrowing stairs.
Don't be too hard on yourself. Before today, you only knew about two moving options: be a DIY-er and cajole your naïve, muscular friends to load up a rental truck. Or, drain your life savings (it's nearly $7,000 to move from New Jersey to Florida) and hire a full-service moving company that does everything, including the packing.
Enter the "hybrid move," which is a combination of a DIY and full-service move at a fraction of the back-breaking and wallet-breaking costs of each, respectively.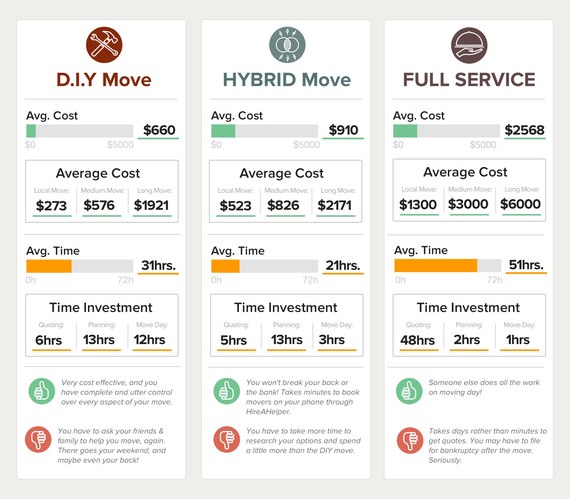 1. Choose A Mode of Transportation
You may choose to go the way of the traditional DIY move and rent a truck that you would drive and put gas in. This is usually the cheapest option. But, if you don't want to drive, there are other options.
For instance, a portable storage container might be your preference. The container gets dropped off in your driveway or on the street, then a professional driver picks up the container once it's loaded and brings it to your final destination to be unloaded.
Finally, you may consider renting space in a freight truck. Driven by a professional, your stuff gets shipped, along with other people's stuff (don't worry there are partitions, so your things will not get lost or mixed up with other people's things).
2. Don't Hire Movers, Hire Moving Labor
These are the people who can help you with the heavy lifting. Usually, they get paid by the hour, and you can have them do anything from pack to howl at the moon. But most moving experts will tell you that you get the most bang for your buck by having them load and unload the truck for you.
Look for moving laborers in your current town AND the one to which you are moving. Check verified reviews left by real customers through sites like HireAHelper.com or the BBB. Then check out each moving labor company for yourself. The ones worth hiring usually hold a local or state business license, carry insurance, and have been in business a while. Of course, you should also look at price and see what fits your budget.
While you could have the moving laborers pack for you, it's not the wisest way to spend your money. Your best bet is to have all your boxes packed and furniture ready to be loaded onto your chosen transportation method (see #1) as soon as the moving labor crew arrives. This means you should be well prepared ahead of moving day.
And, make sure you ask questions about any special items you need to move, such as a grand piano (which usually requires a separate service) or Grandma's antique vase (which might just require extra packaging and care). The movers can give you the full scoop, so take advantage of their moving expertise.
4. Invite Friends And Family All The Same
Even when hiring move help, invite friends and family over. Having other hands on board can make the packing and loading go faster, which will save you money. Just be sure your Uncle John isn't getting in the way of the professionals.
To avoid this, you should assign a job to everyone from the start. You might protect even more of your sanity by only having your loved ones there to help you pack instead of being there for the big haul. However you have them pitch in, be sure to say, "Thank you," which actually means give them beer and pizza.
Hybrid moving -- with a little help (hired and bribed) and a DIY truck or container option, you'll save a lot of cash (literally thousands of dollars) and the heaviest thing you'll lift is your phone. Plus, you'll keep all your friends after your move, because they didn't have to lift a thing either.
Related