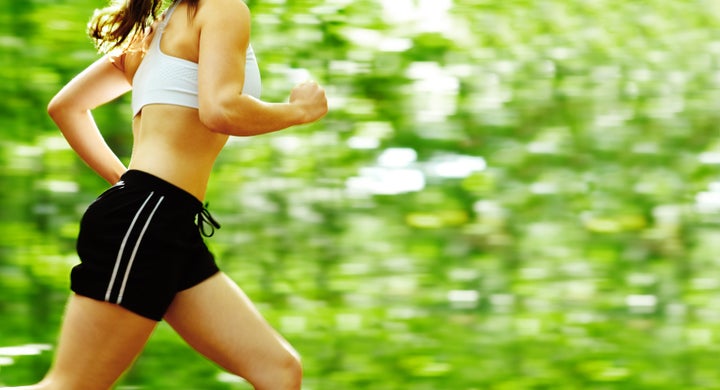 The heat waves streaking across the country bring up questions in people's minds about whether they should change their eating and drinking habits in such conditions.
Do our calorie needs change, or does our metabolism increase during the hot summer temps? Well, maybe yes, but probably no. Our bodies are well-tuned to keep things at status quo. If anything, our metabolism may go up when we're cold, as our bodies need to work harder to maintain our temperature (by shivering). In the heat, our bodies actually slow down a bit to try to conserve energy so as not to overheat. But none of this really makes any significant change in our BMR or how many calories our body needs.
What is important to note is that in hot weather your body is prone to dehydration, and this actually can have an effect on your metabolism. In the course of an average day, sweating, breathing, and waste elimination together leach more than 10 cups of water out of your body -- and that's without exercise. If you don't replace what you've lost, you may become dehydrated; your system literally begins to dry out.
Some people say that their appetite decreases when it's hot outside. If that's the case, you should still try to eat small, frequent healthy meals throughout the day. Many people find cool gazpacho refreshing in hotter weather. Try my easy recipe for Icy Gazpacho With Fresh Lime.
The takeaway here: When it's hot outside, drink plenty of water, and don't skip your workout!
When it's super hot outside, try not to exercise during the hottest part of the day, especially if you're exercising outdoors. Early morning and evenings are your best bet. To make sure your body doesn't overheat, monitor your heart rate. Some people invest in a simple heart rate monitor. It's also important to don the appropriate workout attire. Don't wear sweats or heavy clothes while working out when it's hot. Sweating more doesn't help you burn more calories; it just may dehydrate you more. And most important, as I mentioned, stay hydrated!
We're mostly made of water -- on average, it comprises around 60 percent of the human body. Specific components of our bodies are even more watery: muscle tissue is 75 percent water, while blood is 70 percent water. Water aids in the absorption of nutrients from the food we eat, and it helps eliminate waste from the body.
Dehydration lowers your body's energy levels. Because blood is mostly water, when you're dehydrated the volume of your blood diminishes, lowering amounts of oxygen and nutrients that reach your tissues. Recent studies show there's a trickle-down effect on metabolism: Dehydration can slow your system to such an extent that you burn fewer calories than you would otherwise during the course of the day. And dehydration can cause other undesirable symptoms, including headache, dizziness, muscle weakness, and a dry, sticky mouth.
If those negative side effects aren't enough to send you to the faucet to fill a glass, consider that drinking ample water can help maintain a healthy weight. The volume of a glass of water in your belly can make you feel full, and water dilutes sodium levels in your body, combating fluid retention. And if you try drinking a glass of water whenever you feel the urge to snack, you may discover the cause was thirst, not hunger -- thereby staving off nibbling.
To stay well-hydrated, follow these guidelines:
Aim for eight to 12 glasses a day. Keep a large glass on your desk to track your daily intake. When I'm working at home, I fill a half-gallon pitcher of water each morning to drink throughout my workday. Some days I drink more!
Hydrate more when working out. Consume six to eight ounces of water every 20 minutes when exercising, and then have two eight-ounce glasses afterwards to restore fluids. If you plan to exercise for more than an hour, plan for it in advance -- up water intake before you work out, hydrate well during exercise, and then chug plenty of fluids after the event.
Avoid drinking your calories. Sodas and fruit juices may quench your thirst, but they're loaded with sugar. Similarly, sports drinks can pack a calorie punch. Unless you exercise for more than an hour, you can replenish your fluids and nutrients using water and healthy post-workout snacks instead.
Watch out for drinks that dehydrate. Sound like an oxymoron? Caffeinated soda, tea, coffee and alcohol all have a diuretic effect, causing fluid loss. If you drink coffee or a cocktail, follow up with an extra water chaser to stay in balance.
If you have a tough time downing enough water, try these strategies:
If you dislike the lack of flavor, add herbs like mint or basil, or slices of citrus fruits or cucumber to a pitcher of water. Your next glass will be infused with refreshing taste.
Try tea -- hot or iced. It's calorie-free and flavorful. Green tea is another option; its caffeine is surrounded by tannic acid compounds that slow its release into the bloodstream, minimizing its dehydrating effects. Green tea is also a good source of the antioxidant EGCG, which has a mild metabolism-boosting effect. Four cups of green tea per day can kick up your metabolism by 80 calories. Its rich antioxidant reserves are also thought to help combat diseases from Alzheimer's to cancer.
If you routinely turn to other beverages once the day is underway, drink a couple of glasses of water right away when you wake up. You'll make up for fluids lost overnight and be well on your way to a hydrated day.
The recipe below is for a refreshing drink that's perfect for spring. Make a jug to keep in your fridge, and you're guaranteed to quaff healthily all day long!
Packed with antioxidants, this tea is bursting with flavor, too. Fresh lime juice gives it a tangy zing and a wallop of vitamin C. Makes six servings or 1.5 quarts.
6 cups water
1 cup firmly-packed fresh mint leaves
3 green tea bags
1.3 cups agave nectar
1.3 cups fresh lime juice
6 lime slices, for garnish
Bring the water to boil in a three-quart saucepan. Add the mint and tea bags, remove from the heat, and let steep for five minutes. Strain. Stir in the agave and lime juice. Serve hot or iced, garnished with the lime slices.
Mint Factoid: The mint family includes basil, marjoram, oregano, thyme, and rosemary, among others. All are excellent sources of antioxidants. Their leaves have glands containing essential oils, which provide their distinctive flavors.
Nutrient Analysis Per Serving: 43 calories, 0 g protein, 12 g carbohydrates, 0 g total fat, 0 g saturated fat, 0 g monounsaturated fat, 30 mg omega-3s, 2 g fiber, 1 g sugar, 13 mg sodium
So how will you take advantage of the summer heat and make it work for you?
In these hot months while the show is on vacation I'll still be here each week, offering you tips, guidance, recipes, and more. And for the days in between, you can always find more nutrition and cooking tips at my website or on my Twitter and Facebook pages.
For more by Cheryl Forberg, RD, click here.
For more on personal health, click here.