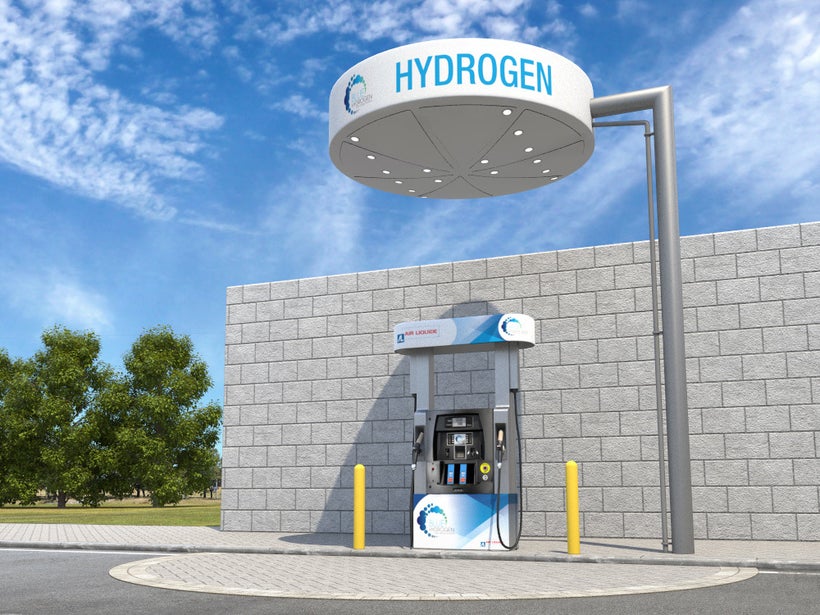 Air Liquide plans to install New York City's first publicly available hydrogen refueling stations for fuel cell vehicles after signing leases for pump spaces at 668 3rd Ave., in an industrial stretch of Brooklyn's Greenwood Heights neighborhood; and at 2274 Tillotson Ave., in the Eastchester section of the Bronx.
FDNY technology and engineering personnel held discussions last week with the Paris-based industrial gas giant regarding plans for the properties.
Fuel cell electric vehicles (FCEVs) are one of the world's two main types of zero emission vehicles (ZEVs) - automobiles which release no pollutants when they're driven; battery electric vehicles (BEVs) are the other.
FCEVs, however, have longer ranges (over 300 miles) in lighter packages than BEVs. And although they require hydrogen to run, FCEVs can be fully refueled faster - in about five minutes - versus the hours to days it takes to completely recharge BEV batteries.
The Brooklyn hydrogen pump will join a set of traditional gas dispensers at a Sunoco station and Dunkin' Donuts franchise on the southwest corner of 3rd Avenue and 20th Street, aside the Gowanus Expressway section of I-278.
The Bronx pump is slated to take over an auto repair yard on the southwest corner of Tillotson and Merritt avenues, directly off I-95 at exit 13, near the Hutchinson River Parkway.
While initial plans have been filed, Air Liquide needs further approvals from the FDNY and the Department of Buildings before it can start building the stations. Although a timeline filed in July with the U.S. Department of Energy says the company estimated that the Bronx pump could be commissioned by January, and the Brooklyn dispenser launched in April, it's unclear whether those are still considered plausible deadlines, because there's uncertainty over how long permitting will take.
A source with knowledge of local discussions on the projects says there is some concern that the plans could take up to two years to wend their way through local bureaucracies, unless City Hall "fast-tracks" the initiatives. That's something Mayor Bill de Blasio's Office of Sustainability could do in an effort to meet the city's stated goals of cutting greenhouse gas emissions under its commitments to address climate change.
While neither Mayor de Blasio's advisers, Air Liquide nor local permitting officials would discuss specific hydrogen stations, a City Hall spokesperson did tell us that New York's "80 x 50" goals, aimed at cutting the city's emissions 80 percent by 2050, "require a deeply decarbonized transportation network."
So "the city is actively working with public and private parties to reduce emissions from transportation... by... pioneering low-emissions fuels and electric vehicles for [the] municipal fleet."
This "NYC Clean Fleet" program is "on track to cut municipal vehicle emissions in half by 2025 – and 80 percent by 2035," targets the city deems "the most comprehensive and ambitious blueprint for municipal fleet sustainability in the nation."
Toyota, Codes & Standards and DOE Assistance
Robert Wimmer, director of energy and environmental research in North America for Toyota, which is partnered with Air Liquide in building a network of hydrogen stations from New York to Boston, told the DOE in July that he was part of a task force working directly with Mayor de Blasio to make the planned hydrogen fueling stations a priority for commissioning, as part of the group's core mission, which includes hammering out codes and standards issues.
According to the city's "80 x 50" roadmap, New York is currently assessing a pilot for a hydrogen station that would fuel municipal fleets. Another local pilot approved by the DOE in August aims to outfit 20 Nissan e-NV200 utility vans with US Hybrid fuel-cell range extenders for National Grid. That fleet, based at National Grid's East Williamsburg lot in Brooklyn, is expected to use "existing hydrogen fueling stations."
Yet concerns over potentially prolonged permitting efforts have been mentioned before by others with knowledge of the New York projects. Installations of other public stations in the Northeast, by comparison, are expected to track closer to yearlong timeframes, including a hydrogen pump under construction off I-91's exit 33 in Hartford, Conn., which is set to launch near yearend.
Approvals may be delayed locally, because although national standards for handling and storing hydrogen in dense urban environments like New York are already on the books, changes to the fire code, which are promulgated by groups like the International Code Council (ICC) and the National Fire Protection Association (NFPA), are ongoing. So updates and special training may need to occur to ensure installations conform to specifications.
That said, city fire personnel have been training with Air Liquide safety experts since at least spring, specifically on hydrogen standards and fire containment for H2 stations and fuel cell vehicles. FDNY Battalion Chief Steven Fitzgerald traveled to France in May for practical instruction as part of a group that also included fire officials from California and Massachusetts.
FDNY engineers are experienced in completing timely assessments of hydrogen stations: They approved New York's first H2 pump in 2009 in the Bronx - a private demo dispenser from Air Liquide, GM and Shell used by the Department of Sanitation at 1635 E. 233rd St. Permitting for that station took only a year. And another private H2 demo pump commissioned the same year at JFK Airport has fueled vehicles used by the Port Authority of New York and New Jersey.
A code consultant who works with city officials to update local specifications, including New York's 2009 demo stations, said the FDNY "have always been receptive" to standards updates.
DOE will also offer expertise to local officials to speed permitting.
"As hydrogen stations continue to open in California and the Northeast, the need for consistent codes and standards across the country increases rapidly," said Sunita Satyapal, director of the department's fuel cell technologies office. "DOE's work can pave the way for stations in multiple regions, significantly reducing the time it takes these stations to open no matter where they are located. DOE-funded research and development focuses on enabling codes and standards while validating protocols and station performance and increasing R&D on station components."
Experts consider hydrogen safer than other automotive fuels: Unlike traditional gases and their vapors, which naturally pool up, under and around a vehicle in a leak or crash situation, hydrogen, which is the most abundant and simplest element in the universe, is 14 times lighter than air. So it rises and dissipates very rapidly, up and away from ignition sources.
"It's safer than liquid fuels in automotive applications," says Marty Gresho, a firefighter, engineer and member of the NFPA's hydrogen code committee. "Gasoline vapors tend to hang around on the ground, meaning any ignition could result in a ground fire right below a vehicle that could envelope it.
"Hydrogen is so buoyant that it can't practically accumulate outdoors," Gresho said. "So you can't really have a pool fire, because the hydrogen won't hang around, which is a good thing; it just leaves. That's a big safety difference."
In the last two years in the U.S., fuel cell vehicles, including Hyundai's Tucson SUV and Toyota's Mirai sedan, have been offered to the public, although thus far only in California, which has 21 retail hydrogen stations stretching from Truckee to San Juan Capistrano. Honda's Clarity sedan is expected to debut later this year in the Golden State.
Carmakers are awaiting completion of stations in the New York-Boston corridor before they allow dealerships to offer fuel cell vehicles in the Northeast.
This post was published on the now-closed HuffPost Contributor platform. Contributors control their own work and posted freely to our site. If you need to flag this entry as abusive,
send us an email
.