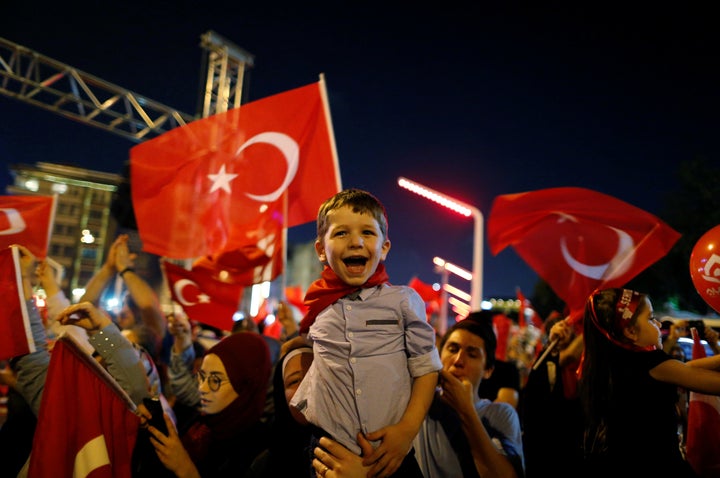 WASHINGTON ― After news spread Friday of a coup attempt in Turkey, outside observers rushed to speculate about what the events meant for NATO: Were the Turks jeopardizing their status in the mutual defense alliance, and were fellow NATO members ready to respond to the overthrow of Turkey's elected government?
The answer was clear. Turkey has remained a NATO member for 64 years, despite multiple previous military coups. (So have other NATO members: France, Greece, Portugal and Italy.) The fuss looked hyperbolic, designed to illustrate Turkey's importance to people in the West rather than to consider any true threat of NATO upheaval.
Then America's top diplomat appeared to breathe new life into the question on Monday. 
"The level of vigilance and scrutiny is obviously going to be significant in the days ahead," Secretary of State John Kerry told reporters, noting that any country's NATO membership is tied to its commitment to democracy.
Turkish president Recep Tayyip Erdogan has taken extreme steps to target his critics for years, weakening the claim that his country is solidly democratic. Following the coup, Erdogan signaled a desire for an even stronger crackdown, and tens of thousands of government personnel have already been targeted.
"We will certainly support bringing the perpetrators of the coup to justice," Kerry said Monday. "But we also caution against a reach that goes well beyond that, and stress the importance of the democratic rule being upheld."
This was tough talk. It made headlines and news alerts almost immediately. But it's important to remember that there's little chance of anything beyond talk on the NATO membership question. At most, the U.S. and other NATO partners will use the alliance's stated rules as yardsticks ― noting every so often, after a fresh Erdogan excess, that he's coming perilously close to crossing the line and violating commitments his country has signed.
It's important to remember that there's little chance of anything beyond talk on the NATO membership question.
Why? Can't the West just have a satisfying moment of moral superiority and dish out just desserts to a leader known for his authoritarian tendencies?
NATO's history with Turkey is one big reason for this. The coups prior to Friday's disaster led to multiple periods of repressive military dictatorship. The constant amid the change in rulers was Turkey's NATO membership, a pragmatic product of the West's Cold War priorities. 
Hypocrisy on this front, then, is hardly news. Visiting Turkey during its most recent period of full-fledged military rule in 1985, playwrights Arthur Miller and Harold Pinter spoke with the American ambassador about how distasteful it was to cheer ties with Turkey as its government tortured imprisoned writers.
The Ambassador said to me: "Mr. Pinter, you don't seem to understand the realities of the situation here. Don't forget, the Russians are just over the border. You have to bear in mind the political reality, the diplomatic reality, the military reality."

"The reality I've been referring to," I said, "is that of electric current on your genitals."
A radical shift away from that quiet tolerance of undemocratic actions would be difficult ― particularly because the Turks could argue that it's unfair for the U.S. to endorse repression from the military and then see it as unacceptable from elected rulers.
Certainly, situations change, and Turkey is not the most beloved of NATO members. Other NATO countries often ignore its warnings about its local concerns (notably tensions with Armenia), and Turkey has been slow to give its partners certain capabilities, such as allowing U.S. jets to fly from an airbase into Syria to bomb the self-described Islamic State. But this doesn't seem like the moment for a break, according to observers of NATO and the threats it faces.
Peter Wittig, Germany's ambassador to the U.S., spoke with The Huffington Post earlier this month about why growing Russian belligerence abroad has made the alliance more relevant than it's been in years.
To Germany, a strong, intact NATO improves the chances of a better approach to Russia ― one that deters Moscow's aggression towards its neighbors and encourages Russian President Vladimir Putin to engage with, rather than threaten and publicly chastise, the alliance.
"The Ukraine crisis has led to a reformulation of the mission statement of NATO and, in a way, it has reinvigorated the strength of NATO," Wittig told HuffPost the week of a NATO summit in Poland. "We have come to a new unity of purpose, and we all know with those new challenges at our eastern front, we are challenged in our defense efforts and many countries have to step up their defense efforts."
One important sign that the alliance's members are enhancing their commitment ― rather than walking away or preparing for radical shifts like removing Turkey ― is that such stepping up has begun. Wittig indicated that the alliance's members want to neuter one of NATO critics' longstanding complaints: that many allies effectively freeload by failing to contribute enough on defense, expecting other countries to pick up the slack.
NATO asks each country to spend at least 2 percent of its budget on defense. But many nations ― including wealthy Germany ― have failed to fulfill that promise for years. U.S. politicians have cited that fact to bash the alliance, and media reports here and in Europe have helped bolster the outrage.
Germany and other countries are trying to shore up NATO ― Turkey and all ― by changing the trend. Wittig noted that Chancellor Angela Merkel's government recently increased German defense spending by 6 percent. "That's not an easy sell sometimes in the public opinion, but it shows that we need to mobilize all our resources in order to have a strong and credible defense," Wittig told HuffPost.
Germany will still only allocate 1.2 percent of its 2017 budget to defense. But the U.S. is encouraging the slow increases by Germany and others; President Barack Obama personally applied fresh pressure to NATO partners at the summit this month.
"NATO countries have risen to the challenge that Russia presented us," Wittig argued.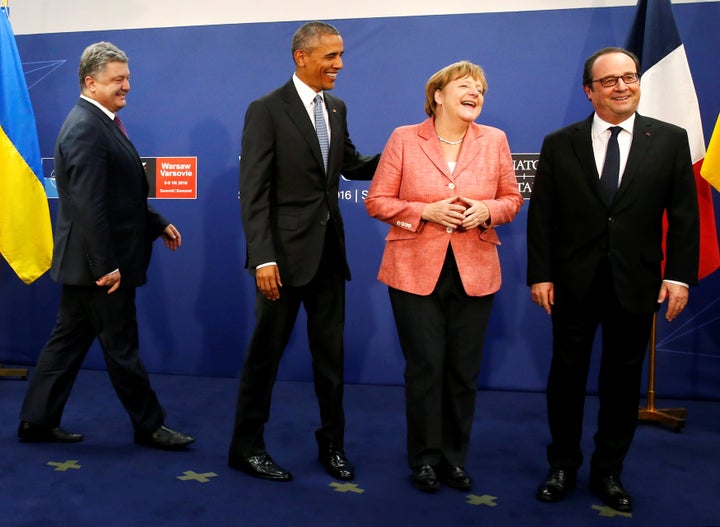 And with few signs that Putin's aggressive stance will change, NATO is also drawing closer and is keen to prove its unity. A NATO battalion will now be permanently stationed in Eastern Europe, the alliance decided this year, and the U.S., Germany, Canada and the United Kingdom will each play a a major role in the force.
This means that ejecting a longstanding and very powerful NATO member like Turkey seems almost impossible, despite its critics' best efforts. (This doesn't mean that Russia and critics of the Turkish government aren't trying: Both state-owned Russian media outlets and pro-Kurdish activists regularly tap into popular Western suspicion of Turkey's Islamist government by suggesting that the Turks are working with the self-described Islamic State.)
If anything, the Turks can argue that they are following NATO's roadmap for dealing with Russia: After a freeze in relations last year after Turkey shot down a Russian jet, plus tensions over their opposing stances in Syria, the two countries recently engaged in fresh dialogue. 
James Stavridis, a widely-respected former top NATO official, argued Monday that drawing Turkey closer is the alliance's best bet.
"The highly unstable geopolitics of the Levant and NATO's expanding security needs come together at a crossroads in Turkey," he wrote in Foreign Policy. "In a host of issues — from the Islamic State to Syria; Israel to oil and gas in the eastern Mediterranean; responding to radical Islam to stability in Egypt — Turkey has an enormous ability to influence events."
Complaints or no, NATO has little to gain by losing access to that influence. 
Calling all HuffPost superfans!
Sign up for membership to become a founding member and help shape HuffPost's next chapter
BEFORE YOU GO
PHOTO GALLERY
Aftermath Of Turkey's Attempted Coup