 Even if he builds it, they probably won't come.
A day after Elon Musk unveiled details on his futuristic plan for a superspeed alternative method of transport between Los Angeles and San Francisco, an expert steeped in the business of transportation systems told The Huffington Post that the politics opposing such a proposal would be extremely difficult to overcome in the short-term.
"People are afraid to change," Stephen Trent, a New York-based analyst for Citigroup who follows train and plane manufacturers, said of Hyperloop. "Even if he can demonstrate a prototype to other companies and government officials and show that this idea actually works, you're still going to have a lot of obstacles, politically, before you get to the point where there's a push on companies to do this."
"Mastering the technology is one thing," Trent said. "Then you have several layers of political and economic viability. Who's going to foot the bill? What economic and political constituencies stand to lose out?"
On Monday, billionaire industrialist Musk released a 57-page "alpha design" that addressed many questions about the viability of an alternative commuter system he's mentioned several times in the past. Heavy on technical protocols, the design laid out a vision for a system of pods traveling at speeds exceeding 700 miles per hour inside a network of pressurized steel tubes. The pods would carry at least 28 people, according to the design, and would turn the current six-hour commute from Los Angeles to San Francisco into a 30-minute affair.
Musk did not commit to developing the technology -- other than perhaps by investing in the initial research and development needed to create a prototype.
"I'm just putting this out there as an open source design," Musk told Businessweek Monday. At a press conference with reporters later, he noted, "Maybe I could do the beginning bit ... and then hand it over to somebody else."
That dynamic is unlikely to fly, Citigroup analyst Trent noted, given the fact that construction of major transportation infrastructure in the United States is a field fraught with political pitfalls.
"Maybe you have politician X, Y or Z that has budget procured to improve a station served by the current technology. And if the new technology takes over, they wouldn't be able to use those funds," Trent said. "That would make people mad."
"The main clients for this type of infrastructure in this country are governmental bodies that don't do decisions based on economics," Trent added. "They make decisions based on protecting their turf, among other things."
Several commenters have already pointed out that Musk's proposal seems to unduly minimize the potential roadblocks his visionary idea could face due to political factors.
It is possible, of course, that Musk's idea could revolutionize the way companies that develop major transportation technology think about their industry. A consortium of companies might decide to go forward and develop the technology privately and not for a government client -- providing private-sector solutions to political issues.
But Trent, the Citigroup analyst, said he isn't sure that the right kind of culture exists among U.S. transportation systems manufacturers to support that kind of dynamic. In fact, he added, companies often want to protect the status quo.
"Why would they invest in this new technology that's going to make all the projects they've been working on for years obsolete?" Trent said. "Why don't they go ahead and shoot themselves in the foot while they're at it?"
Related
Before You Go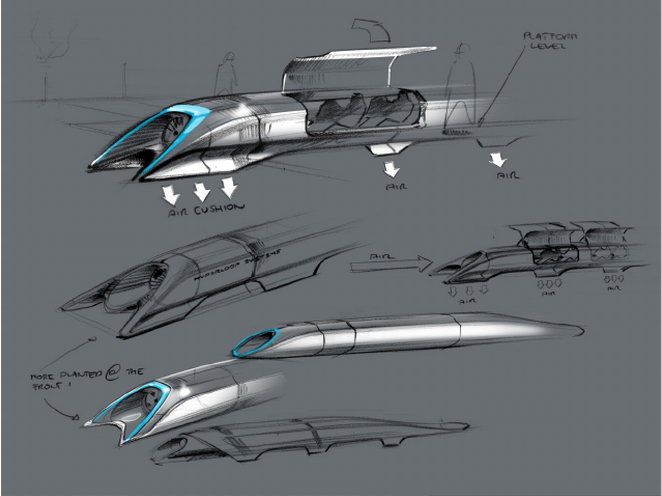 The "Hyperloop"
Popular in the Community