Innovation comes in many forms. Take 3D printing, for instance. It's mindboggling the way this concept could change our lives.
Technology, of course, offers myriad solutions to change and save lives. Yet sometimes, old-fashioned ingenuity -- taking a new approach to an old problem -- can work, too, as doctors at Kaiser Permanente North California discovered.
In 2001, they were facing this problem: Only 44 percent of their patients who were battling high blood pressure (also known as hypertension) had their condition under control, a rate significantly below the national average of 55 percent.
To address this problem, they came up with a series of logical steps and implemented them across their network of hospitals and physician offices. They started simply enough by creating a way to track all these patients, then sharing what worked best at their various clinics. A big step forward was replacing two pills with one, a move that saved patients money and time. Their final stride was adding free follow-up visits to monitor blood pressure and related vital signs.
By 2009, the national average of hypertension patients whose blood pressure was under control had jumped to 64 percent, but at KPNC it was all the way up to 80 percent. The rate continued to rise, reaching 87 percent in 2011, as doctors wrote last fall in the scientific publication Journal of the American Medical Association.
May is High Blood Pressure Education Month, making this is a great time to discuss this condition -- what it is, why it matters and what can be done about it. I'm proud to say that my organization, the American Heart Association, recently launched a new nationwide campaign called Check. Change. Control. Results show this program is another great way for people to learn about, monitor and manage their blood pressures through a combination of resources.
I'm also proud to hand off the discussion of this subject to Dr. Joseph D. Young, the clinical lead for hypertension control at the very place where their innovative approach to treatment made such a great difference: Kaiser Permanente Northern California.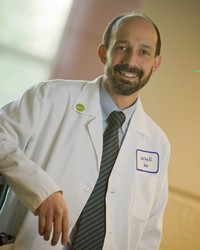 "You won't call me the day you don't have your stroke." That's what I tell my patients if they seem reluctant to take control of their high blood pressure.
High blood pressure, otherwise known as hypertension, is common -- 29 percent of adults in the U.S. have the condition based on data from the National Health and Nutrition Evaluation Survey. Hypertension can damage the heart and the kidneys and it is the most important risk factor for stroke.
The good news is that the vast majority of people with hypertension can achieve normal blood pressures. Most strokes can be prevented. But implementation strategies are often lacking, and blood pressure is too often left uncontrolled. The challenge we face is to make sure that we use the tools to control blood pressure that we already have.
Only half of patients with hypertension achieve blood pressure control. However, within organized systems of care delivery, much higher hypertension control rates are achieved. Kaiser Permanente Northern California cares for 3.5 million members. Our publicly reported National Council of Quality Assurance (NCQA) commercial hypertension control rate for 2013 is 86 percent. Similarly, the Veterans Affairs health care system reported a hypertension control rate of 77 percent in 2009.
These high rates of control are achieved through careful implementation of a comprehensive and organized program. Key elements include proactively reaching out to patients, highly visible organizational goals so that all members of the team strive for optimal care of the patient, best practices that reduce patient barriers to treatment and improve efficiency of care delivery, and use of an effective and evidence-based medication treatment algorithm.
In order to prevent 1 million heart attacks and strokes, the U.S. Centers for Disease Control's Million Hearts program has set a clinical target of 70 percent blood pressure control by 2017. Kaiser Permanente Northern California has been honored by Million Hearts as a 2013 Hypertension Control Challenge Champion. We are proud to partner with Million Hearts on this important national goal.
The high prevalence of hypertension is partly attributable to increasing life spans. With advancing age, the rate of high blood pressure increases. Our 21st-century lifestyle also has much to do with the high prevalence of hypertension. Obesity from unhealthy diets and inadequate exercise coupled with a diet too rich in salt are major contributors. A healthy lifestyle can go a long way to lowering blood pressure. In addition to lifestyle changes, many people with hypertension require medicines to reduce the risk of stroke and other complications.
The era of effective medicines began in earnest in the 1950s, when thiazide diuretics were discovered. Calcium channel blockers were found to lower blood pressure in the 1960s, but were not introduced as blood-pressure lowering medicines until the 1980s. In the 1970s, the first of a class of medicines that blocks a group of hormones known as the renin-angiotensin system were discovered. Together, these three drug classes comprise the first-line medicines for treating hypertension.
While there are several other important drug classes, most people with hypertension can achieve blood pressure control with medicines from one or more of these three first-line drug classes. After more than half a century, we now know how to use these medicines safely and effectively. Moreover, a well-tolerated, inexpensive, once-daily regimen usually works best.
Minorities and young adults are more likely to have uncontrolled hypertension. National survey data shows that the prevalence of hypertension in the black community is 40 percent (vs. 29 percent in the overall population) and the control rate among blacks is 46 percent (compared to 50 percent in the overall population). Hispanics with hypertension also have lower control rates than the overall population -- 44 percent in 2007 to 2008.
Hypertension increases the risk of stroke and mortality for blacks more than it does for others. "Salt sensitivity," a heightened blood-pressure response to sodium, is more common in blacks and appropriate thiazide dosing for those patients with hypertension is especially critical. The International Society on Hypertension in Blacks emphasizes adequate dosing of thiazides for hypertension among this population.
I tell my patients that blood pressure is just a number. What really matters is maintaining health. From 2000 to 2008, stroke mortality has fallen by 42 percent within Kaiser Permanente Northern California. A stroke that didn't happen is an abstract idea. Still, each stroke prevented is a reason to celebrate. Kaiser Permanente Northern California is proud to partner with the Center for Disease Control's Million Hearts Program with the goal of preventing 1 million heart attacks and strokes -- 1 million more reasons to celebrate.
Joseph D. Young, M.D., is clinical lead for hypertension control, Kaiser Permanente Northern California, and is a recipient of the Stroke Hero Award from the American Stroke Association

Related