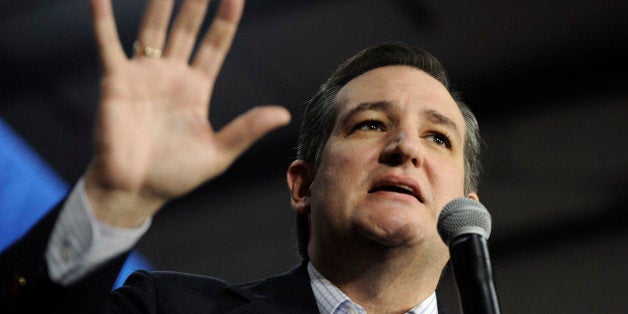 For most of his political career Sen. Ted Cruz has made my family a target of his attacks. Now he declares his family off-limits.
Now that he's running for President, Cruz wants to claim his family is off-limits for scrutiny and attacks. He puts his children in advertisements and features his wife speaking on his behalf, yet somehow when scrutiny takes aim at the family members he has used as props, he cries foul.
Cruz is the worst kind of hypocrite, someone who claims moral piety for his own personal gain and ignores that very morality when it again suits his own personal gain.
While he would defend his targeting of my family as a conversation about policy, the millions of LGBT children and adults affected by his bigotry certainly don't see it that way. These two issues -- his attacks on my family and the attacks other politicians and media outlets have waged on his family -- are to me effectively identical.
Actually, the former is worse. Some ugly pictures of his wife or claims of infidelity can wash away with the next 24-hour news cycle. Yet his constant campaign to demean and disenfranchise my family linger.
It's convenient for him to remove himself from the very personal repercussions of his anti-gay language and advocacy that creates so much division in this country. He tries to make people feel like second-class citizens based simply on with whom they want to build a family, yet he takes no responsibility for the high LGBT suicide rates his language and policies lead to.
Who's the bully: Someone who retaliates in kind against a public figure? Or someone who targets innocent families and children with anti-LGBT policies and language claiming they somehow represent the fall of America?
Cruz claims that a tweeted photo of his wife makes Trump unfit to be President. Yet somehow attacking the very foundation of millions of American families doesn't disqualify Cruz?
Only in the minds of the Washington elite could that not be the definition of hypocrisy.
When you go after other people's families, eventually someone is going to come after yours. Now Cruz has to reap what he has sown his entire political career.
REAL LIFE. REAL NEWS. REAL VOICES.
Help us tell more of the stories that matter from voices that too often remain unheard.