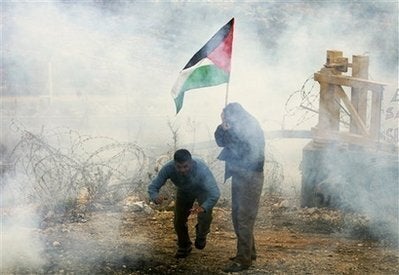 Children's bodies are being covered with cardboard boxes in Gaza -- the hospitals have run out of sheets -- as Washington and London urge Israel to use restraint and avoid civilian casualties.
Palestinians on the West Bank are organizing in protest, but this was Israel's plan all along. Less than two weeks ago some 50 Israeli policemen injured each-other in "gloves-off" training that a spokesman described as "a huge police training exercise to prepare for riot control and to deal with different scenarios."
Israel is trying to decapitate Hamas in Gaza, to use an favorite expression of military spokesmen and a docile American media, and the bodies are piling up. What is the limit? As it stands, over 200 Palestinians are dead. One Israeli died today from a rudimentary rocket fired from the Gaza, the supposed impetus for all this.
When the "operations" subside -- after how many days? -- what will have changed? More Palestinians will have died because Israeli "security" is sacrosanct in the current international system but Arab lives are not. But it goes beyond American-made bombs and jets and stonewalling in the Security Council. Blame falls also on the supportive Arab regimes in America's orbit -- perhaps Egypt most of all -- as Gaza is blockaded, bombed, blockaded, and bombed again, this time among the worst in its history.
Tzipi Lizni was just in Cairo, smiling with Foreign Minister Ahmed Aboul Gheit after she told reporters "enough is enough." The meeting, at Egypt's invitation, was described by the BBC "as the first of several diplomatic steps Israel must take before launching military action." Apparently it was the only step, at least publicly.
Meanwhile, commentators and politicians will justify the killing in Gaza because Israel needs "moderates," legitimate negotiating partners, anyone but Hamas -- which will ignore, as always, how you manufacture opponents to your state.
Twelve year old Ayaman is screaming at his father who tries to prevent him from seeing the bodies of his uncle and brother, torn to pieces under sheets. "I'm not afraid to see them," he screamed. In a rage as his father holds tight, Ayman catches the hand of a resistance fighter; "shell and kill them as they did to us," he says.
Israel's leader sit at a podium and say "We are not fighting against the people of Gaza" as they ready a probable ground invasion.
Reading some Mahmoud Darwish in between news reports only seems appropriate. He writes about air strikes at the outset of Memory for Forgetfulness: August, Beirut, 1982, his meditation on the Israeli invasion of Lebanon and the destruction of Beirut.
"The hysteria of the jets is rising. The sky has gone crazy. Utterly wild. This dawn is a warning that today will be the last day of creation. Where are they going to strike next? Where are they not going to strike? Is the area around the airport big enough to absorb all these shells, capable of murdering the sea itself?"
Calling all HuffPost superfans!
Sign up for membership to become a founding member and help shape HuffPost's next chapter