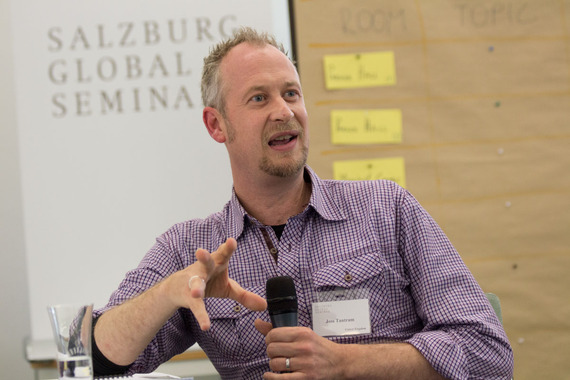 "Truth suffers from too much analysis." Frank Herbert
I agree 100%
How many times can we honestly say that we really agree one hundred percent with someone else on an issue? It is certainly not unknown, however it can be quite rare.
Often this is because finding points of disagreement with other people is one of the ways that we establish legitimacy and expertise in addition to our sense of self.
Put simply, whilst we might almost totally agree with someone on an issue, we can also be motivated to find and highlight the nuances of where and how our understanding (unrecognised genius) and clear thinking provides us with a more accurate, pragmatic or relevant analysis.
The private intent of this behaviour is pretty clear - it allows us to feel good about ourselves and superior to others. However the net-public-outcome of such activities can arrest the chance of progress. By highlighting and focussing upon minor, inconsequential points of detail, it can undermine the possibility of consensus and action on really important stuff.
What levels of consensus do we need to work together?
A potential approach by which to reduce the time we spend disagreeing over things that are far less important than the things we agree upon is to consider the degree of consensus that is required in a given situation. To ask, 'What do we really need to agree upon in order to work together?'
By working together I mean a variety of things. At its most basic level that we are willing to act with a collaborative and constructive intent in face-to-face and online discussions. At higher levels it means joint enterprise, mutual dependence and partnership for the common good.
The levels of desired consensus for collective action can be explored by asking other questions about working together:
Do we want to work together?
What is the additive purpose?
What are the benefits?
What do we need to agree on?
(and conversely) What can we disagree upon?
Given that answers to the questions above result in the potential of joint work, the following questions further refine the levels of consensus which might be needed:
Do we have shared understanding of our focus and intent?
Are there assumptions being made that are not agreed upon?
Which elements are good enough?
Which parts are not good enough and must be revised?
What must I share because the joint enterprise will collapse without it?
What should I keep quiet about because to voice it would be letting perfect be the enemy of good?
What is a break point beyond which I am unable to constructively contribute?
When is the time to stop talking and do something because we agree enough already?
Minimum and maximum consensus
"We build too many walls and not enough bridges." Isaac Newton
The levels of required consensus concept is not a new one. For instance, it was explored in the questions and answers proposed by the great moral philosophers John Locke and John Stuart Mill while considering the limits of liberty in relation to the rights and responsibilities of both the individual and the state.
A directly applicable description of the principle to the challenge of sustainable change was articulated by the author, academic and politician, Michael Ignatieff. He defined minimalism as an outlook capable of accommodating the fact that "people from different cultures may continue to disagree about what is good, but nevertheless agree about what is insufferably, unarguably wrong." (Quoted in the Yale Journal of International Law paper "The Minimum Core of Economic and Social Rights: A Concept in Search of Content").
The role of consensus in change is a complex one. Across human history change has frequently taken place at the behest or whim of those individuals with the opportunity and ability (power) to make decisions regardless of the views of, and consequences for, others. Change via dictatorship or tyranny is not known for prioritising consensus.
For those of us lucky enough to live in democratic countries some form of consensus, or at the least the ability to exercise or indicate our views, is at the heart of our concepts of freedom.
Similarly, the majority of us interested in contributing to a sustainable and equitable world innately believe that consensus is a fundamental component of achieving that change - you cannot have an equitable world where only certain voices are heard.
Seeking minimum consensus
If we are capable of endlessly arguing about essentially irrelevant details on topics we fundamentally agree upon, wouldn't it be logical to stop seeking total agreement?
If constantly aspiring for total consensus on every aspect of existence is fruitless, we need to move from asking:
"Why doesn't anyone recognise that my analysis of the world is better than yours", to "How much consensus do we actually need to create something together?"
Shouldn't we therefore tend towards desiring a minimum level of consensus?
Can't we all just get along?
Of course, griping about the levels of pointless argument in on-line and real life contexts is hardly a new or earth-shattering thing to do. Many initiatives and websites don't really exist to be drivers of collective, collaborative knowledge but as portals for self-promotion and intellectual self-aggrandisement (and few of us are truly innocent of at least a little of each).
Nevertheless, the motive behind this post is positive; if we are to achieve a sustainable and equitable world we need to work together - there is no discussion to be had on that point.
Finding the fundamental points of shared human experience and aspiration is key. It is clear that at the level of globally shared values, humans show a striking degree of agreement on what they aspire to for themselves and their children.
Developing and applying the principle of minimum consensus might be one way to do this that we could all agree on - if only a little!
These are some of the themes explored and celebrated by UK based social enterprise Pioneers for Change. Their inaugural 6-month Fellowship kicked off on 23 and 24 March, 2015 in London. Pioneers for Change is an initiative of Adessy Associates.
About Joss Tantram:
Joss is a founding partner at Terrafiniti LLP, a pioneering sustainability and systems consultancy. Terrafiniti's Towards 9 Billion thought leadership and R&D initiative develops big, playful and hopeful ideas for a sustainable future.
Calling all HuffPost superfans!
Sign up for membership to become a founding member and help shape HuffPost's next chapter