I am a curious person. I have always believed that an entrepreneur should be colleagues with the known, but best friends with the unknown.
For as long as I can remember, I have had an insatiable desire to find my potential and see what more I could do. Life became far more meaningful when I realized that I had the innate leadership skills, which expanded that curiosity, to helping people see their potential and inspiring them to do what they didn't think they could do. Life then became a whole lot more interesting when I decided that I had the business acumen, vision, and fearlessness to explore the potential that a company could have.
I have always been surrounded by good and supportive family and friends, even though they would be the first ones to tell you that they don't really know what I do, and oftentimes have questioned my sanity. This was probably best displayed the day I excitedly told my dear departed grandmother that I wanted to be an engineer. She replied with a beautiful combination of love, support, confusion and concern; "That's nice dear, but why would you ever want to drive a train?"
To me, the spirit of entrepreneurship is similarly an interesting, beautiful combination of drive, wisdom, deliverables and perseverance. Excellence in entrepreneurship comes when you personify those qualities in your own unique, gifted and extraordinary way, and make a positive difference in the world. I believe that the great entrepreneurs are ones who are passionate about solving problems and therefore can become important change catalysts in our society. Now, we just have to choose the right problems to solve in order to create the kind of future that will uplift us all.
My life as a serial entrepreneur has been enriched by the ability to learn from, and be inspired by others. One of the most special was when my life was forever changed by an extraordinary entrepreneur...Richard Branson. I applied and was invited to come to Richard's leadership gathering in February 2013 called Necker Meets Oxford. For that conference, he brings academics from Oxford Martin School and entrepreneurs from around the world to discuss how to find innovative, entrepreneurial solutions to the world's toughest challenges. It was a game-changing week for me and I came away resolved to make a bigger difference in the world. It was there that I began my first experience writing a blog. I realized it was a way to capture the amazing experiences and insights I was having. There was an unexpected joy that came from authentically sharing that which was special to me, without concern for how it was received.
This is my first blog on HuffPost blogging platform. I'm excited about sharing the continuing story of my altered life after Necker Island. I embarked on a journey into the unknown, but a journey of deep meaning and purpose. It is a journey of importance to smash energy and environment together in an opportunistic way. It is a journey that has captivated many so far - and this journey has much more to go. Energy will define our future - what it is, where we get it from, and what we do with it. I am unwavering in my determination that we can make the energy industry a force for good. I see a vision of the future that is "AND", rather than "OR". It is a future that includes and honors all three of Planet, People, Profit.
For the past many years, I have had a passion for doing what others think can't be done; a deep intuition that a new organizational model is needed that can enable people to reach their potential; a relentless pursuit of opportunities that create value with new ideas and hard work; and an unwillingness to be afraid, deterred or defeated by circumstance. I continue my lifelong drive to see what is possible for me, for others, for our community and for the world.
I am not done. "Curiouser and curiouser" as Alice would say...... :)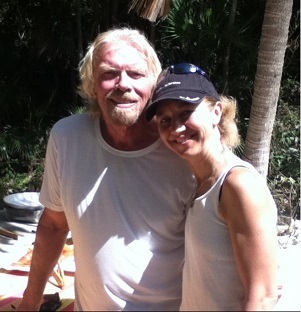 Calling all HuffPost superfans!
Sign up for membership to become a founding member and help shape HuffPost's next chapter