I have big gaps in my knowledge base, because, in Sunday School, I was too busy eyeing Richard Newhauser than paying attention to why we celebrate Simchas Torah. In geography class, I was more interested in where the best Gulf Beaches were in Florida in preparation for spring break than where the State of Israel was situated in relation to Syria and Iran. I'm still a little shaky on that one.
But as an adult, I have found tidbits of Judaic culture, practices, artifacts and symbols that have fed my soul, stoked my creative fires and deepened my appreciation for my Jewish heritage and roots.
I joyously embrace the Middle Eastern Hamsa - a palm shaped amulet depicting an open right hand, believed to provide defense against the evil eye. Popular in Sephardic Jewish communities, I - of Eastern European descent - enthusiastically and with wild abandon hung hamsas throughout my house in every possible conspicuous nook and cranny. And an oversized brass hamsa continually hangs around my neck, brought back from Morocco by a friend serving in the Peace Corp.
Over the years, I became enthralled with the Sephardic custom of hosting a henna party about a week before the wedding ceremony for both the bride and groom. And though I have never attended one, I occasionally indulge myself and visit a henna tattoo artist - even when it isn't Purim. And Rosh Chodesh - the celebration of the new Jewish month - and a holiday that reveres new beginnings and encourages women to abstain from work - don't even get me started on that one. I love that holiday so much.
Shabbat. Glorious Shabbat. That's a whole other Megillah too. When I married into my husband's Orthodox family, I never knew nor understood the arduous preparations Shabbat entailed. Taping the lights in the refrigerator. Hauling out the silver bread baskets. Place settings with the good china. Tearing the toilet paper. Simmering chicken soup. Brisket so tender it falls off your fork. Freshly baked challah. I fell in love with the weekly beauty and majesty of Shabbat. But alas, I fell short on that one too. Many times I lit the Shabbat candles with the television news blaring in the background, while rushing off - not to Friday night services - but to a kid's high school football game. The missed opportunities for connection and ritual and tradition sadden me to this day.
So I guess it's no surprise that the desire to tap into my Jewish soul burns so brightly. It fills me with a yearning restlessness. And, as the work week draws to a close and Shabbat looms on the horizon, I feel this overwhelming desire to figure out how to connect with my adult children.
So I have chosen to add an additional layer to my Shabbat preparations - which I admit are pretty meager to begin with. I chose Friday afternoon before sundown to text each of my sons and ask them to tell me something that happened that week. I purposefully left my request vague. I purposefully didn't add, "Tell me something you were grateful for, you were challenged with, or that filled you with great joy." Just something. And I asked them to please do it during Shabbat.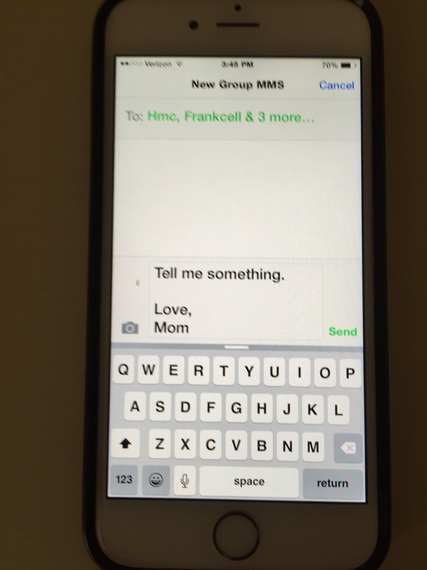 My Shabbat experience has grown richer because of these five texts that pop up on my phone screen sometime during the sacred hours of our day of rest.
Purists will say I shouldn't be texting so close to the Sabbath. Nor encouraging my sons to text on that holiday too. But once again, I find myself drawing something meaningful, significant and of lasting value from my Judaism and using it to bring solace, joy and rich meaning to my life.
To sign up for my weekly newsletter, please go to www.irisruthpastor.com
REAL LIFE. REAL NEWS. REAL VOICES.
Help us tell more of the stories that matter from voices that too often remain unheard.