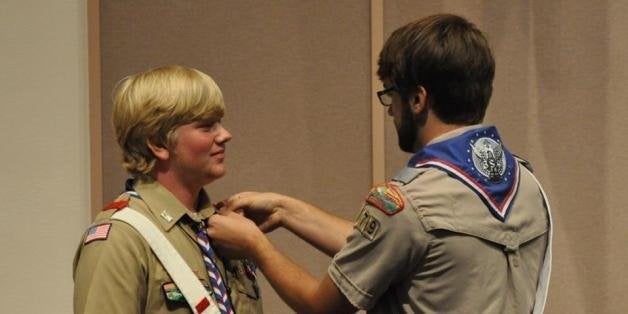 I am an Eagle Scout, and I am the Scoutmaster of Troop 179 in Springfield, OR, and I happen to be gay. For the first time in my 18 years in scouting, I can truly be myself. I started scouting in 1st grade and fell in love with the program. Being a Boy Scout meant being a part of something bigger than me. I had a community to support me and friends to watch my back. I felt like I belonged. However, the same couldn't be said for the rest of my life. In school, I was never the popular kid. I never felt like I quite fit in. Between what was said by kids at school and what I assumed about the church, I knew that being gay wasn't a good thing. I tried for years to hide who I was.
When I was a junior in high school, I got the courage to come out to my friends and family. It was the friends that I made in scouting who were the first to embrace me and love me for I was. I was also embraced by my family and by my United Methodist Pastor, who showed me that there was, indeed, room for me in the church.
Because of the support of my scouting friends and the church, I was able to continue to serve my troop as an assistant scoutmaster and, eventually, as scoutmaster. While I was out in the rest of my life, I had to pretend when I put on the uniform. I was leading the troop with one foot stuck in the closet. There was no way around it. There were certainly times when I felt like quitting altogether. After all, why should I have been putting so much time and effort into an organization that actively worked to discriminate against me? All I can say is, there is something special about the Boy Scout program and what it can do for America's youth. America needs a program like the BSA to build a future of strong, capable and selfless leaders of character.
This vote means that I can now serve the BSA without having one foot stuck in the closet. Furthermore, this vote shows queer youth that the BSA has a place for them, that they have a place where they can belong where they can grow into confident leaders ready to take on the challenge of the world even after they turn 18.
As a gay scoutmaster and pastor in training I am proud of the BSA, yet I recognize that more work needs to be done. This vote doesn't wipe out discrimination in the BSA, but it is a darn good step in the right direction.
PHOTO GALLERY
Statements On LGBT People From Faith Leaders
Calling all HuffPost superfans!
Sign up for membership to become a founding member and help shape HuffPost's next chapter