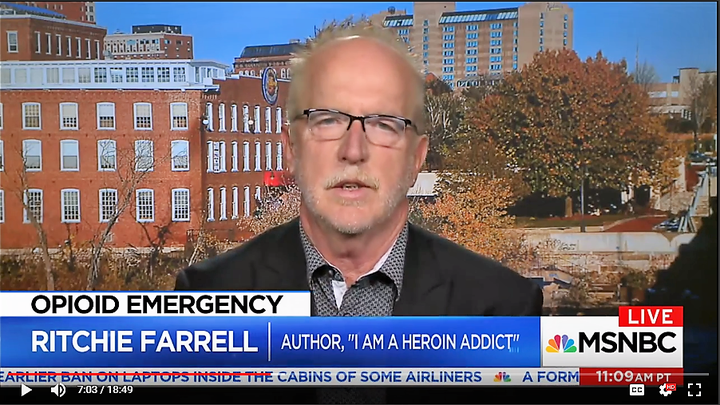 Two years ago, I was flying over the Grand Canyon from Los Angeles when the pilot invited the passengers to look out the window at the spectacular view of the Canyon glistening in the morning sun.
I was sitting in the aisle, but fortunately, the flight was almost empty, and nobody was sitting beside me in either seat. That's when I leaned over and saw what I had been missing for years.
You see, I am a heroin addict. At the time, I was a heroin addict in recovery for 28 years. Most of my friends had died from an accidental overdose of heroin. But I had survived.
At the time, I had been in Los Angeles chasing a screenwriting career and was on my way home to the Boston area to see my family. But at that instant, my life changed forever.
As I looked out that window, I was immediately overcome with emotion. I couldn't believe that I had survived my war with heroin. Tears flowed freely, and the nice stewardess sat down next to me to see what was wrong. I couldn't speak. So, I smiled to let her know I was okay.
Moments later, I turned on my computer and wrote the story below. One hour later, when I finished, I would never have imagined that it would go viral. In fact, according to Buzzsumo, it was the number-one shared article of 2015 with the word "heroin" in the title.
That day, 35,000 feet about the Grand Canyon, I realized that I was saved from addiction to help others recover. To honor that anniversary, I wanted to share my story with the countless new heroin addicts, both active and in recovery, since that day in November 2015.
Like a doctor performing microscopic surgery, I pour the contents of the rainbow bags into my cooker, reach for my bottle of water, insert the syringe, and draw up about 20cc. I squirt the water into the cooker, watch it move across the white powder and turn to liquid. I move my lighter back and forth under the cooker until the heroin bubbles. The smell is sweet. It makes my stomach turn. I bite off a small piece of a cigarette filter and spit it into the burning liquid. It's time.
I insert the needle, there's a little sting, pull back on the plunger, and a dash of red-blue blood snakes up the middle of the clear liquid. A direct hit. Total euphoria!
Now, all I can think about is where will I get my next bag. But I wasn't always a homeless heroin addict. I was a good kid, an altar boy, even an all-conference athlete. What's not funny, I only took heroin once. Imagine that? Once! After that, heroin took me any place it wanted to. It changed me. I will do anything to get high, and I will crush you if you try to stop me. I'm scum. Nothing I say is truthful except this... I am dying.
In 1987, I beat a 10-bag-a-day heroin habit. Somehow, I pulled myself out and went on this unbelievable journey. I've seen the crimson-red-blood snow on the streets of a war-ravaged Sarajevo. I've directed a documentary film, won a duPont-Columbia, worked on and acted in a feature film that won two Academy Awards, wrote a memoir and a bestseller. I've seen everything in my career. However, I have never in my life witnessed anything like the current heroin epidemic in America.
Unfortunately, it was corporate greed that gave birth to the epidemic. Purdue Pharma hid information about their wonder drug, OxyContin, from the FDA and a record number of teenagers began showing up on autopsy tables in Virginia.
A few months later, Wayne A. Van Zee, a young doctor working in poverty-stricken western Virginia to pay off his college loans, compiles information on Oxycontin deaths with the help of medical examiners across Virginia, takes it to the U.S Attorney's Office in Virginia and with the help of a "whistleblower," they go after Purdue in Federal Court. Rudy Giuliani's law firm makes a deal, so Purdue's top executives avoid jail time, and Congress passes sweeping laws that put an end to the prescription drug problem.
Bingo! The Mexican cartels recognize the demand, cut the price of a kilo of heroin in half and flood "Heroin Highway," Route 77 from Robstown, Texas to Chicago, Illinois, with heroin mules.
Within weeks, the price of a bag of heroin falls from 30 dollars to 7 to 10 dollars and 11 heroin plants in Chicago filter pure death all over America.
The economic and social ramifications of this epidemic to America are beyond anything anybody could calculate. There is a Beast in our cities and towns. And that Beast has one mission; to kill your son, to murder your daughter, or to totally destroy somebody you love.
Recently, I ran into an old friend from high school. After basking in our glory days, I asked him how his son was doing. His eyes filled and he said, "I just buried him last week." What a sucker-punch. At that very instant, I realized the magnitude of what I had survived.
We must end the whispers about heroin.
Now is the time to warn the children of America about the Beast bearing gifts. We need to organize recovering addicts and produce Public Service Announcements, tell their stories, their struggles, on Network Affiliate TV across the nation.
From coast to coast, every governor must clear the avenue for recovering addicts to speak in all junior high schools in their state. No more red-tape, people saying, "I'm in charge." Or, "My child doesn't need that." Education is the only clear path to victory.
Need help with substance abuse or mental health issues? In the U.S., call 800-662-HELP (4357) for the SAMHSA National Helpline.
Related