I found out I was HIV positive right before my 21st birthday. I thought I was going to enter the world as an adult, but at that moment, I became a product of the narrative that others had created for me.

Stigmatized, marginalized, bullied -- and my crime was merely being born.
I had been so afraid of my identity as a woman and I let society break me down. I was depressed because I wasn't gay; I was a woman trapped in a man's body. I was suppressing my identity and my HIV status all because of stigma. Let me tell you that no one goes through this life of constant persecution for kicks. It is not for the weak of heart.

For years, I had looked in the mirror and never once saw a beautiful person. Years of silently enduring physical and sexual abuse held me back. But I became tired of being afraid, of carrying the scars of low self-esteem and self-loathing.

It was then, at the age of 35, that I decided to live in my truth full time. I learned to stop caring about what people thought. It was liberating. From the first moment I said "I am trans," my heart felt a thousand times lighter, though new obstacles came my way. I had been a paralegal with years of experience, but once I stripped off the man, freed myself and became Jada, I found myself unemployed -- and unemployable.

I managed to draw strength from my experience, taking what I saw as three negatives (being an immigrant, transgender and living with HIV) and turning them around. Today, I'm an example of how my community has reached out and helped a person of my status. HIV gave me access to mental health services. The Louisiana Office of Public Health employs me as a prevention assistant in the HIV/STD prevention department. I am so blessed. Many girls can't find work and are forced to be on the street to survive, increasing their risk of HIV infection.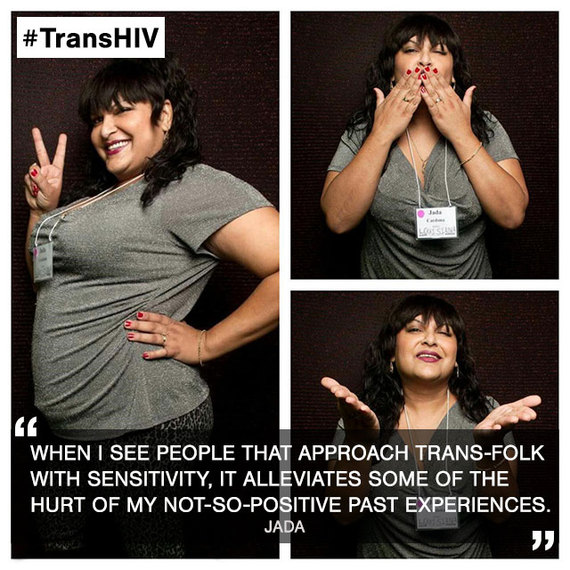 I'm opening a community center called Transitions, to empower those that are marginalized, especially the Latinx population and young LGBTQ people -- they are criminalized, profiled and marginalized. I want to facilitate the empowerment of a new generation. I want to help them with their individual needs as they go through whatever transitions they are facing, small or large. I believe that bringing the downtrodden together will create an unimaginable force. I need people to know that we exist. I am here to fight for the long haul. I am going to beat the stereotypes and outlast the stigma. Today, I am Jada Mercedes Cardona, Freedom Fighter.

I believe that in order to create positive change, we need everyone. We need the family and friends of the trans community to be active allies in addressing stigma.

And when it comes to HIV, we all need to go get checked -- no one is exempt. De-stigmatizing HIV will positively impact both the trans community and society at large.

And for those that fear getting tested and what the results may bring: look in the mirror and find what you love about yourself. That part of you will still be there if you test positive. If you get tested regularly, you can find out before it becomes a problem. There are ways to control it and live a healthy life.

Today is National Transgender HIV Testing Day. Spread the word using #TransHIV, #StopHIVStigma and #StopHIVTogether.
Find out about yourself, love yourself and get tested.
Popular in the Community