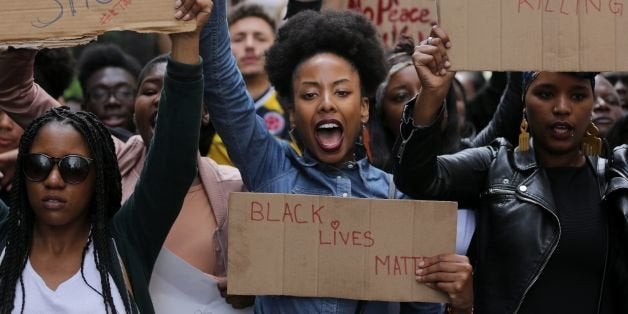 When I was 16, I went to a three-week summer camp in California. Hanging out one night, I realized I was the only white person in the room. I sat with a girl who was half-Nigerian and half African-American, an Indian boy, my Jewish roommate, and a very cute Hispanic boy I was totally crushing on. I freaked out and bolted to my room. It was the first time I had ever been in the minority, and I inexplicably felt threatened. After I came down from my fight-or-flight response, I felt ashamed. The people I sat with were my friends, why was I afraid of them?
Two more black men were killed today because they were perceived as threats by white people. Keith Lamont Scott. And Terrance Crutcher. The one that hit me the hardest was Philando Castile's shooting in July. Castile was my same age, from my same hometown. We both had worked for St. Paul Public Schools. He was pulled over a few blocks from the building where I started graduate school at the University of Minnesota. The first thought I had was not, "it could have been me," because I know that no one finds a white woman with a broken taillight dangerous. My first thought was, "It could have been someone I know." I thought of all of the black men I know in the Twin Cities. It could have been my friend Deddeh's husband Demaro, leaving their 18-month-old daughter fatherless. It could have been Nica's brother JT, or Holly's son Aaron, or Yolanda's son Eric. I saw their faces in Phil's face.
I've written before about how I want to raise my kids to understand the history of racism in our country. And this is the reason why. It's because some of my deepest friendships are with people of color. But building interracial friendships didn't come easily. It took me nearly ten years to do so. It was a summer job I had leading children's programs at a homeless shelter on Chicago's South Side that gave me the courage to reach out.
To many of these children, I was the first white person they had ever met who wasn't a cop or social worker. These children bravely asked the questions I had been afraid to ask about our differences. "How do you get your hair so straight?" "What are those brown dots on your white skin?" In return they allowed me to ask questions of them. They taught me how to twist their hair and what "ashy" skin looked like. Through their questions and mine, I learned that there was an entire America I knew nothing about. When the summer was over, I felt myself wanting more. I wanted to learn more about this other America, the one whose history was never told to me.

When I moved back to the Twin Cities after my summer job, I lived in neighborhoods some of my family wouldn't visit. I started going to a black church, even though I knew none of their hymns. I said hello to people with dark skin, and hoped they would say hello back to a preppy white girl. Most of them did. I dove into books about black history, anything from Martin Luther King Jr.'s speeches to thick history books on the Great Migration. There was so much to learn.
My new education and friendships grabbed the corners of my mind and stretched my heart painfully across the gaping chasm between my life and the lives of people of color. Thinking myself enlightened, I began joining with people of color in discussions about privilege and exploitation. One of these friends gently corrected me. While I could learn all I wanted about their history, I couldn't pretend I was suffering with them. I would never know what true oppression felt like, because no matter what my beliefs inside, people would always treat me white. I cried in my bedroom that night, hurt that she couldn't see that in my heart I was a good person, trying to help. But deep down I think the real reason behind my tears was disappointment in myself for not realizing my own ignorance for so long.
So when white Facebook friends post, "All Lives Matter," I wonder, do these friends know any black people? Have they ever talked to people of color about their lives? About their heritage and their history? Have they ever cried over their own ignorance? If your Facebook feed doesn't have any dark faces, you are a part of the problem. If your church, your neighborhood, or your school doesn't have any people of color - you are part of the problem. Because when you watch the video of Terrance Crutcher or Alton Sterling or Philandro Castile or Eric Garner or Michael Brown, you see a black man. You can't picture your friend whose loss would break your heart.
But here is how I am a part of the problem too. I don't live in the Twin Cities any more. The faces of color on my Facebook feed are almost all Minnesotan faces. When my oldest daughter was born, we moved to take care of my family's farm in rural Virginia. I tried feebly to find black friends, but new motherhood engulfed me. I thought to myself, "when my kids get to school, then I'll be able to meet black families." But my older daughter's Kindergarten class had no black children, and my younger daughter's preschool -- which was the first integrated preschool in Virginia -- now has no black students. My family tries to attend an integrated church, but the closest thing we could find with a children's program has just four black members. America is in many ways more segregated by race than it was 40 years go. Despite my best efforts, I have not been able to make more friends of color. Instead, I'm surrounded with people who look and think like me.
Popular in the Community