Sometimes when I talk to people who work in the art world, they tell me they are arts administrators.
Then, there are arts administrators that are very clear about being more than that.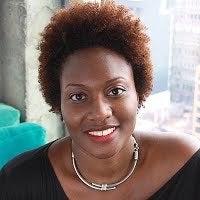 HOW DO YOU SELF IDENTIFY?
I'm a first generation Afro-Caribbean American born to Grenadian parents. Raised in Brooklyn, New York. I'm an interdisciplinary artist, educator, community worker, art administrator, wife, and mother currently residing in Queens, New York.
ARTIST, ADMINISTRATOR OR BOTH?
Both. Initially, I was concerned with there being conflicts of interest, so I erred on the side of caution and tried to compartmentalize those roles. I immediately discovered how limiting and unnatural it felt to separate those roles. My flow of creativity is fueled by me bringing my whole self: culture, history, experience, training, vision, and passion to the work I do in the studio, community, and as an administrator. I'm learning how to comfortably represent both.
WHAT SKILLS DO YOU NEED TO BE AN ART ADMINISTRATOR?
Similar to an ethnographer, an art administrator explores issues of power, inequality
and inequity through extensive fieldwork in an effort to advocate and empower creative workers. An art administrators' data collection and methodology can vary from surveys, focus groups, interviews, workshops/webinars, tracking/mapping, funding initiatives, artist-lead actions, and other observations.
This level of fieldwork requires an art administrator to:
• genuinely believe in the power of art and its ability to inspire change
• approach the work with a level of openness, curiosity, wonder and excitement
• be willing to take risks
• have vision and purpose
WHAT ARE YOU WORKING ON NOW?
I recently closed my solo exhibition, Give and Take in Portland, Maine at the Space Gallery, which was partially funded by Queens Council on the Arts. The exhibition investigates the social meaning of beauty, identity, and cultural authenticity within black womanhood by centering on an all-black figure from whose perspective the viewer follows from youth to maturity. I'm currently working on traveling the show to other cities and I do have a few upcoming group exhibitions in the spring, summer and fall.
I also intend to continue connecting with community members throughout my Queens neighborhood as well as in other cities through my Creative Wellness Gathering Station. Since March 2016, I've been conducting a series of social experiments, which channel the knowledge and wisdom of community members to recall remedies and natural methods folks use to heal and cure everyday ailments. Together with my local Queens residents I have developed a collaborative process that uses lively conversation and interactive demonstrations to explore the origin, multi-purpose, and mixing techniques of a selected group of herbs displayed and offered at my wellness station. Participants are able to identify at least one applicable method and create an herbal mix to support their individual wellness needs. While hosting these social investigations, I plan to begin the second phase of the project, which involves the fabrication and photo-documentation of a Creative Wellness community garment.
As the Artist Programs Manager of Professional Development at the Joan Mitchell Foundation, one of the national programs I oversee is the Creating A Living Legacy Program (CALL) Program: an intergenerational and social initiative designed to assist mature artists in documenting, organizing, and preserving their life's work. The lessons we gathered from our fieldwork led to the creation of our first publication, the Career Documentation Guide for Visual Artists in 2012. This was followed by our partnership with the Arts & Business Council of Greater Boston and Volunteer Lawyers for the Arts and the publication of the Estate Planning Workbook for Artists in 2014. In 2015, the Foundation partnered with Voices in Contemporary Art to create the CALL/VoCA Talks a series of public conversations and recordings that feature the stories and work of the CALL Artists.
My focus now is on raising the national awareness and dialogue around the importance and process of preserving the rich cultural legacies of artists in our own communities. I have an interest in connecting with community workers, institutions, organizations, and funders who are deeply invested in capturing and celebrating their own local cultural producers and bearers.
I'm also interested in how history-making, authorship, and advancement of technology is redefining how and who documents, preserves and shares our historical narratives.
I see beginning this advocacy work through conversations: connecting with folks from arts & culture, libraries, academia, business, civil societies, technology, and long-standing community members. I know this new phase of work will challenge and require me to be in full and complete alignment.
WHERE CAN PEOPLE SEE MORE OF YOUR WORK?
Instagram @Shervone_neckles
LinkedIn @ Shervone Neckles
WHAT ADVICE CAN YOU GIVE TO EMERGING ARTIST ADMINISTRATORS?
• Strengthen your listening skills.
• Good work, visionary work doesn't happen in complete isolation- get out of the office/studio, connect with people, have conversations, participate in programs, events, attend workshops (not only as a facilitator but as a participant or observer, volunteer), serve on a board (community/institution). Get involved – be vulnerable – it's part of the process towards personal and professional growth.
• Value your work and what you as an individual bring to the work.
• Counter the feeling of scarcity by being more generous, share your knowledge, information and resources. We are constantly made to feel as though there is never enough. If we all decided to share, there would be an abundance of resources.
• Let's rely less on others to provide, fix, or resolve and instead look towards our own communities: there is value in our collective body of knowledge.
• Be open to feedback, create your own rituals for self-reflection and build a close circle (friends, family, colleagues and mentors) that will offer you honest criticism.
About the Author: Hoong Yee Lee Krakauer helps artists & creative people grow their careers with great grant writing strategies & mindsets she has developed over 15 years as an veteran grant panelist, grant maker & grant writer. Get her FREE Master Grant Strategy Worksheet and a weekly dose of insights from a grant reviewer's point of view.
Related
Popular in the Community