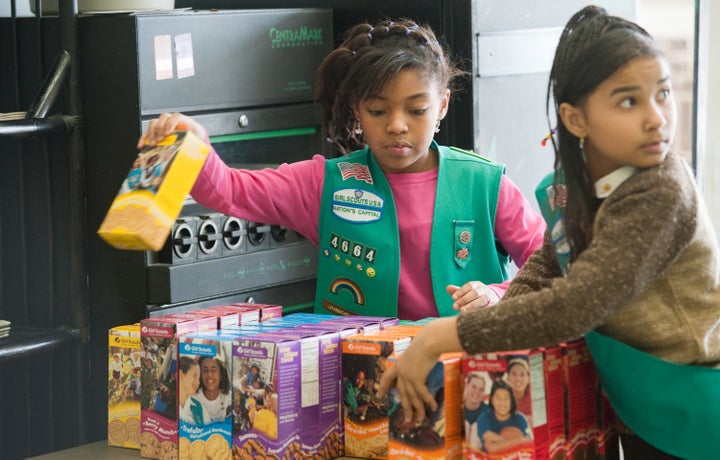 The Boy Scouts of America recently announced that it will be opening its doors for girls for the first time in its 107-year history. Now, critics, journalists, and parents alike are wondering if Girls Scouts USA should follow suit and accept boys.
I am an active Eagle Scout; if Girl Scouts decides to accept boys, I will be one of the first to join. There are a variety of factors that would influence my decision, but the defining factor would be that Girl Scouts could serve me ― and other boys ― well in my career and personal life.
With today's increasing emphasis on practical skills in the workplace, joining Girl Scouts could give me a vital edge in my future career. Although Boy Scouts offers an array of activities for thrill-seeking boys ― including whitewater rafting, backpacking, and rifle shooting ― these activities are largely lacking in practical benefits. On the other hand, practicality is at the core of many of the Girl Scouts' programs, equipping young girls with useful skills to navigate and excel in their future careers.
From a young age, while Boy Scouts are learning how to tie knots, the Responsible for What I Say and Do patch teaches young Girl Scouts to take up responsibilites at home, encouraging girls to babysit and help their parents with dinner.
From a young age, while Boy Scouts are roughing around, Girl Scouts are given the opportunity to refine their writing skills through the Scribe badge and enhance their critical reading skills with poetry reading.
And from a young age, while Boy Scouts are pitching tents, Girl Scouts learn, through the Finding Common Ground badge, how to "get to know someone different from you," "make decisions in a group," and "explore civil debate"—all of which are invaluable skills in this day and age.
Although the practical benefits of Girl Scouts might outweigh those of Boy Scouts, this is not to say that joining Boy Scouts is a worthless endeavor. Young boys still love camping, backpacking, and pinewood derby racing, and would much prefer these activities over babysitting, writing, and civil debates. Furthermore, scouting teaches young boys invaluable leadership skills that can be transferred to and utilized in a vast array of fields and careers.
Nevertheless, with today's boys falling behind in all spheres of education, consistently scoring lower on national standardized tests, allowing boys in Girl Scouts could close this performance gap. Today's boys could benefit from extra writing resources and conversations on important topics outside of the classroom ― both of which are offered in Girl Scouts.
In the meantime, while the decision to accept boys is up to Girl Scouts USA, it's time for Boy Scouts administrators and officials to rethink how scouting is equipping young boys to "be prepared" not only on camping trips, but also in their future careers.
Calling all HuffPost superfans!
Sign up for membership to become a founding member and help shape HuffPost's next chapter
BEFORE YOU GO