With her country facing crippling food shortages, this South American chef and winner of a top show on the Food Network is determined to put her country's cuisine on the map.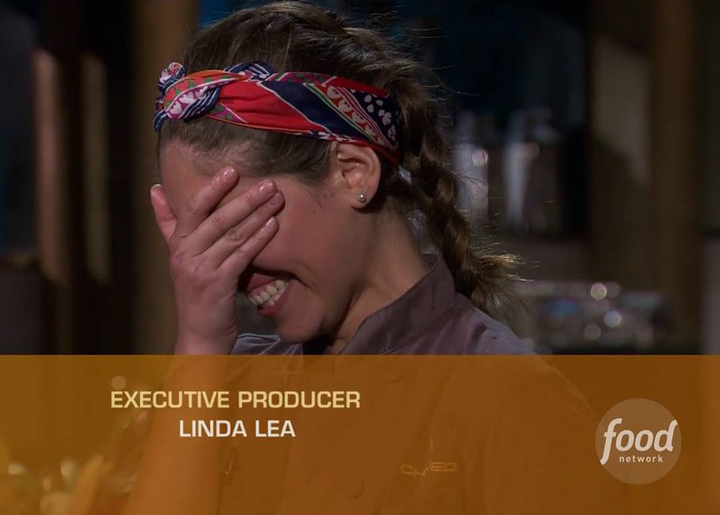 This article is part of the I Am an Immigrant series in honor of Immigrant Heritage Month. For more uplifting stories of the American Dream in action, check out the podcast Community Voice. To check out Adriana's contemporary Venezuelan pop-up dinners, make a reservation at Tepuy Dining.
Adriana Urbina (26 years old) hails from the beautiful, lush country of Venezuela in South America. With the recent food shortages and skyrocketing inflation, Venezuela, which was once ranked one of the happiest countries in the world according to the United Nation's World Happiness Report, has now seen its score drop faster than any of the 126 countries studied, including the Central African Republic and Greece. Food scarcity is the norm, with some sources claiming that food trafficking is now as lucrative as drug trafficking. News such as this undoubtedly pains Adriana, a culinary aficionado, who is determined to put her country's cuisine on the map.
[KC]: Tell me about yourself.
[AU]: I'm 26 years old. I started working before studying because I really wanted to make sure I wanted to pursue cooking as a career. So I started working at a restaurant for a year. Then after that, I started my studies in a culinary institute in Venezuela. … I really admired [this] chef in Spain [Martín Berasategui]. He has like 9 restaurants with 3 Michelin stars. And I had all of his books and everything, and I was like I need to go here, and I need to go to an internship and learn as much as I can. So I sent him an email telling him about all my admiration for him. And [how] I really wanted to go there.
[KC]: How did you get [Martín Berasategui's] email?
[AU]: I went to his website and just sent an email to that email that they have, like customer service. I was like, 'I don't know if this is going to work, but I'm going to try.'
[KC]: Wow! That must have been some email.
[AU]: Yes! I put all my heart into that email. [Over there, the kitchen was like the military]... We woke up super early, at like 6 AM. We worked like 14 hours a day.
[KC]: What age were you when you started this internship?
[AU]: I was 18. I was super young.
[KC]: So just about the same time people go to college?
[AU]: Exactly. This was my university. It was amazing. It was one of the best things that ever happened to me and worse. It was a constant struggle with myself to not break since I was there to prove a point to myself and to them. I was a woman, and I really wanted to be strong, you know? It really was a beautiful learning experience.
"Beautiful." That sounds very nice, but at the time I wanted to leave. [I would say to myself] 'I can't leave now. I'm here. I really wanted this.'... But it was very hard. I was so exhausted. Some days I couldn't wake up. I [couldn't] open my eyes.
[KC]: Not to be too silly, but I'm imagining that scene from Mulan with that song I'll Make a Man out of You, but instead of lifting weights you're lifting sacks of flour and running around.
[AU]: Exactly. Exactly. It was a great experience. They were also very aggressive.
[KC]: So just to make sure I'm understanding the situation: You were the only intern?
[AU]: In the kitchen, [there] were like 80 cooks with 10 interns and 4 chefs. And I was the only woman.
[KC]: Did he tell you why he picked you?
[AU]: He told me because no one [had] ever sent something so emotional, and he was like 'I had to say yes,' and they were very intrigued.
[KC]: I don't think a lot of people would have a lot of courage to go to another country after writing an email to the head chef. Did you have your parents supporting you?
[AU]: No, not at all. My parents also had a difficult financial situation. They helped me a little bit, but I always worked. I bought my ticket for France. I bought my ticket to Spain. They also encouraged me to do that. To support myself. To work for things.
Finding Her First Break
Adriana spent 8 months in Spain, but she returned to Venezuela because of her financial situation. Her older sister living in the United States recommended that she research restaurants in New York. Adriana had qualms about making that move, though she became excited after researching what was going on in the food industry. She goes on to talk about her first break.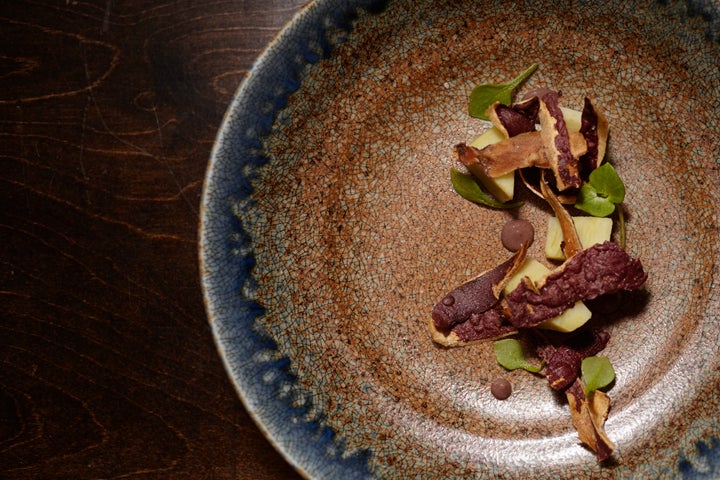 [AU]: I sent my resume to all the restaurants that I really liked. I thought it was difficult to get a job, so I asked for an internship first. After I sent thousands of emails, I scheduled 10 meetings. 10 trials. Not much… But what I did was once I bought my ticket to New York—
[KC]: [—You bought your tickets] before you got the interviews?
[AU]: Once I had all the interviews already set up, I bought the ticket. Also, I went to the restaurants that didn't answer me, and I went in person with my resume, and I told them, 'I want to work here. I'm Adriana. I don't know if the chef is here. But I sent an email.' ... And here in New York, everyone was like 'Who the **** are you?'
It was so weird for them. … And then sometimes they were like 'Yeah, the chef is here. I'm gonna talk with the chef.' And the chef was so shocked about the whole thing. And it was funny. And that's how I got a job. And when they told me 'Ok, we want to hire you not for an internship, but we want to have you here' I was like 'Well, I need a visa. Can you help me?' And they helped me.
But also in my trial, when they put me to cook, I did my best. I gave all of myself. Everything. They saw that. And that was one of the reasons they were like 'Ok, we need to have her.' It was amazing.
[KC]: What was the name of the Michelin star restaurant where you worked?
[AU]: It's called the Rouge Tomate. I worked there for a year, and it was one of the best experiences I ever had, but my visa expired, and I had to go back to Venezuela.
[KC]: What was social mobility like in the restaurant?
[AU]: I knew I was improving and I deserved the position that I wanted. And [then, someone] came for the first time to the kitchen, and they gave the job to him. That part was very hard, because I felt like I deserved it, and they never promoted me. And maybe because they paid for my visa, they knew I couldn't go. So they sort of owned me in a way. That was hard. I tried to make the best out of it. I learned a lot. But that was something that I was really, really sad about. As a woman, as a chef, as an immigrant, it's 10 times harder.
After leaving Rouge Tomate, Adriana returned to her country and started a catering company which she ran for a year, but the political situation in Venezuela took a turn for the worse, and she made the decision to return to the United States.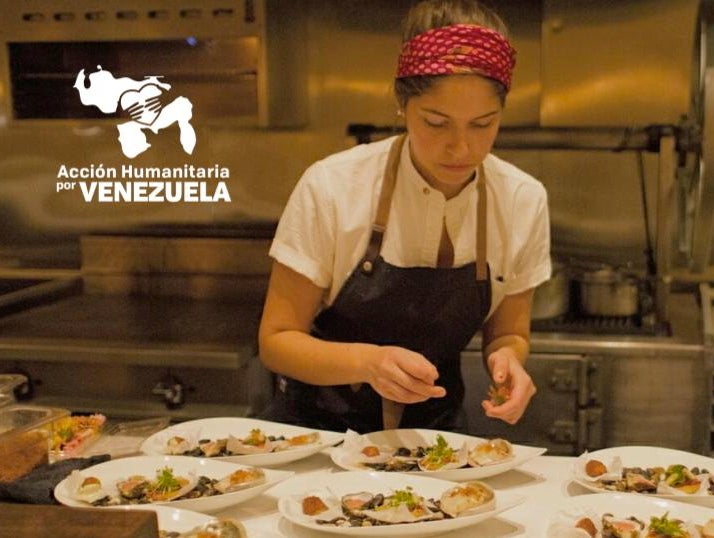 [KC]: When I was 22, I was complaining about going to 8 am classes. And you were starting a company and [living in a country with an] oppressive government. No big deal. What was that like?
[AU]: It was really dangerous. It was hard to find milk or butter or basic produce. So I decided to go. I saved money… They gave me a work permit. … I really wanted to work for Atera [another restaurant with 2 Michelin stars]. I went in with my resume [again]… They were very, very impressed that I was so interested to work for them. So I got the job.
But I always wanted to start my own business and have my own project because I did it in Venezuela, and I loved it. While I was working in that restaurant, I was imagining "How do I want to start my project?" So I started writing recipes, writing all the concepts, all the little details. I heard of something called pop up dinners. I knew that a lot of chefs were doing it. It was an easy way to promote yourself as a chef without having to invest a lot of money. I started asking people at the restaurant – do you think I can do this project here? I don't have much money. A lot of people told me that I was crazy. 'No. No No.'
"But I insisted and I found a place [to start my pop up dinners]. It was also a lot of work since I was working at a restaurant and at the same time doing pop up dinners. But it was totally worth it because I was doing my own thing. My own recipes. And the most important thing [was] showing people another side of Venezuelan cuisine."
I left the restaurant with the 2 Michelin stars. And I was doing 2 jobs and then the pop up dinner at the same time.
[KC]: What were the 2 jobs you had while running your pop up dinners?
[AU]: I found a job in a bakery. I was waking up at 4 AM and doing all the pastries until 1 PM. Then I started preparing some meals for people to go. … Then I had to prepare that, find clients, and deliver the food. At also at night, I had the pop up diners… In the meantime, I was emailing bloggers and people to promote my project.
"After that, they published a little article saying that it was one of the best Venezuelan restaurants to eat in New York, and I was not even a restaurant."
So that was a big thing for me, and it gave me more strength to keep going with the idea. Because I had very bad days when I was like 'Why am I doing this? This is crazy. I'm crazy. I don't know.' It was so much work! I was so exhausted.
Living the Dream & Winning Chopped
While continuing to work multiple jobs and launching her own project, Adriana found an opportunity to work as the chef at the cuisine of a Latin restaurant called Comodo founded by Mexican immigrants. They offered to host Adriana's pop up dinners.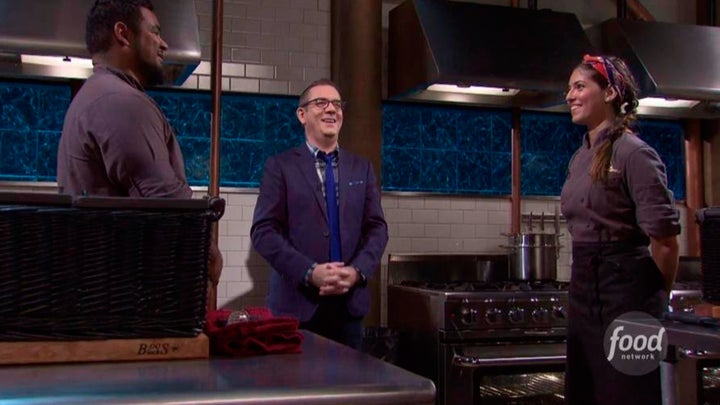 [KC]: How did you find this couple?
[AU]: I was there for a year to do my pop ups. That gave me financial stability because I was also saving a lot of money. This is the moment to dedicate my time to Tepuy, my concept. I also got the opportunity to be on Chopped. They called me because they found me through an article, Eater. That's how they found me. I did that. And then, I won, and then…
[KC]: No big deal... You won! Yeah!
[AU]: [laughs] Yeah that was amazing.
[KC]: Go ahead, go ahead. I want to hear about this moment when they called you from Chopped.
[AU]: I was freaking out. I'm a little shy. The whole idea of a TV show. It was very scary because I've never done it—
[KC]: You, shy? You, the girl who walked in with resumes into these restaurants with resumes, yelling "Hire me!"?
[AU]: I know… I was worried all the time since my parents were still there in Venezuela. I was always concerned that they were struggling with money. It was really important for them to have stability for me and for them. 'Maybe this is an opportunity for me and for them, so I'm gonna do it.'
[KC]: Were you nervous to be on Chopped?
[AU]: It was so weird. I was nervous before the competition. But once I saw the ingredients and I was there, I forgot about everything. I was like 'this is my thing.' I was so secure about the cooking that I was enjoying it so much. I was not nervous anymore. In those shows, everyone is sweating and running, and I was so calm. … I was a little worried about the competition because one was the chef of a 3 Michelin star restaurant here in New York. Another was a chef of 2 very well-known restaurants. So they were good competition. Well, it turned out that I won. I cried at the end. I was very emotional. I couldn't believe it.
It was proof that I had to believe more in myself and take some risk and go for things that maybe you think you can't do it. I have to take the risks sometimes. It was great.
[KC]: What was it like for you after the show?
[AU]: Now I'm having a lot of opportunities. In Venezuela, it was this huge news because we don't have any good news at all. So Imagine. Here it's not a big deal, but over there, [they were] calling me from all these radio stations and TV shows. … I worked so hard for all this, and I'm [still] not where I want to be. I still have so many things to learn and to do but I feel like it's really important to enjoy what is happening right now to me. Because sometimes I feel so– I'm so hard with myself. It's not a big deal. It's fine. But it is a big deal. I have to remember when I didn't have anything. I was struggling so much, and I enjoy this moment a little bit more.
[KC]: How do you do that? I think it's very hard to go from this place where you had nothing, and now you have a lot of things going for you. How do you take that time to stay present in your success but also striving towards your next goal?
[AU]: Well it's one thing when I moved here is that I was so happy for the fact that I could walk in the street without having to worry about anything. … I felt I was the luckiest person in the world to have this. This is freedom. This is amazing. I didn't have that in Venezuela. That is one thing I never want to forget. … I still stop for a second and think I'm so lucky. The little things are really important to remember. I can go to the supermarket and I can buy whatever I want. That's something that I didn't have in Venezuela because we don't have anything. We don't have food.
[She repeated "I'm so lucky" 3 times as if it were a mantra.]
[AU]: It's also really important for me to preserve my essence. The idea of the project that I want to have. Not because I have so many options I have to say yes to everything… I feel like I was in a point where I didn't have money, and I was struggling with my visa. I was still happy. I don't have to say yes because they're offering me money. That was good because I had to go through all that to appreciate what I have now.
[KC]: Is there an immediate plan to help your family come to the United States?
[AU]: They're going through a lot because they love Venezuela. They're very educated and they don't have a job there.
[KC]: Everyone's living on their savings?
[AU]: Sort of… Their lives are not what they wanted it to be. That worries me. And they don't complain. I don't know when they need money not because they ask for me, it's because I send them. They don't want me to help them at all.
Adriana was getting nostalgic thinking about her motherland.
[AU]: It's crazy. It's a little weird. It's such a beautiful world if you go. The weather is perfect. The people are just happy. I don't know how we're the happiest country in the world, and now we're the most dangerous country in the world. It's so weird. I don't know.
[KC]: What is the biggest dream you want to achieve?
"My biggest dream is to own my restaurant and take the Venezuelan cuisine to a whole other level."
I'm also giving part of the proceeds to an organization in Venezuela accion pour Venezuela. What they do is they help kids to get good for kids who don't have anything. With 5 dollars, you will give a month of food for a kid in need. … Part of my pop-up is also to open a little window for people all over the world to get together about food but also to get to know more about Venezuela, about my country. That's why the name is Tepuy. Tepuy is a huge mountain in the middle of the Amazonian jungle in Venezuela. My goal is to have my own restaurant and to have an organization that can keep helping kids in Venezuela and in Latin America.
Challenges as an Immigrant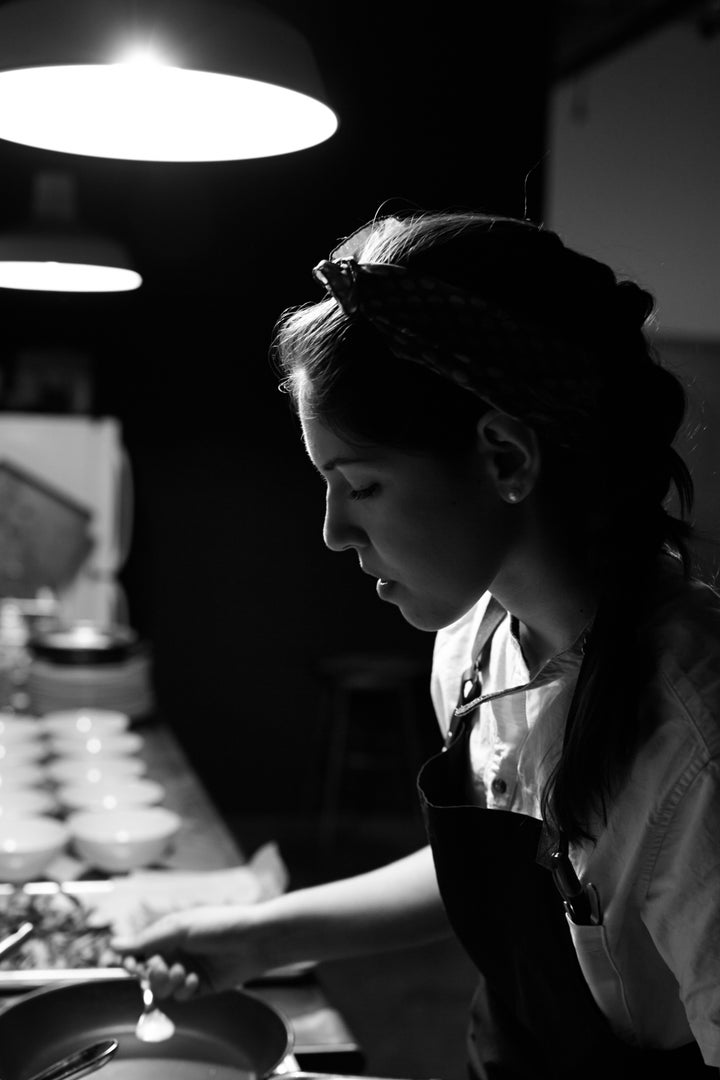 [KC]: What sacrifices did you have to make in immigrating? I know you mentioned throughout the interview that you had to work really hard, save money, you had a tough financial situation but you still made it work, there were tough spots in the kitchen, you being the only female. You've gone through a lot. What was the biggest sacrifice you've made?
[AU]: Leaving my family was the hardest thing and taking the decision of doing political asylum because I can't go back to Venezuela right now. I can't see my grandma or my family that can't travel. That's the hardest decision I have ever made in my life.
[KC]: Now that you have political asylum, you can't go back to your country?
[AU]: No, unless the government changes.
Reflecting on Her Experiences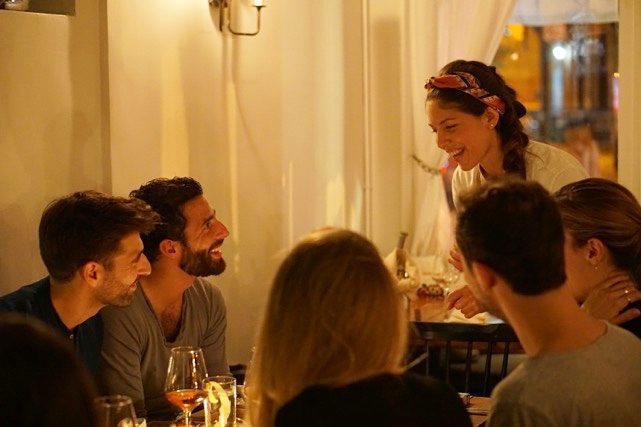 [KC]: Was there a moment you felt the most proud while you were here in the US? If so which moment was that?
[AU]: Winning Chopped I think…
[KC]: What did you learn about yourself in the process of immigrating?
[AU]: What did I learn in the process of immigration? How to solve problems fast. How to not get worried about little things. And just being patient, very patient.
[KC]: What is one takeaway from your immigration experience you want to share with the world?
[AU]: Sometimes [people] talk down to you… You [should] never feel less because you're immigrant. For me, I got stronger and that's why I did everything that I did. Never make someone feel less because they're an immigrant.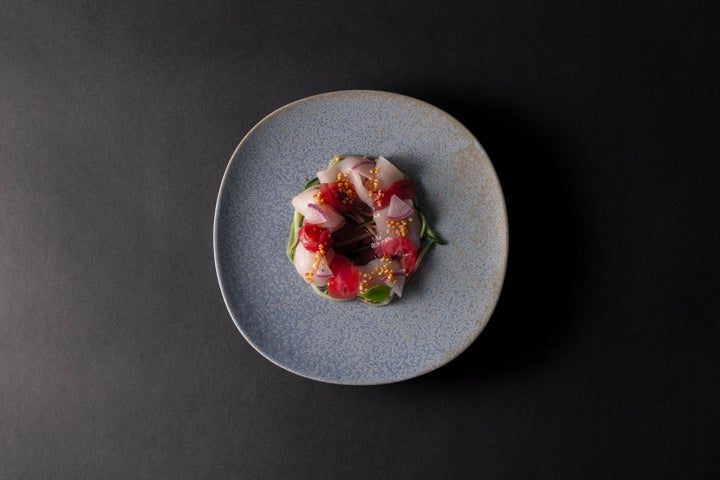 Tepuy Dining: If you are in New York City and want to check out one of the best Venezuelan restaurants in the city, check out Adrian's pop up dinners at Tepuy. Part of the proceeds go to supporting hungry children in Venezuela. Follow Tepuy on Instagram to see some mouthwatering concoctions from the south of the Equator!
Comparte por una Vida: If you want to help hungry children in Venezuela, support Comparte por una Vida.
To hear more stories about self-starters, student entrepreneurs, and small business owners across the country, tune into the podcast Community Voice available on iTunes.
Related