LONDON (AP) -- From Berlin to Bangkok, tens of thousands took a stand against living in fear, as rallies defended the freedom of expression and honored the victims of a Paris newspaper attack.
Viewing the Paris killings as a cold-blooded assault on democracy, people from all walks of life -- journalists and police officers, politicians and students -- turned out in cities around the world Thursday, holding up pens and joining hands in an outpouring of silent solidarity.
Many held placards proclaiming "Je Suis Charlie" -- "I am Charlie" -- a slogan that went viral on social media within hours of Wednesday's terror attack on the French satirical weekly Charlie Hebdo that left 12 people dead.
Germany's biggest-selling daily, Bild, filled the top half of its front page with the headline "Cowardly Murderers!" and printed a black back page with the words "Je suis Charlie."
"The only thing we can do against this is to live fearlessly," editor-in-chief Kai Diekmann said in an editorial. "Our colleagues in Paris have paid the ultimate price for freedom. We bow before them."
Peter Neumann, a security expert at King's College London, said the attack has won widespread attention on the Internet because it reflects an assault on values -- unlike other recent terror incidents, such as those at a cafe in Sydney or outside parliament in Ottawa, which were seen as attacks directed at local targets.
Many people are stepping forward to defend their principles because they see their basic rights threatened.
"It has been framed as an attack on a principle, rather than a specific target," said Neumann, director of the university's International Center for the Study of Radicalization.
Across Britain, police forces paused for two minutes at 10:30 a.m. Thursday -- 24 hours after the shootings -- to remember the 12 victims in Paris, who included two French police officers.
"Every single person, other than the people manning the emergency lines, came out to show their support," said Mike Barton, Chief Constable at Durham Police.
European capitals including Madrid, London and Brussels and cities in the U.S. saw large demonstrations and candlelit vigils late Wednesday. More rallies were held Thursday from Sarajevo to Athens, where some formed a line and held up a letter each spelling out in Greek: "I do not hate, I am not afraid."
Smaller gatherings took place even further afield, from Delhi in India to the Tunisian capital of Tunis.
In Tunisia, the birthplace of one of the slain cartoonists, Georges Wolinski, dozens paid homage to Charlie Hebdo in a candlelight vigil outside the French ambassador's residence.
"These people were executed at point-blank range just because of drawings -- drawings that didn't please everyone and provoked anger and controversy but still were just drawings," said journalist Marouen Achouri.
In Prague, visitors to the National Theater and elsewhere were being asked to mark a minute of silence before each performance Thursday to honor the victims. In Italy, seven general managers and artistic directors of Milan's major theaters and orchestras, including La Scala, put out a joint statement defending "all the values that are an achievement of our civilization."
Editors at newspapers around the world expressed support by featuring subversive cartoons or reprinting some of the Paris weekly's provocative covers. Dozens declared "We are Charlie Hebdo" on their front pages.
The Danish paper Jyllands-Posten, which has faced numerous threats and foiled attacks for publishing caricatures of the Prophet Muhammad in 2005, issued a black front page with a caption that said the free world has a responsibility to protect democracy against "religious frenzy."
In Spain, the Madrid suburb of Rivas Vaciamadrid announced Thursday it planned to name a street, plaza or public space "Charlie Hebdo" in honor of the victims and the freedom of expression.
The weekly performed a public service because "a society without satire and criticism is a society in a vegetative state," Mayor Pedro del Cura said.
PORTUGAL: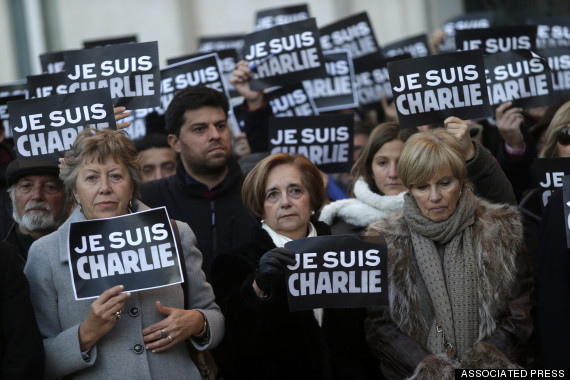 People holding paper with a slogan that reads in French: "I am Charlie" observe a minute of silence outside the Lisbon's City Hall, in honor of the people killed during the attack by gunmen at the French newspaper Charlie Hebdo's offices in Paris(AP Photo/Francisco Seco)
THAILAND: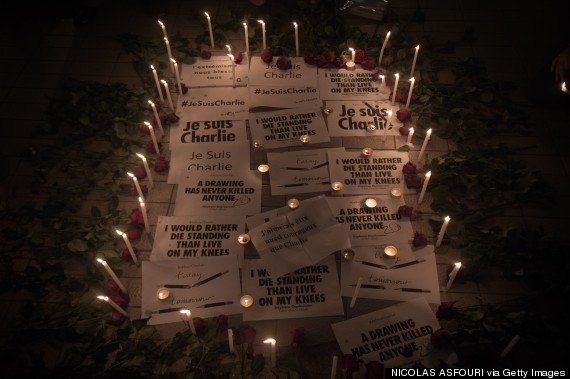 Messages, flowers and candles are displayed outside the Cultural and Art centre in Bangkok on January 8, 2015, in tribute to the twelve people killed the day before in an attack by two armed gunmen on the offices of French satirical newspaper Charlie Hebdo in Paris. NICOLAS ASFOURI/AFP/Getty Images)
ITALY: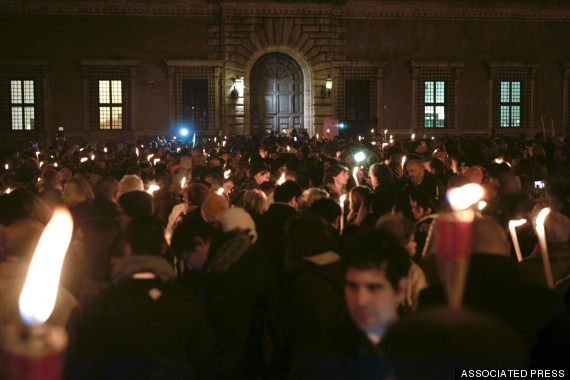 People gather in front of the French Embassy in Rome to take part in a demonstration to express solidarity with those killed in an attack at the Paris offices of weekly newspaper Charlie Hebdo, Thursday, Jan. 8, 2015. (AP Photo/Andrew Medichini)
GERMANY: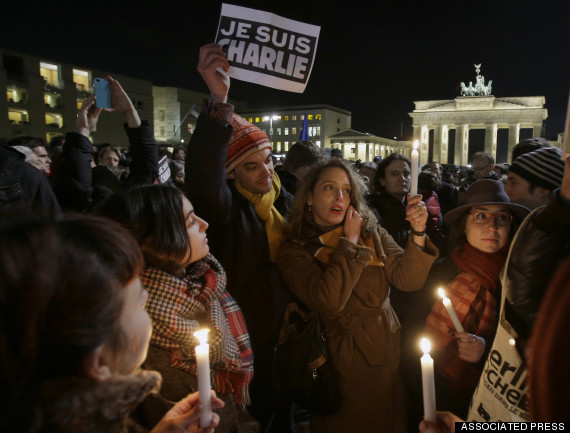 A man holds a poster reading 'I am Charlie' as he and others gather to express solidarity with the murdered French journalists in front of the Brandenburg Gate in Berlin, Germany, Wednesday, Jan. 7, 2015. (AP Photo/Michael Sohn)
BELGIUM: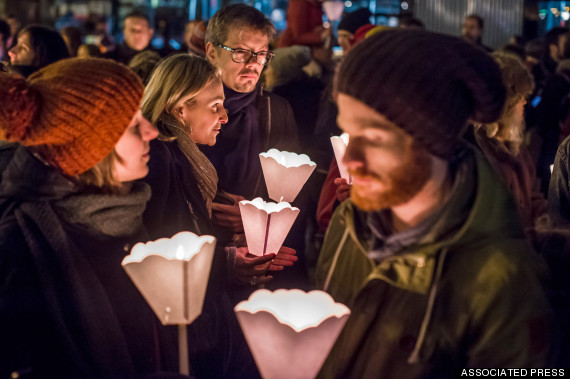 People hold candles during a gathering in support for the victims of a terror shooting in Paris, France, as they gather near EU headquarters in Brussels on Wednesday, Jan. 7, 2015. (AP Photo/Geert Vanden Wijngaert)
U.K.: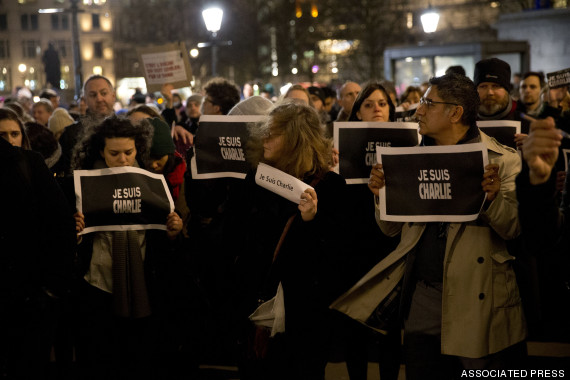 People hold up posters reading 'I am Charlie' in French as they take part in a vigil of people, including many who were French, to show solidarity with those killed in an attack at the Paris offices of weekly newspaper Charlie Hebdo, in Trafalgar Square, London, Wednesday, Jan. 7, 2015. (AP Photo/Matt Dunham)
U.S.: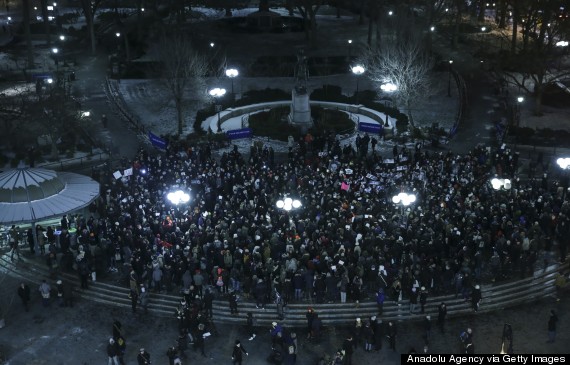 People gather to show reactions against gun attack on the building of French magazine 'Charlie Hebdo' in Paris, leaving 12 dead, during the protest at Manhattan's Union Square in New York, United States on January 07, 2015. (Bilgin S. Sasmaz/Anadolu Agency/Getty Images)
Associated Press writers Geir Moulson in Berlin, Bouazza ben Bouazza in Tunis, Tunisia, Karl Ritter in Stockholm, Sweden, Alan Clendenning in Madrid, Sarah El Deeb in Cairo, Karel Janicek in Prague and Elena Becatoros in Athens contributed to this report.
Support HuffPost
The Stakes Have Never Been Higher
Related
Popular in the Community