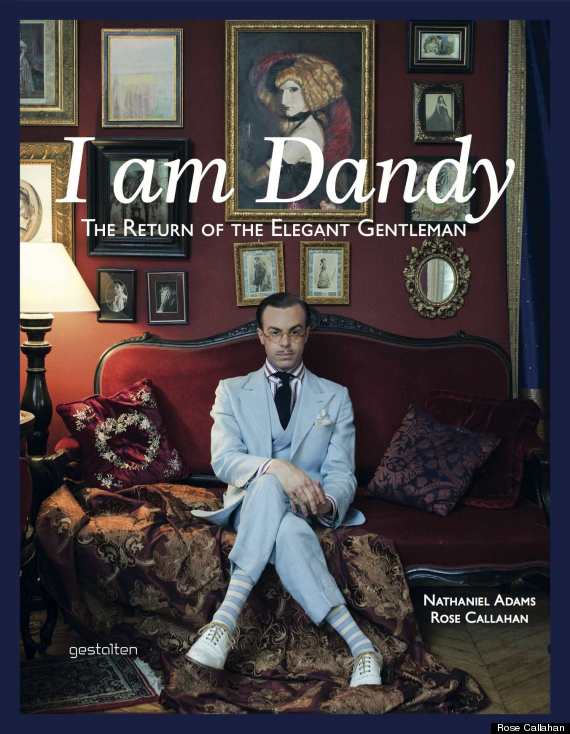 Hitting shops this month is a new book on those gentleman nobody is ever sure what to do with, the Dandy. As someone labeled such, I have heard the confusion. "Say, why are you so dressed up?" "Harumph, are you famous or something?" "Hell, what do I call your type anyways?" It's constantly like being poked by one of those squeaky mealy mouthed bottle blond flappers. If only! It's usually someone from a bridge or a tunnel who is out too late for their own good.
With this book, beautifully photographed by Rose Callahan and written by the dashing Nathaniel (Natty) Adams, they go about documenting the lives of 57 modern dandies in New York, London and Paris (this writer included, page 127, doll!). While we find this book a fascinating look into the gold fish bowl of gilded guys, we aren't here to dissect it page by page for you. You can buy your own copy right here.
With the launch of the book, Rose and Natty hosted launch parties in London and Paris and gathered many of the buttoned up boys together to celebrate. We were curious to hear more about these get togethers and what they both learned about the subjects after spending so much time with them.
Here is what they had to say:
Getting everyone together was the hardest thing yet almost all the book subjects from London came out to our big do at Gieves & Hawkes. There aren't too many opportunities for these people to get together but to get them all together for one photo was like, well, herding peacocks.
When we were in Paris we had a huge party. It was a two part evening. The first part was a fancy to-do at a tailoring shop called Cifonelli hosted by Hugo Jacomet, creator of the blog the Parisian Gentleman. Hamish Bowles was in town and came to the event -- big, welcome surprise. Then we did a big after-party at Tres Honore with a bohemian crowd. It was hosted by the man on the cover, Massimiliano Mocchia di Coggiola and his wife Sorrel.
We have an exciting Bergdorf Goodman event on Thursday Nov. 10t. The Bergdorf team really got on board right away and were very excited. Partly because Glenn O'Brien did the Preface to the book and he writes for the BG magazine, too.
Finally, I have a week long exhibit of prints from the book at The National Arts Club in New York opening November 18.
How are dandies regarded in Paris?
It is definitely a novelty in Paris. They see it more of a celebration of the individual, not a negative connotation. It means someone with personality and flair.
What did you learn most about Dandies?
I have learned that elegance and beauty really matter. What you see and what you create around yourself matters so much. The world can be so gross, mediocre and depressing yet you can create your own beauty around you. That is the biggest lesson I have learned.
Also what I have seen is that walking down the street with dandies and seeing how people react to them is so interesting. How you present yourself to the world is very deep and changes your whole world and the way you interact with the world. You can walk down the street in jeans or in a cape and people will certainly treat you differently.
One sweet kid was asked how it was to be called a dandy and he responded, "Well it is better than the other words they call me." (Tears!)
Was this kind of your 'Aha' Moment?
I feel like I have realized why I love the Dandy so much. I feel like I am akin to them. I love it when people dress up. The reason I am interested in them is because dressing up, glamour and elegance are things I enjoy too. And they have that in spades!

Is it all about the clothes?

For me it has been such a great subject because they are not just fascinating visually. They go beyond that. You find out about their lives, work, environment. There is much more to it than just aesthetics.
You almost can't tell if they have money or not. It's from their sheer wit and wisdom that they create this amazing world. Some of them make their own clothes, others are collectors. The variety of people was so incredible. There is an 80 year old man who has worn the same clothes for 30 years and won't gain weight so he can fit into the same suit. Then you have someone who is 25 doing the same thing.
What about the ethnic diversity?
Of course the ethnicities are interesting as well. There are dandies in Africa, China and most unlikely -- Mongolia! There are so many more to document. You see all of this variety yet there is a connection somehow of men who are obsessed with elegance. The clothes of course are a huge part of it but the obsession is in every part of their life. They aren't trying to be committed to it, this is simply who they are. Grass doesn't 'try' to grow if you know what I mean.

Would you call Dandyism a sub-culture?
I realized it is not a sub culture, it's a collection of very individual men. They don't all want to be lumped into a group for sure. They don't want to be called Dandies, which is surreal. It's like a knighthood, someone else can call you that but you shouldn't call yourself a dandy. It was very difficult to get these men together, one because they don't know each other and two, they don't really care!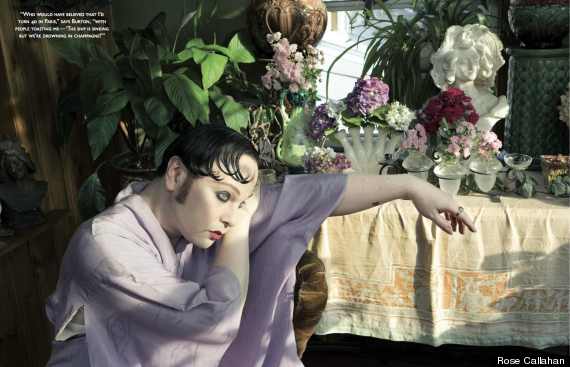 Tell us about your experience at the launch parties?
It was really perfect for our first launch to be at Gieves & Hawkes. For me it was more important to be at the London and New York events. For the Paris dandies, unfortunately, I only met one of the dandies in person, the gent on the cover.
At Gieves there were tailored pieces from the military as well as a frogged number they made for Michael Jackson. It was refreshing to see their wide range of work. In England the differences in dandies is more highlighted. They are in their own categories; the lines are a bit more clear. Also, England has this tradition of the eccentric oddball. There it is a much more solitary practice whereas in New York, dandies are out and about and being photographed.
What about referring to them as Dandies?
A lot of people mentioned they didn't want to be called Dandies. But if this book was published with no texts, people would call them dandies, right? Most of them are pretty well read and have a sense of history so they know who Bunny Rogers is and Beau Brummell and Count D'Annunzio. Because they are so knowledgeable in Dandyism they are hesitant to call themselves that. But to the average person, a well dressed man is a dandy.
What is the gay/straight ratio?
It didn't surprise me that the sexual orientation was 50/50 gay and straight, although many people ask me if everyone in the book is gay. I was delighted with the range of ages. Journalists always want to pinpoint things on trends and you can't pin the Dandy. There are people from 17-80 in the book. They have always been dressing up but now they are being seen and talked about. The trend isn't that there are more of these guys, it's just that people are noticing them more. It's not that the old guys dress one way and the young ones another. I am so curious about what the young guys will be dressing like in ten years. Will they move on? Get married and ditch it? Who knows! " I am married, the disappearance of the elegant Gentleman." (laughs)
Someone like Gay Talese has been dressing the same damn way since the 60s. It's not something he fell into recently.
What do they all do exactly?
The range of occupations was interesting too. It was compelling to see people dressed up who are not in the world of fashion. People like Hamish Bowles and Simon Doonan almost have to dress up because of the industry they are in, although they would dress up even if they were both SCUBA divers. But some of the guys are lawyers, writers, doctors and genuinely love the lifestyle. I have a profound love for these guys who love this lifestyle so much.
How was communication with men who often feign living in another century?
Some were hesitant at first. Email didn't work out quite as well as one-on-one interviews of course. I wasn't just asking them about their clothes. They thought it was a fashion interview. But when I asked them about their fathers' clothes, or why they liked clothes, they really responded to me. Once they realized I really wanted to hear what they thought about dressing and this lifestyle, they opened up. It wasn't just about getting photographed.
When Rose shoots she shoots an environment so I tried to write like Rose shoots, to get a more well rounded portrait of each person. It wasn't just "what is your favorite designer or tailor?". I didn't want it to read like a fashion profile. Rose saw the esthetics of it. I came from the background of D'Annunzio, Brummell, Beckford. One of my secret ambitions is seeing which of these men really is going to be the next Beau Brummel. Who is going to really live that dandy lifestyle fully? So this is one way to pursue this interest of mine.
Gay Talese so far has had the broadest cultural impact as had Hamish and Simon. This project has gotten my interest peaked about this.
We look forward to your follow up book: Dandies after a Decade!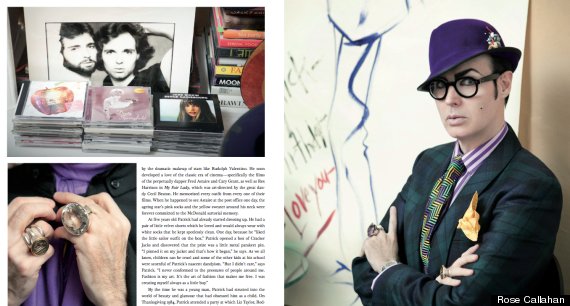 All Photographs by Rose Callahan from I am Dandy, Copyright Gestalten 2013
Related