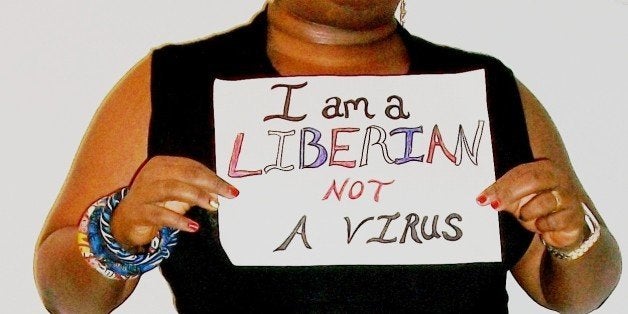 Helping Our People Excel, Inc. (HOPE) is a grantee partner of Let Girls Lead that works to ensure the Educational, Social and Economic Empowerment of Liberians with a special focus on women and young people. Aisha Cooper Bruce is Let Girls Lead's country representative in Liberia and a program alumni.
I am a Liberian. I am not a virus.
These are the words I want to shout every time I watch the news, read Facebook posts, or experience the reaction of people when I tell them that I am from Liberia.
I want to explain that I am a Liberian who came to the United States to attend meetings, and now am forced to remain here because my return flight was cancelled. I want to explain how I miss my home, and cannot wait to see my husband and children; that I worry about them every day.
I need people to understand that I, like many other Liberians, am constantly fighting tears and struggling with grief. But we manage to keep smiling. We manage to keep moving. We manage to keep up appearances.
I want people to understand that we are more than the latest breaking news. We are not "those Africans." We are not pitiful media images, statistics or projections. We are mothers, fathers, children, scholars, artists, doctors, and survivors. We are people.

A young Liberian, Comfort Martin Leeco, put it best in her Facebook post (partial excerpt):
I am the lady who gave birth to her twins on the street. I am the sick looking for healing even though I do not have Ebola. I am all those victimized by the health system due to this deadly virus. I am ALL brave ones picking up dead bodies. I am ALL the health workers risking their lives. I am the Liberians fighting to leave the country. I am the Liberians that have nowhere to go. I am the Liberians using their personal resources to reach out ... I am the Liberian who presents her passport and waits for the expressions on the faces of those I hand it to. I am the Liberian afraid to speak, because of my accent ...
Liberians witness and feel stigmatization and discrimination daily. Many people still do not understand how the virus is transmitted. Many West African children are banned from schools or bullied because they happen to be West African. There have been talks of banning all flights in and out of the region; airplane cabin cleaning crews have gone on strike in New York.
I watch and read news stories punctuated with misinformation, myths and prejudice. Yet I and others remain silent while the media "mediates" our story; stories that only fuel the fire of ignorance and fear surrounding the Ebola Outbreak.
There is a Liberian saying: "The streets can't buy you unless your house sells you." So my mother, Dr. Katurah York Cooper, a friend, Shoana Solomon and I, have launched a social media campaign, #iamaliberiannotavirus. As Liberians, we are determined to break the silence, and tell our real story. This is who we are.
I am a Liberian just hoping for another day. -- Prince Pailey
I am a Liberian who wants to do something tangible about this situation in my country -- Carmenresia Jones
As ugly as it seems now and as unbelievable as it may sound to some, somehow I still have not given up on Liberia. I still BELIEVE. -- Magdalene Matthews
I am a Liberian who just can't stop crying to God to heal our land -- Warwen M. Duoe
I am a living breathing human being along with millions of Liberians who are breathing along with me. Poverty and disease are not stigmas. They are conditions. Conditions change, and we will work towards that change. -- Katurah York Cooper
We hope that if you see us as we truly are -- determined, strong and brave -- then perhaps you will not feed into the collective fear and ignorance that is doing nothing to help the situation. We hope you will make informed decisions. We hope you will volunteer, send supplies, and make donations. We hope you will contribute to efforts to develop a vaccine and prevent a future outbreak. Anywhere.
As for me, every day I am inspired by Liberians who risk their lives, mobilize their personal resources, and make immense sacrifices to contain and combat the virus. We will keep believing. We will keep fighting. We will beat Ebola.
Let Girls Lead is building a global movement of Champions who empower girls to attend school, stay healthy, escape poverty, and overcome violence. Let Girls Lead invests in girls and their allies to lead social change through advocacy, education, storytelling, economic empowerment, and strategic partnerships. Since 2009, Let Girls Lead's externally validated model has contributed to improved health, education, livelihoods, and rights for more than 3 million girls through laws, programs, and funding. Let Girls Lead's sister initiative, Champions for Change, leverages this proven model to save the lives of women, newborns, and children by empowering leaders and organizations to advocate for reproductive, maternal, newborn, and child health in Nigeria.
Popular in the Community