Take a centuries-old Mexican folk song (perhaps rooted in Africa), pep it up with a rock beat, cut a chart-topping recording of it by a teen idol up in the States, then feature it in a hit movie, and you've got what worldwide fans know as La Bamba.
Back in Mexico you hear it at weddings, parties, bar mitzvas and at all kinds of fiestas. So what if the song's oft-changed lyrics over the years roughly translate to a kind of gibberish, or something going "higher and higher," and that you need "a little grace" to do the dance.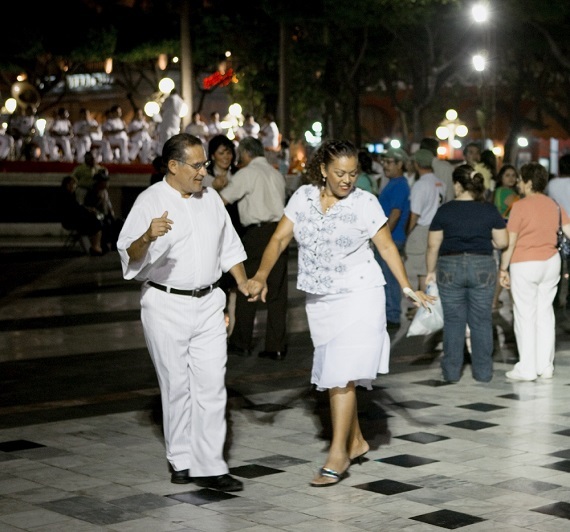 Couple dances to La Bamba in the town square of Veracruz. Photo courtesy of the Mexico Tourism Board.
Foreigners -- who've heard it over and over in everything from Richie Valens' bio flick to rock concerts by Bruce Springsteen -- sing along when the song's arguably best-known words come up: Yo no soy marinero, yo no soy marinero, soy capitan, soy capitan. (Translated, "I am not a sailor, I am not a sailor, I am a captain, I am a captain."
What does being a captain have to do with the rest of the song? "Not much, if anything," says Mexico historian Jaime Capulli. "It's possible it meant something to the guy who wrote (the song) hundreds of years ago -- whoever that was -- or maybe someone slipped those words in later on."
The beat of Valens' La Bamba, the words and even the instruments on the recording are all a far cry from what you'll hear down on the Gulf of Mexico's coastal town of Veracruz, where the local folks claim the song as their own (and have been known to cringe when they hear Valens' version).
Down there, La Bamba is typically plucked out on a distinctive gut-string harp backed by three or so guitars played by local son jorocho bands. North of the border, most gringoes first heard the song on Valens' harp-less 1958 hit recording. It popped up again in the 1987 movie about Valens (played by Lou Diamond Phillips), who died in a plane crash in 1959, along with two other rockers, Buddy Holly and J.P. "The Big Bopper" Richardson.
Many -- but not all -- Latino musicologists agree the name of the song relates to the Spanish word bambolear, roughly meaning "to shake." Beyond that, though, the oft-improvised lyrics run the gamut from a happy Mexican dance tune to tales of lamented love. A version from Lila Downs' One Blood album comes pretty close to the authentic jorocho style, harp and all.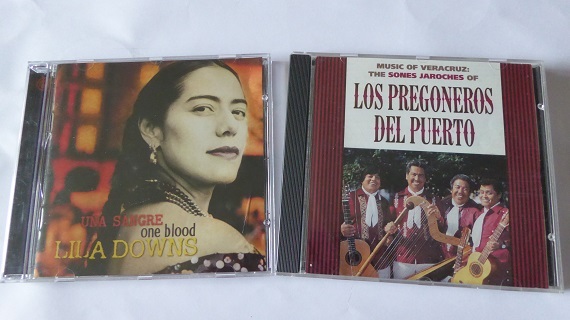 Valens, who reportedly didn't speak Spanish, got his version from his aunt and learned to sing it phonetically. Another rendering of the song -- among hundreds, perhaps thousands -- comes from a popular jorocho band called "Los Pregoneros del Puerto." Its twist on the sailor-captain line translates to "I am not a sailor, but for you I will be."
Los Pregoneros goes on to tell the story of a guy who loved and lost, and who turned up being anything but happy at his ex-girlfriend's wedding. The lyrics end this way: "Oh I ask you out of compassion, that La Bamba end and another song start."
Yes, there's a spicy version, too. Lots of them, actually. One is about a guy telling how his "bird" (a popular Mexican euphemism for a penis) flew away to a small village after the wedding -- possibly meaning he'll never make love again.
Could La Bamba have come from Africa? Still another theory of the song's origin traces it to the MBamba people living along the Bamba River in Angola and Congo in southwest Africa.
La Bamba, this theory says, started out as a work song of slaves from this area who wound up on plantations around Veracruz.
Getting back to those iconic sailor-captain lines in the modern-day song, ask folks living in Veracruz what they mean. The answer you'll most often get is, quien sabe ("who knows").