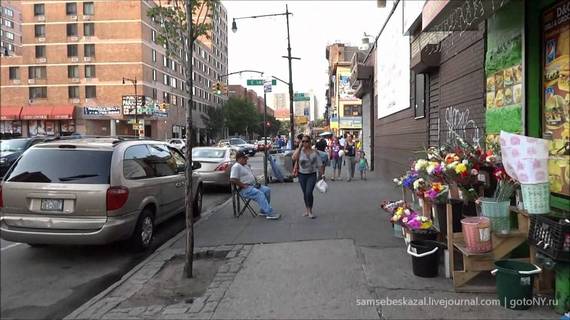 I have been bragging about the Bronx for as long as I can remember. Those of us who have been living in the South Bronx have known, what many are now, finding out. The South Bronx is one of the best places to live in N.Y.C.!
That's right... My parents came straight from Puerto Rico in 1956, I have been a resident of the area since. I have never moved further than two-square miles from 156th St. and Cauldwell Avenue, my childhood residence.
Growing up, we did move often, mostly due to poverty and landlords burning buildings. With many whites fleeing to the suburbs, there was very little demand for the apartments in the South Bronx. Robert Moses destroyed vibrant neighborhoods with his highway projects and the Bronx faced the brunt of it. Landlords only able to rent to poor people realized they were better off burning their buildings and collecting insurance. So the reality was then, that one-day afterschool, you might come home and your building is burning.
When I ventured into the business world in the 1980s all my offices have been in the 149th St area. When I finally had the guts and resources to purchase a home, I chose to buy in the South Bronx to the dismay and criticism of family members and close friends who were giving me a litany of reasons as to why I should finally leave the South Bronx. The transportation access could be better improved for our disabled community members but it is still far better than many other parts of this big city. Highway access is "unfortunately" top-notch.
I also argued that the Bronx was the only borough best to handle sea-level rise and other impending climate changes. Many people did not understand that argument back in the 80s and thought I was adding nonsense to my argument. They thought that until hurricane Sandy hit New York. The storm created so much damage to the city, but the Bronx suffered minimal damage in-comparison to the rest of the city.
There are many more reasons that I have always loved my hood in the South Bronx besides location. The fact is that the Bronx has more parks than any other borough, and Pelham Bay Park is the largest park in New York. Yes, bigger than Central Park.
I can argue that we have the world class, Bronx Zoo, The Bronx Botanical Garden. For sports fans, we have the New York Yankees and the New York City Soccer Club.
The Bronx still has many problems and poverty, disease and neglect have still marginalized our borough. When so many of our children miss school due to asthma, I curse the Robert Moseses of the world and the city planners who co-signed it all then and the city planners since then not addressing this matter as life and death, literally! You add to that the incinerators located in the area that burns all of the Bronx and a portion of Manhattan's garbage. And, the Harlem Sanitation trucks that are stationed on Gerard Avenue and 150th Street and parked all along our residential streets (across from a Public special needs school) every evening and you have an unfair pollution problem crying for environmental justice.
Unfortunately, this is one area that has divided many residents and elected officials. Some want more jobs no matter the source and others argue that the health of the community is not expendable. That is the major issue with the Fresh Direct being given a sweetheart deal to move to the South Bronx with the promise of jobs, but at the expense of more trucks and additional traffic in an area that needs relief from toxic air.
We have problems, but we will work these problems out because the problems do not weigh more than the benefits of living here. Many of us that live hear will continue to address those problems because many like me are here to stay. My political godmother, Dr. Evelina Antonetty said it best when she said, "We will never stop struggling here in the Bronx, even though they've destroyed it around us. We would pitch tents if we have to rather than move from here. We would fight back; there is nothing we would not do. They will never take us away from here. I feel very much a part of this and I'm never going to leave. And, after me, my children will be here to carry on."
However, now that the fears of the Bronx have subsided and new rezoning regulations have sparked another wave of possibly more serious problems, gentrification.
Personally, I'm not afraid of gentrification that has brought in some new residents that like me are seriously interested in setting a community foundation and work to preserve and improve what we have. As president of the South Bronx Community Association (SBCA), an advocacy organization of home, co-op and residents I have seen gentrification first hand. These new residents escaping the high rents of Manhattan (and now Brooklyn) have found a paradise in the making here in the South Bronx.
Unfortunately, there is another breed of gentrification and that is developers that are scooping up any parcel of land in our community. They are not interested in living here. These are only interested in one thing: profit. They are looking at the South Bronx as the "new frontier," the new gold rush and they want to cash in big. They are interested in a very high return on their investment and everything else (community already living here) is not their concern.
Case in point, the recent star-studded Bronx party hosted by real estate developers to promote their plans for two luxury towers along the South Bronx waterfront that came under severe criticism for being totally insensitive and disrespectful of the local community.
The party took place at a former piano factory under the Third Avenue Bridge in Port Morris under a huge billboard renaming the area "The Piano District." The decorations of burnt out bullet-ridden cars and garbage cans lit on fire were all too reminiscing of a Bronx that has been forgotten decades ago. That has been an image that our community has been unfairly burdened with that still haunts us to the present.
In a way I am grateful for that party because it has shown the community exactly the wave of gentrification that some want to push into our community. It has also shown us the insensitivity that we residents will need to prepare for to address all future development in our community. Our message will be very clear, we are not against progress and growth, but it must involve us residents who are living here. So I challenge Di Blasio, Cuomo and all of our elected leaders and ask, "how can we develop more low-income and middle-income buildings to serve the New Yorkers who are being pushed out of this amazing city?"
Popular in the Community