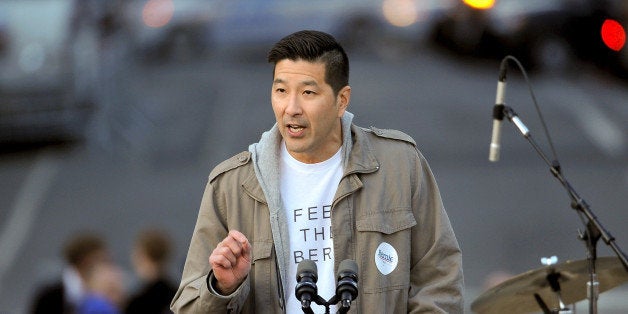 Last night, I was asked to speak at a rally for Senator Bernie Sanders as a physician and healthcare activist who supports him for president.
I did not clear my prepared words with anyone in the campaign and a portion of my speech has since generated tremendous outrage.
That part of my speech was
Secretary Clinton has said Medicare for all will never happen. Well, I agree with Secretary Clinton that Medicare for all will never happen if we have a president who never aspires for something greater than the status quo. Medicare for all will never happen, if we continue to elect corporate democratic whores who are beholden to Big Pharma and the private insurance industry instead of us.
Above all, I want to apologize to Secretary Clinton for my insensitive use of the word "whores" and to adamantly profess that this was never intended nor directed at her, as some have incorrectly interpreted. I have always had a deep respect for Secretary Clinton, and if people took the time to go through all my prior Facebook posts, tweets, and comments, one would see that I have been extremely careful never to attack her personally and if anything, I have tried to focus more on why I was supporting Senator Sanders.
Regardless of my original intent, there is no excuse for my poor judgment in using this word. The backlash has been swift and harsh, and rightfully so. To all fellow Americans who I have offended, I apologize to each of you too. I would kindly ask you to read the rest of this op-ed so I explain my true intent and context.
I also want to apologize to Senator Sanders. He is a decent man and in no way deserves blame for my careless actions.
I have to admit that during this past decade of hyper-polarized politics and disrespectful discourse, I too have become insensitive in my use of harmful rhetoric and have become somewhat numb to its overall consequences. This experience has taken away my numbness and made me reevaluate myself, and my use of certain words. In truth, had this not happened, I probably would never have realized the inappropriateness of this term.
I would be lying to you all if I said that this was the only time I used the phrase "corporate whores," when in fact I have been using this phrase on occasion for many years, but I can honestly say it was always in the context of some members of Congress hence the plural. This experience has made me realize that I simply should no longer use this phrase at all.
As I mentioned, I am a physician who has been fighting for universal healthcare for the past decade. I was so optimistic when I first saw a 2003 video of then State Senator Obama touting his support for a Medicare-for-all plan. So, in the run up to the Affordable Care Act, like now, I was an outspoken and enthusiastic supporter of President Obama's efforts. I debated Ron Paul on Larry King Live and voluntarily travelled throughout the U.S. speaking to medical students, community groups, and anyone else who invited me in support of the President's push for healthcare reform.
As an oncologist for nearly 20 years, I have seen far too many of patients go bankrupt simply because they developed cancer. I have witnessed more of my patients each year being unable to afford rapidly escalating premiums and drug costs, and I have had to fight more and more with my patients' insurers just to get the approval of the care they needed.
I was wishful that the President's plan would address these problems and that we would have Medicare-for-all or at least a public option.
What I soon discovered is that there were over 3,300 registered healthcare lobbyists for the 535 members of Congress and that they spent over $1.2 million a day, and in total more than what was spent on the Bush Kerry election to influence legislation. And despite initially having a supermajority and filibuster proof senate, the president and the public got neither.
Then Senator Max Baucus, who was chairman of the Senate Finance Committee, reportedly received over $1.5 million in the two years leading to the legislation. Several of his former staffers were prominent healthcare lobbyists and ultimately, it was Baucus who made sure that single payer and the public option were never even debated. In fact, he has been called the poster boy for campaign finance reform.
It was so bad that the well-respected medical journal called The Lancet published a special edition in 2009 in which it said "The health-care reform process exposes how corporate influence renders the US Government incapable of making policy on the basis of evidence and the public interest."
So while the ACA did indeed do some good things, there was no public option, no insurance rate regulation, and no prescription drug price control, and to many independent policy experts, it appears that the ACA was indeed largely written by the private insurance and pharmaceutical industry.
Thus, as I continually advocate for a better healthcare system I ultimately do blame those Democratic members of congress who stonewalled and prevented much more comprehensive legislation. As the Republicans made it clear that they would not cooperate or be supportive, their votes were not even needed until Senator Edward Kennedy's death, to pass real healthcare reform.
It is in this context that I referred to "democratic corporate whores". I have never said that all democratic members are beholden to special interests above their constituents. In fact, the record will show that I consistently support many of them. But, I think the facts will also show that there was excessive financial influence exerted by Big Pharma and the private insurance industry that ultimately stacked the deck in their favor.
This was the basis of my outrage and how I adopted the use of the "democratic corporate whores" terminology.
My explanation does not justify the use of the term, but I hope it provides the context and better understanding that this was never directed at Secretary Clinton.
Regardless, I am sorry for the distraction and offense this has caused for so many, and I apologize once again to Secretary Clinton and her supporters.
Support HuffPost
The Stakes Have Never Been Higher
Popular in the Community