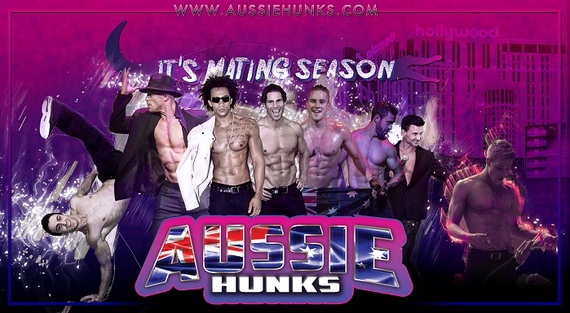 Aussie Hunk's Twitter & Website.
Currently selling-out the world famous Planet Hollywood's V Theatre.
You'll have to scroll down for the private photo... if you can make it past the above picture.
Now conquering America after taking Australia by storm, Aussie Hunks are the next generation male revue of professional dancers with a real life "Magic Mike" experience.
I had to pause during the writing of this intro because I started the virtual lapdance on the Aussie Hunks' website. And now, of course, I can't think beyond the lapdance, so this intro is finished.
Aussie Hunks have taken over Las Vegas. How did you all become a part of the group? Why Las Vegas?
All the guys had been performing for our Australian feeder show called Hunk Mania Australia based in Melbourne.
Lenny: Met Darren five years ago through teaching him dance.
(Monster) Simon: Taught break dancing to Darren and he invited me to join the show.
Chad: Simon gave Daz my number.
Adam: I was living in LA as an actor and had worked with Daz previously and jumped at the chance.

There are 10 of you. Who's answering these interview questions?
We're sitting around an Aussie BBQ in Vegas on our day off and Jono, our co-founder, is chatting to the boys. Adam likes to be the front man; he's our MC and loves the mic. All the boys are helping together and having a laugh and a snag (Aussie term for sausage) while doing so.
Are there auditions for the group? Does anyone ever want to leave?
No auditions. No replacements. Why would you want to leave? It's the opportunity of a lifetime. We are privileged to have residency at the Planet Hollywood, and can go back to Bondi Beach. We also have top performers who want join us on stage. It's a small industry and we hand select only the best.

What are your fitness and food tips?
Monster: Oreo's and spinach leaves - Eat clean, train hard!
Pat: Master chef and does all the prep. You might even get breakfast in the morning.
Daz: Packet of tuna and rice tastes divine. Variety is the spice of life!
Tommy: Don't ever steal my chicken. Leave your phone in the locker room! Time all your rest periods, and make sure you're hydrated. Hard work, put the effort in, results follow.
Adam: Ben & Jerry's. Workout at least four times a week and eat as clean as possible. Keep goals realistic.
How do you choose if you want a 6 pack or an 8 pack? Are there different work out routines for a 6 vs. an 8?
Daz: Difference is not a 2 pack; it appears to be a 4 pack!
Monster: A qualified physiotherapist, he knows his anatomy. Everyone's got the potential for 8. Become a stripper and you'll find your 7th and 8th ab.
Pat: The workout is the same, just train harder and diet.
Tommy: It's up to the genetic structure of each individual.
Adam: It's hard to isolate each ab on its own but the cookies can be separated from the cream! Also, hundreds of hours of hard work.
Who's idea was it to give back to local charitable events including Las Vegas' favorite charity "Opportunity Village," a non-profit organization serving children and adults in the southern Nevada community with intellectual disabilities to enhance their lives and the lives of their families, as well "Caridad," an organization that strives to help the homeless by providing customer service based on street outreach?
The boys have done a lot of charitable events. Lenny has a certificate in disability care back home.
A tour of OV inspired the team, and collectively we wanted to help teach hip hop to people with a disability. We are hoping to get our class on a Vegas stage alongside fellow ambassadors Carlos Santana and Mariah Carey. A few of us have a personal connection with disability.
With Caridad, we started downtown Vegas and became involved in local community and volunteering with Caridad and love to support local community and wake up and smell the roses. Jono also helped initiate these relationships and activities and instill a culture of gratitude and being well grounded at all times.
How often do you get home to Australia? Do you miss your family?
Not often, we all miss home. We get homesick from time to time, but we live like a family in Vegas supporting one another. We love when someone is on Skype with their family and can all say hi. Skype and FaceTime come in handy. It's a sacrifice we make to pursue our dreams. We make it home at least once a year.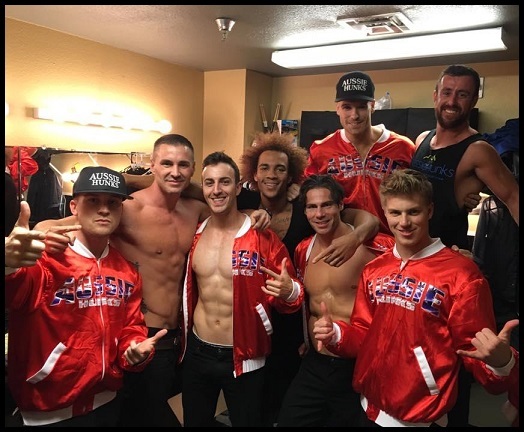 My personal pic of the Aussie Hunks! Sharing it with you! So share it with the world! #AussieHunksVegas.
Do you guys have girlfriends, boyfriends, etc.?
Ummmmm...no we are all single. A couple guys have long term girlfriends. All the guys are straight so no boyfriends.
How do you guy feel about being one of the only all-male revues that allow both women and men to watch your show? Do you get a lot of positive feedback from the LGBT community?
All hunk bucks were created equal haha!
We thought we were just being normal by treating everyone the same; we had no idea the impact this would have. It's 2016 people!! We support equality in every which way and are amazed at the impact this has had. The audience screams and cheers when we bring guys on stage and dance on them. We are big advocates and are proud to support the LGBTQ community. We had guest speakers explaining how meaningful this is and have had gay men cry in appreciation of the public recognition as if to say they have escaped persecution.
The first night we performed in Vegas, two guys walked out of our show. Jono went backstage and asked if anyone had an issue dancing for guys. Everyone was totally cool, and that was it. People can think whatever they want about us. We may not be gay, but if we were, who cares?
What's next for the Aussie Hunks, now that you have taken over Las Vegas?
World tours, maybe even a 'forbidden tour', a reality television show, and virtual reality interactions. We are the new breed and at the cusp of some exciting initiatives but we need to keep that a secret for now. Our show itself is nimble with dancers in the show so we can create hot new routines in our underwear at 5am in the lounge room.
REAL LIFE. REAL NEWS. REAL VOICES.
Help us tell more of the stories that matter from voices that too often remain unheard.