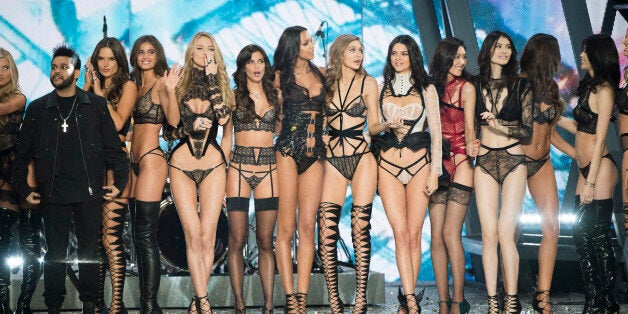 The Victoria's Secret Fashion Show is the holy grail for all models. At least, that's what they claim during interviewees. So as a journalist, it was quite flattering to receive an invitation.
The invitation was clear and stern. If you want to be part of the party, you'll have to follow certain guidelines, it said. The electronic invitation spelled out security measures -- handbags must be a certain size -- and insisted on a strict dress code: cocktail attire. Photos and videos: strictly prohibited.
I arrived, and I waited in line. Then, another line. As I waited, I faced a swarm of bow ties on tuxedos and an endless stream of sequin dresses. Legs were already starting to seem longer than usual.
This fashion show was unlike anything else I've ever experienced. I was taking part in a "unique event," the loudspeakers reminded me as I took my seat. They were also reminding the millions and millions of viewers "around the world," who are scheduled to watch a broadcast of the show on December 5.
A small pamphlet handed to each audience member showcases beautiful sketches of the brand's flagship models. Again, their legs caught my attention. Long, tapered and fine. But these were only sketches, after all.


I thought fashion had opened up to more body types, to more shapes and sizes. But at the Victoria's Secret show, there's was not a single "plus size" model on the horizon.


When the show started, it was all color. First, we saw Asian motifs and embroideries. Later, gym outfits with stiletto heels. Once I stopped worrying that the models would fall flat on their faces, and once my eyes got used to the style of the Victoria's Secret creations, I started focusing on their bodies.
Generally, when it comes to haute couture, little attention is paid to the bodies of models. The clothing they wear is more important. The models' thinness is nevertheless there, before our eyes -- as glaringly as in a Victoria's Secret show. But it would be possible to ignore it and concentrate on something else.
But in a Victoria's Secret show, the models are as visible as the clothes that adorn their bodies. The Angels have attitude, they dance, have fun with live singers, draw hearts in the direction of photographers, and greet the audience. They're as exciting as the lingerie they're wearing.
Their breasts bounce, but not too much. Their bellies are flat, and a few abdominal muscles flash here and there as their legs strut without hesitation or cellulite.
After having been inundated with videos and photos of the Angels rehearsing on social networks for weeks, seeing them in person provoked a small shock. There was no shadow of imperfection.
Maybe they look less perfect from the back, I tell myself. I was wrong. Their butts do not move. Not a gram of fat in their thighs. After watching Gigi Hadid pass by several times, it was really hard to believe that fashion directors once thought she was heavier than other models. Her sister Bella, who is walking the show for the first time, appears even skinnier.
Kendall Jenner, Adriana Lima, Lily Aldridge, Romee Stridj and others make me doubt myself. What about me? Where do I fit in relation to them? Should I be making more of an effort to achieve this perfection?
I thought fashion had opened up to more body types, to more shapes and sizes. But at the Victoria's Secret show, there's was not a single "plus size" model on the horizon. Still, it was a party. Bruno Mars took the stage, followed by The Weeknd. As the show went on, I started to see the patterns. The models always glare into the same camera -- they walk the same lines.
What looks so natural on TV seems strange when you see it live. Are they really here with us? Are they real? A look around the audience reassured me somewhat. The people around me are fat, thin, and everything in between. They have measurements that don't necessarily require daily hours of sport. At least at first glance.
After an hour of the show, it was time for the after party. Waiters distributed champagne and turquoise cocktails. I tried the second option. After a few sips, I realize that the cocktails must have been far sweeter than the bubbly. Big mistake.
As I walked out and passed through security, I was confronted with the cold air, the Champs Elysées and the smell of the Christmas market stands. Standing there, after the Victoria's Secret show, I was famished (and apparently, I wasn't not the only one).
This post originally appeared on HuffPost France and has been translated into English.