Size 18. XL. XXL, depending.
This is my size. It's not the typical size range of most fitness models, and certainly not the average size handed to stylists when pulling workout clothes for photo shoots. It goes beyond our societal understanding of what fitness looks like and challenges the perception of who deserves to personify a healthy body. Nonetheless, it's a size that has jumped, crunched and jiggled into a few fitness model moments.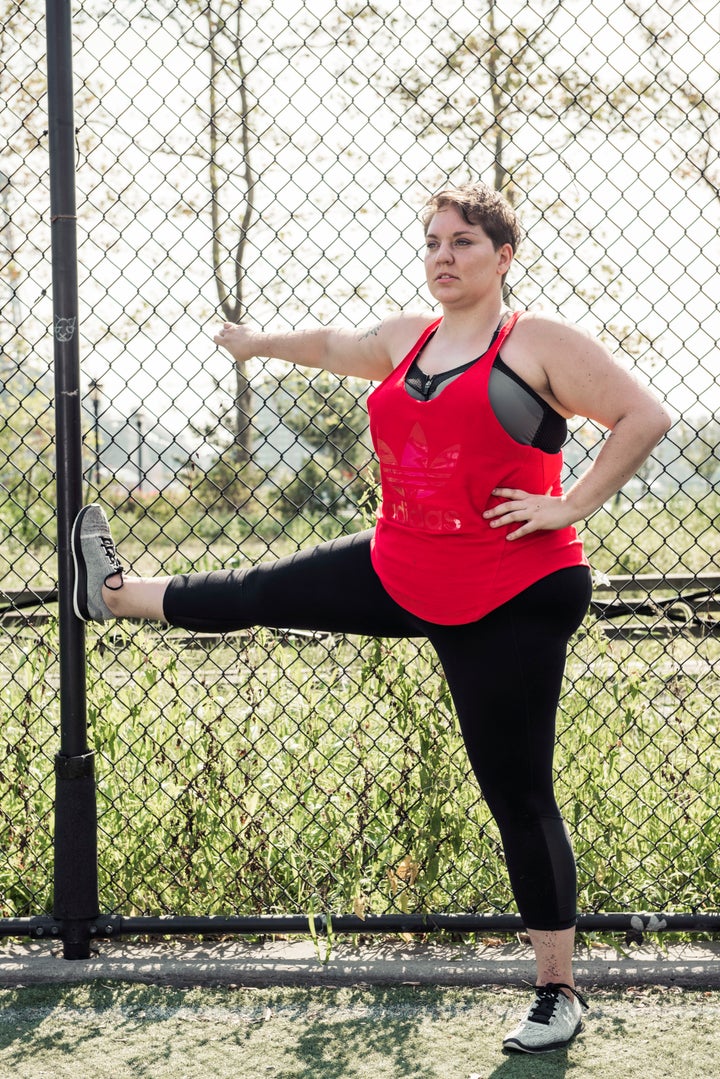 At the end of 2016, I was asked to model for stock photographs that would be available in Getty Images as part of a project to depict more authentic and diverse representations of women in the media. And more recently, I was asked to appear in digital and print advertisements for body-positive gym Blink Fitness.
I hesitated to accept both invitations. Yeah, I take a gym selfie every once in a while — and tag every single account I can for more plus-size visibility — but I never thought it would lead to a campaign where my body would be on full display. While it felt amazing to be asked, there was a voice in the back of my brain yelling that this had to be a mistake.
I'd like to think my teen self would buck the trope of: "If I told 16-year-old me she'd be doing (fill in the blank) as an adult, she wouldn't believe you." But honestly, teen me would have rolled her eyes at the concept that she would one day be photographed as a plus-size fitness model.
And why should she think any differently? It has only been in the last few years that we as a society have started migrating our understanding toward all-body fitness, allowing for more diversity in major wellness campaigns and dropping the notion that hardbodies are the only bodies that have value in the fitness arena. (Dear Jessamyn Stanley, Louise Green, Dana Falsetti, I love you forever.) Luckily, the world of fitness is expanding its sizes and adjusting the fit + thin = healthy equation to accommodate a wider range of body types.
Teen me would be pretty astonished by the change.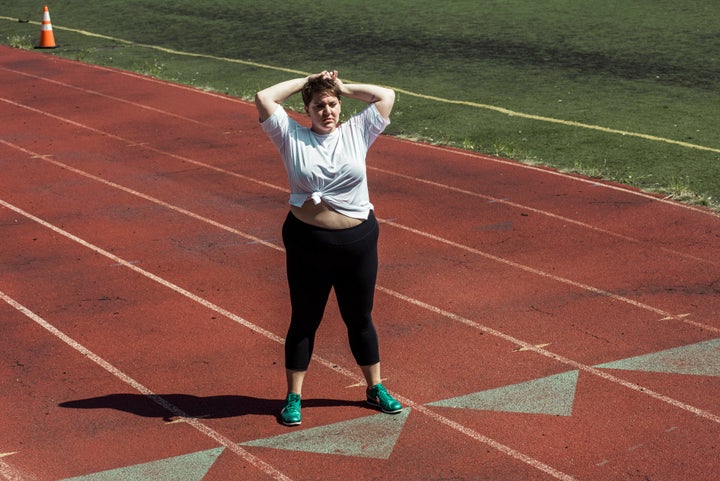 Exercise has always been a huge part of my life as a plus-size person. My high school athlete years translated into an adult interest in continuously finding ways to stay active. I've done yoga, CrossFit, boxing, swimming, powerlifting and running, but my body always stayed in that size 18 spot, making it incredibly difficult to acquire that perfect pair of workout leggings without having to order them online.
And while I was living my best solo fitness life, I never actually felt like a part of the exercise community. I mean, how could I? Most workout attire didn't come in a size 18/20, every time I stepped into a gym I was immediately bombarded with questions about my weight-loss goals, and I was forever surrounded by non-fat people equating eating a slice of pizza to how fat they feel.
I have, for lack of a kinder term, a "before" body. A body with a belly and ass that stick out no matter the outfit or angle. A body that is not represented as a goal. While I am extremely confident about my body, it is the first thing people notice when I enter a room. It is a body that is denied any form of neutrality as I traipse through the world.
Furthermore, it's a body that is constantly questioned when it comes to health and ability. As a result, it took me a really long time to believe that my body was just as strong and just as valuable as omnipresent hardbodies. Seeking out other bodies like mine via any Tumblr blog, website or magazine article I could get my hands on was the first step to truly understanding I could be a healthy, plus-size woman. I really had to see it before I could believe it.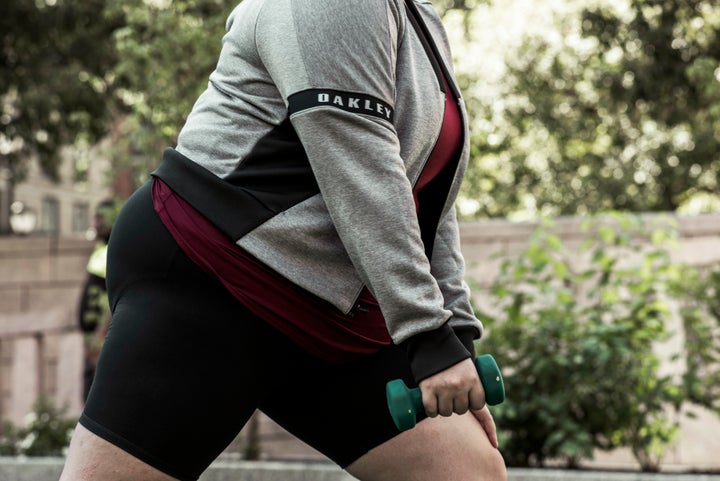 If you image-search "fitness model," you'll notice that we have a pretty defined understanding of what an ideal fit body is supposed to look like. We see these images, of carved-out thigh muscles and zero percent back fat, on gym advertisements, across billboards, scrolling through our feeds, sometimes in our mail when a gym is offering a no-commitment signup ― all reinforcing the notion that there can be only one type of fit body.
So by modeling for fitness campaigns and photos, I wanted to simply have my body ― fit and plus-size ― be seen.
Fitness modeling is actually less active than you'd expect. On the day of my shoot for Blink Fitness, the photo assistant inched a white diffuser closer to my face as each leg muscle stretched through the singular XL spandex available on the clothing rack. The elongated stretch was one I had learned from years of playing high-intensity sports that require a deeper and more prolonged release of lactic buildup in my calves and thighs — a low-to-the-ground leg stretch that I'm able to hold for multiple rapid-fire photos without having to reposition myself or stand.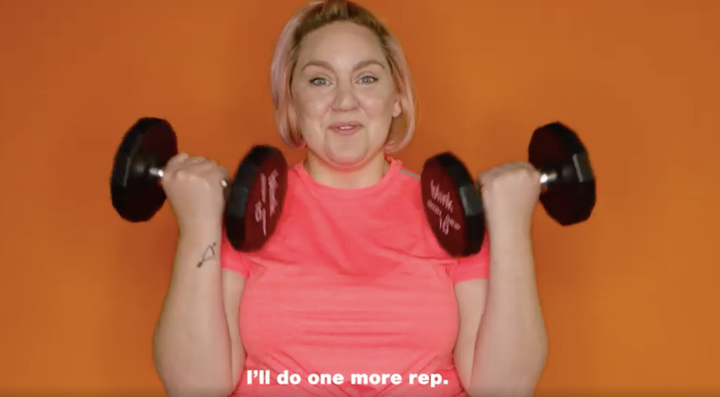 While it's certainly not a party trick I'd readily show off, it definitely came in handy on set ― and came as a surprise to the crew as I angled my face to my good side and adjusted my torso for a range of image options. Backhanded compliments flooded the space as I shifted to the next mid-exercise pose: "I didn't think you'd be able to do that."
I must admit, there was an internal need driving me to be as good or better than an average-size fitness model. I had clocked a 2.5-mile run earlier that morning, allowing me to be a lot more limber as each shutter snapped before me. And while I couldn't possibly know each producer and crew member's bias or lack thereof toward plus-size women who work out, the chance to be seen as just as strong as another model was a small victory — and a chance to counter a negative understanding of plus-size fitness. I kept that goal in the back of my head with every position.
I mentally wrestled with this decision as I ran upright at top speed and smiled through planking. Plus-size people are often put in a position to represent all of us when we are surrounded by non-plus-size people. The Good Fatty trope is incredibly harmful and negates real representation as it waters down the true experiences of plus-size people. I shouldn't have to be a plus-size person who only eats salads or edit the cellulite and visible belly outlines from my pictures.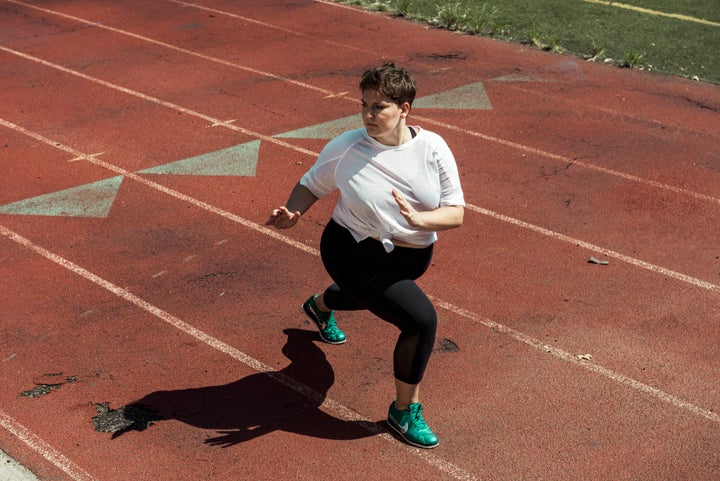 But in the back of my mind always was that other plus-size woman who might see my image ― the one who might feel more comfortable working out in public or trying a new fitness class without fear of being judged.
My body has never and will never be like the overarching majority of fitness models. But while those bodies should 100 percent be represented within the fitness universe, there is certainly enough room for the market to expand toward all bodies.
Let me just say this: Seeing a belly roll or a scrunched-up side oblique in workout clothes is representation and it's important. It's a way to say "fuck you" to the before and afters, to the exclusive fitness branding, to the gym stares as you make your way to yet another machine.
And personally, getting to be a tiny piece of this larger representation conversation allows me to focus on the things I can do with my body, instead of constantly being told what I can't.
Have a compelling first-person story you want to share? Send your story description to pitch@huffpost.com.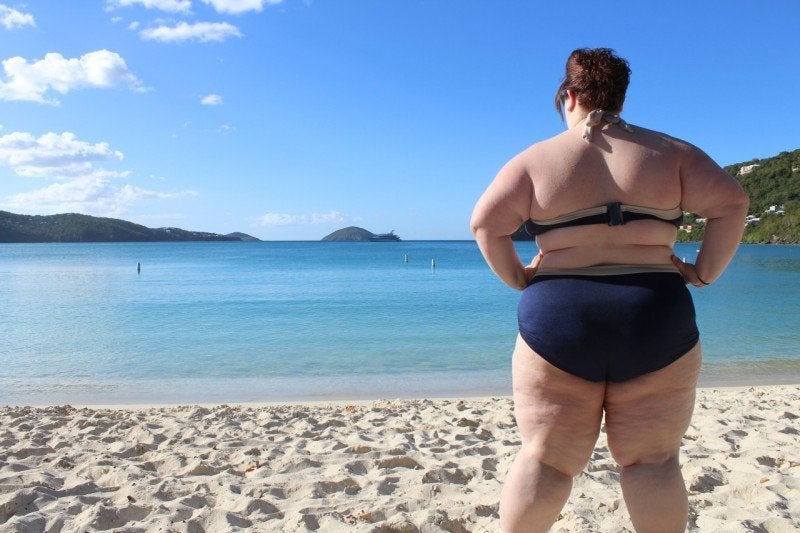 We Exist: Diversity In Plus Size Bodies