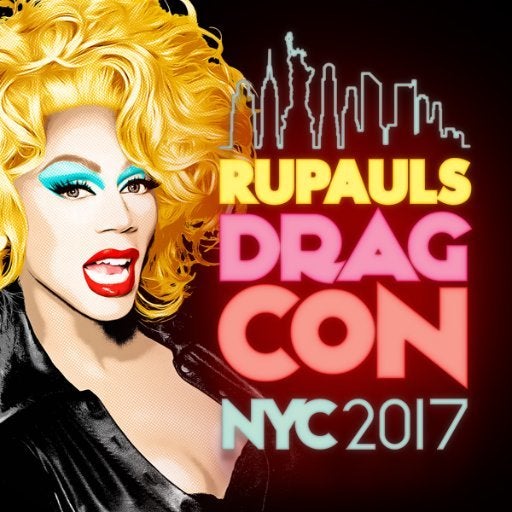 Combine the sheer fanaticism of Comic Con and the glamorous pageantry of the cultural game changer "RuPaul's Drag Race" and you have the inaugural "RuPaul's DragCon NYC", a spin off of sorts of the ultra successful Los Angeles, CA event. There was truly something for everyone at this event last weekend at the Jacob Javits center, which boasted thirty five thousand fans plus in attendance, and has already been confirmed to return to New York in 2018. The event spanned two full days, and it was almost necessary to attend both days to see and do everything you wanted!; You could grab a spot in line to to meet Miss Fame, Ginger Minj or Alexis Michelle, or peruse the multitude of vendors set up with their drag-related mercy (I mean, where else can you find "Paris Is Burning" coasters? I grabbed two for a steal of a price). Don't forget to get in line for the numerous panels, moderated and attended by such luminaries as fashion icon Issac Mizrahi, "Unreal" actor, Jeffrey Bowyer Chapman and "RuPaul's Drag Race" judge Carson Kressley, which were filled with not just behind the scenes "Drag Race" dish, but a gave you some insight into the LGBT community, ball culture, and drag in general. I walked past the line for "Drag Does Fashion Week-A Fashion Affair" where queens like Detox, Naomi Smalls, and Miss Fame, who are already so influenced by fashion themselves, shared some of their runway and fashion history wisdom with the packed and extremely receptive crowd.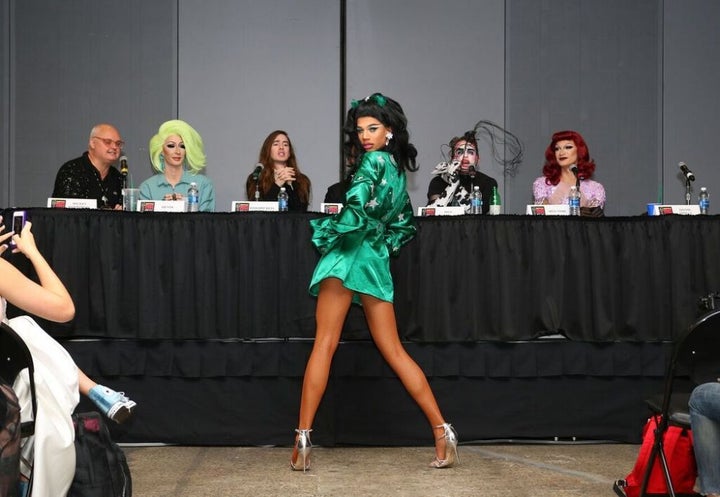 I personally attended "I Bring The Beat" which was moderated by Sirius/XM host and music maven Larry Flick. Be it music veterans like Adam Joseph or Jodie Harsh (what a treat!) or up and comers like Shea Coulee (her visual EP "Coulee-D" is a game changer). Hearing Harsh talk about DJ'ing and drag across the pond and Mimi Imfurst chatting about the cost that many don't realize is associated with music was both informative and eye opening. Of course, getting to sit front and center with these drag and music luminaries was a must for so many DragCon attendees.
It should also be noted that adding to the general "feel good" vibe of the weekend was RuPaul, Zaldy, Tom Campbell, Randy Barbato, Fenton Bailey and the rest of the WOW & VH1 gang receiving Emmy awards for Outstanding Host, Outstanding Picture Editing & Outstanding Costumes. The exuberance and buzz was evident throughout the weekend as word spread of the groundbreaking victories.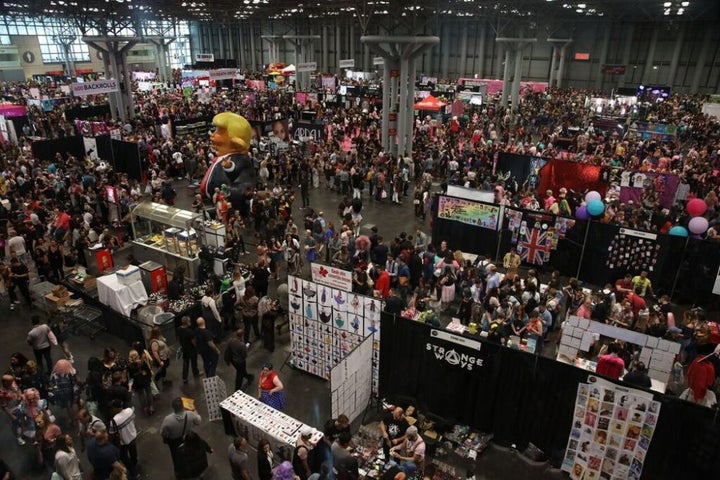 As I walked the pink carpet of the "Drag Con" laden floor of the Jacob Javits Center, it was not the eye popping fashions on some of the attendees, nor was it the die hard fans waiting to meet the queens that they idolize that truly boggled my mind. As I turned the corner onto Stacy Layne Lane, I was profoundly and pleasantly surprised to see the faces of children. Not children being dragged around an adult themed event that they loathed attending, but this time the children were doing the dragging (pun noted). I saw a wide eyed boy of maybe six years old in a young girls top and unicorn colored headband eagerly anticipating meeting Laganja Estranja and Gia Gunn. I saw scores of teenage boys and girls (with faces equally beat) waiting hours to meet makeup icon Jeffree Star (the roar of the crowd when he appeared could be heard on the other side of the Javits Center). A few paces ahead, I passed the up and coming eight year old dynamo of a drag queen, Lactatia, who was on her way to be on a panel with fan favorite Ginger Minj titled "Ginger Minj Makes Over Lactatia" where Lactatia was due to get the full drag treatment from Minj. (Spoiler Alert-At the panel, Lactatia and Ginger attended, Lactatia went from makeover subject to flower girl, when Ginger married her fiancé Chris on the panel stage, officiated by "Drag Race" judge and den mother Michelle Visage)!
One of the most remarkable younger "Drag Race" fans I got to chat with was Desmond. I saw this little dynamo holding court directly in the middle of DragCon, complete in a full skirt that he proudly let me know he himsef created, adorned with countless shots of the contestants from various seasons of "Drag Race". People were snapping shots, (complete with his mother Wendy's approval) and he was posing as fiercely as any other aspiring supermodel! I found out later that this up and coming diva is actually Desmond Is Amazing, who helped kick off the morning during the pink ribbon cutting. He is dynamic diva of a young man who RuPaul himself called "the future of America" during the inaugural ribbon cutting earlier that morning. On Sunday morning, Desmond hosted a runway walk off for children (I mean, only at DragCon). As if a RuPaul in the making, this burgeoning glamazon took to the runway and showed his fellow mini-divas how it's done!
As I stopped to grab lunch outside the doors of "Drag Con" I came across a woman and her two children. I asked the girls if they were having fun, and the mother quickly and pleasantly told me "oh it's a boy and a girl". The little boy turned around and had a face that was "beat for the God's" as we say in drag circles and a lace front wig that was "snatched". His wide eyed amazement and sheer enthusiasm was by far, his best feature though. I proceeded to sit down next to him and we chatted about the queens we wanted to see, the ones he had already met (almost every girl there) and who his absolute favorite is (Trixie Mattel). His mother told me that this was her son's birthday present and she had brought him and his sister to the city for the weekend from a Boston suburb and he had looked forward to it for months. I listened in complete amazement as this mother told me about her complete and total acceptance for her son that has chosen to play with every single crayon in the crayon box, despite being only given a handful of them by society.
We're living in a world right now where, almost on a daily basis, darkness befalls our community and we are constantly under attack from some kind of outside forces. For two very special days, the generation behind us got to leave Kansas behind and got to enter the doors of their own personal Munchkinland, getting to be their most authentic self. Already at such a young age, they are able to experience not having to immediately be a part of the mainstream, a part of the "matrix", as RuPaul himself speaks so eloquently about so often.
So many of us take decades, along with endless heartaches & monumental disappointments to find our tribe and learn how to master living on the fringe of what can be such a stringent and restrictive society. Beyond the endless glitter and glamour at DragCon, I was able to see that Desmond and his fellow and future runway superstars are already well on their way to learning that so much quicker than almost any generation before them.
"I know that you cannot live on hope alone, but without it, life is not worth living. And you...And you...And you...Gotta give em hope."-Harvey Milk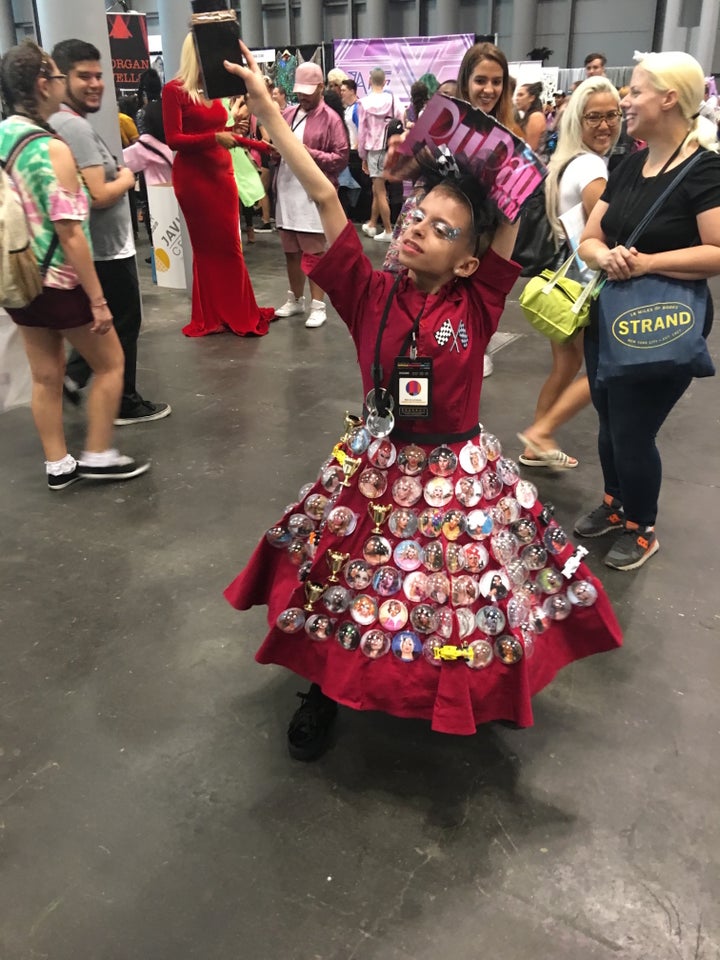 Photo 1 courtesy of World of Wonder
Photo 2 courtesy of World of Wonder
Photo 3 courtesy of the writer
Popular in the Community