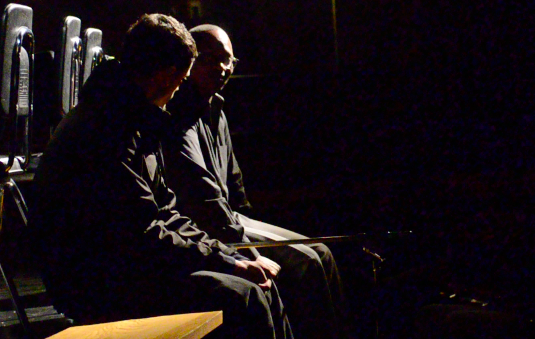 These were the words of a young man, distressed over the loss of one of his best friends to gun violence just weeks prior. But on the day he decided to retaliate, he stopped by a male leadership forum, called Project: Save Our Boys. Within the first half an hour, this young man broke down in tears, and decided not to go out in the night to get revenge.
What is it that he heard that helped him confront his trauma and alter his decision?
"Bro, we're here for you", one of his peers said. "You got a baby girl now bro, she needs you, she can't do this without you", another peer said. "My brother is locked up for the same thing right now, I don't wan't to see the same thing happen to you", another peer said.
These words didn't come from a teacher, or businessman, or social worker, or school counselor. These words came from 9th-12th grade students, who cared enough about that young man's trauma, to speak life into him when all he thought about was death. He was affirmed and validated by like-minded peers who experienced the same socio-emotional trauma and despair, but all understood the important role they could play in saving his life and someone else's life. They understood that the safety, security, and well-being of their school and community begins and ends with them, and that in the end, all they have is each other.
This school culture is now the status quo for Rich South High School, located in Richton Park, Illinois. Led by Michael McGrone Sr., the Principal, the students have learned to embrace, uplift, and motivate one another, by focusing on their socio-emotional health and well-being. In my book A New Day One: Trauma, Grace, & and Young Man's Journey from Foster Care to Yale, I help readers understand how McGrone encourages and empowers students to engage in critical discussions with one another, helps them understand the social and systemic issues they face in their lives, and enables students to assume leadership roles in the development of their school.
Many students will grow up without their father or father-figure, but almost all students will grow up with peer relationships. Therefore if educators were to shift their focus from micromanaging student performance to building healthy school cultures, students would engage with each other on a more positive and productive level, which will help them eliminate distractions and support one another in their academic pursuits.
This self-sustaining culture of love and support does not come organically. It is the result of strong, positive leadership and infrastructure. It is the result of the teachers and administrators putting the social and emotional needs of the students before lesson plans and course curriculum. McGrone has been using this model to teach and mentor youth for the last 25 years. Since implementing this leadership structure at the beginning of the school year, Rich South has seen physical altercations reduced by 90%, while attendance and academic achievement has dramatically increased. Best of all is that this culture of excellence is upheld by the student leadership.
"We have to take a backseat approach to educating our youth", McGrone says. "Our young men and women are leaders, and I think as adults we go above and beyond to try to control our kids. Here at Rich South, our students dictate the culture and direction of this school, and we just follow their lead. Our students are there on the front lines everyday when it comes to preventing student altercations, holding each other accountable, and making sure that everyone has the love and support needed to stay focused and motivated. They are the answer, not us, so let's give them the direction and leadership necessary to determine their own future."
Calling all HuffPost superfans!
Sign up for membership to become a founding member and help shape HuffPost's next chapter