I was driving down Melrose Boulevard one day, minding my own business, headed to West Hollywood to visit my elderly mother, when out of the corner of my eye I spied a colorful sidewalk mannequin. It was a real head-turner - and in my case, a car-turner as well. The mannequin was sporting a full-length, khaki duster embellished with hand-painted designs front and back.
Whooeee, now THAT'S a coat! I thought to myself. I wondered if it would fit.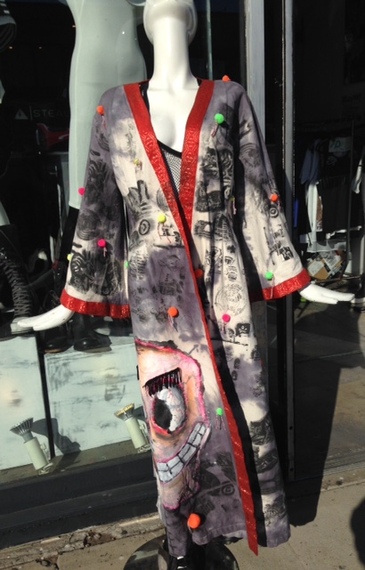 Of course traffic waits for no man - or no woman - no matter how cool the sidewalk display, so I had to keep moving. But at the next block, I circled back to take a closer look at the mannequin.
My parking karma was working like a charm, so a parking spot opened up right in front of the boutique with the painted duster. The shop was called Flasher Melrose. I stepped inside to let the shopkeeper know I wanted to try on the coat. "Isn't it fabulous?" he said. "It's by New York artist Scooter LaForge."
I eagerly tried it on, but alas, it didn't fit. Like most clothes in Melrose boutiques, it was a petite size - designed for young, hip, trendy girls and women - skinny girls and women. I had to laugh at myself. What's a zaftig, middle-aged, middle-class woman doing shopping on Melrose? I wondered.
The shopkeeper was a tall, handsome, buff young man named Scott. Seeing my disappointment, he motioned in the direction of a rack of hand-painted T-shirts. "Those are all by Scooter LaForge, too," he said. "The trench coat is something we bought and sent to Scooter to paint for us, but he also paints vintage T-shirts, army jackets, various hats, and other garments. Let's see if we can find something you'd like."
Scott was ever-so-helpful and very kind. When I expressed concern that perhaps the clothes were too "young" for a woman of a certain age, he reassured me that these days - especially in LA - anything goes. "It's all a matter of attitude," Scott said.
This wearable art by Scooter LaForge definitely has an LA look about it - urban and gritty, but at the same time whimsical and funny. Mickey Mouse with four eyes; "crack kills" messages; skulls and zombies galore. Fun fashion, for sure. If only I could find a garment that fit!
I tried on a few painted T-shirts but didn't find anything that worked for me. But I thanked Scott for introducing me to the work of this unusual artist. Then I went home and Googled "Scooter LaForge" to find out more. And the more I saw, the more I liked.
After graduating from the University of Arizona, he built a successful painting career in San Francisco, then moved cross-country to New York. It was just a few years ago that he began experimenting with painted clothing. He describes himself as a fashion-obsessive but "... thinks of his garments more in terms of artwork than fashion. He says his clothes are more akin to Robert Rauschenberg's 'Combine' paintings, in that LaForge uses every type of material he can get his hands on to create them. The garments are natural extensions of LaForge's visual language: colorful, humorous, wild, loud, and fun." (Forbes, Aug. 4, 2015)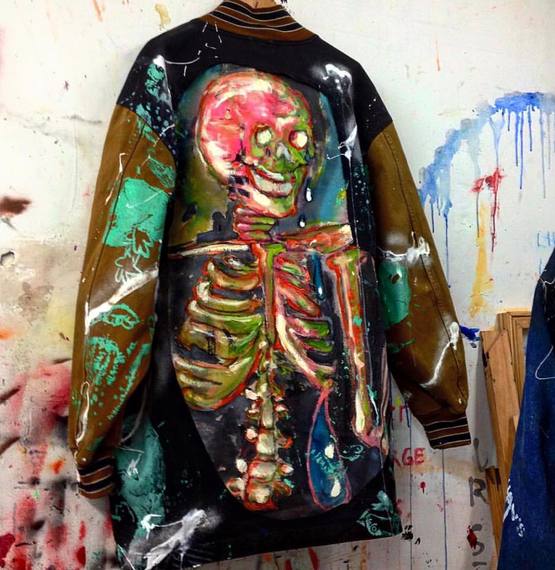 I wanted to contact Scooter so I turned to Facebook to see if he had a professional page - and of course, he does. Social media is critical to the success of artists, musicians, and other cultural creatives these days - so I'd have been surprised if Scooter LaForge didn't have a Facebook presence.
Once I found his FB page, I took a chance and sent him a private message to ask if I might send him a shirt and hat to paint. That way I could pick my own style and be sure of a good fit.
I wasn't sure he would respond, since he's a nationally-known artist who's been profiled in many publications, including Forbes. Patricia Field - who was the Sex and the City costume designer and fashion maven who helped Keith Haring and Jean-Michel Basquiat build their careers - sells Scooter's wearable art to trendy, artsy men and women around the world.
Why would such a successful artist reply to a someone he didn't know - a middle-aged California woman who contacted him out of the blue asking him to paint a shirt for her? Because he's a nice guy, that's why. And nice guys respond to people who admire their work.
Scooter responded very quickly and he couldn't have been nicer - he was warm, friendly, and happy to chat, telling me more about his life and how he got his unusual name. I was impressed with his gentle, approachable, down-to-earth demeanor. He said he'd love to paint my clothing - whatever I wanted to send.
We spent some time discussing ideas for my shirt. Some of Scooter's artistic themes are a tad bit intense for me - I'm more the Doris Day, California girl-next-door type - but other Scooter designs are lighter themes, still quirky but not too far out.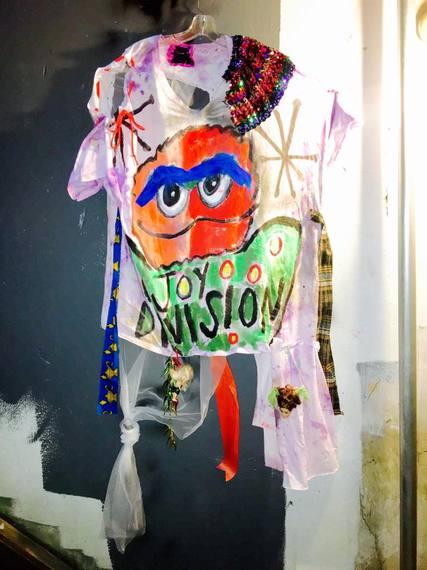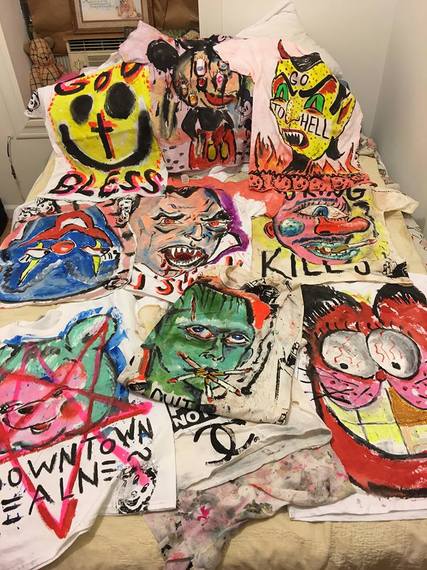 One thing led to another - a couple friendly phone calls, garments sent, Scooter working his magic painting and embellishing, garments sent back ... and then that happy day when the package arrived! I was like a little girl on Christmas morning. I may be a woman of a certain age, but a new piece of wearable art still makes me feel ageless.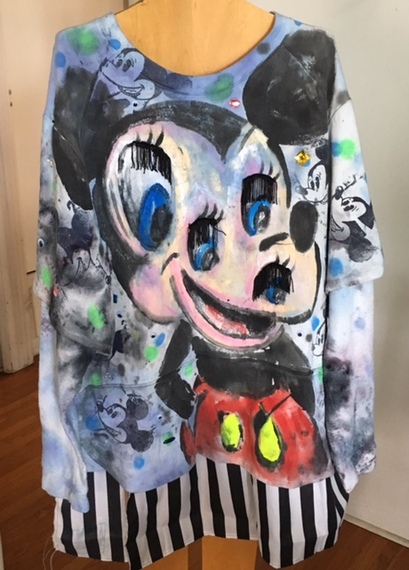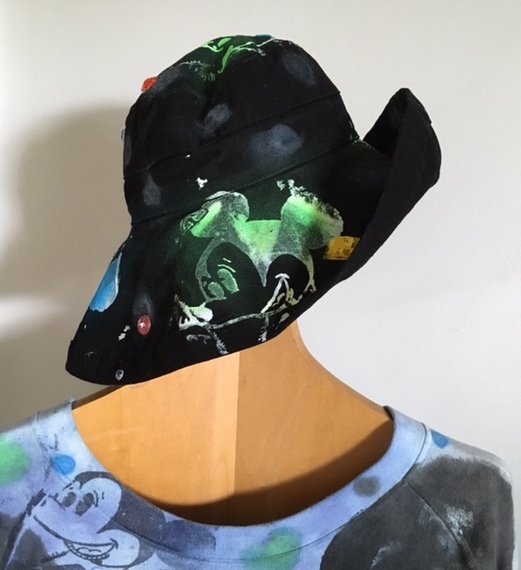 Is there a future friendship for a cool, hip, young New York artist and an aging LA hippie chick? Who knows? But what I do know is that wearable art is timeless ... and a woman's desire to express herself through fashion never ends.
And, as Scooter himself might say ... "How old is beautiful?"
Photos courtesy of Ron Amato, Johnny Rozsa, Scooter LaForge, and BJ Gallagher. Used with permission.
REAL LIFE. REAL NEWS. REAL VOICES.
Help us tell more of the stories that matter from voices that too often remain unheard.