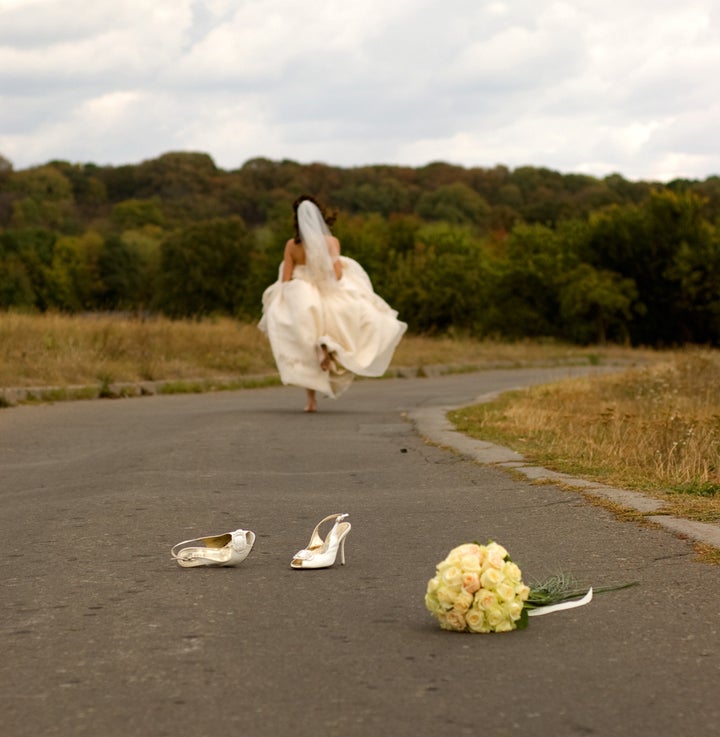 Two days is the amount of time that I spent lying face down in a completely dark guest bedroom in my childhood home.
Just to be clear, I would have spent the two days laying face down on the (surprisingly still really comfortable) extra-long twin bed in the room where I grew up. The thing is, I couldn't. My wedding dress was hanging from my wrought-iron canopy bedframe and train of the dress spilled over onto my entire bed. Lush, snowflake-white silk faille cascaded from ceiling-to-floor -- and the massive train, outstretched, seemed to pour on and on for miles. I couldn't bring myself to move the thing.
No, literally. I couldn't move it. It weighed, like, 20 pounds and the garment bag towered over me*.
*That accompanied by the fact that the mere idea of looking at it made me physically ill.
I had just called my wedding off. I needed a nap.
Six is the number of times that I tried to call off my wedding. Six times from the moment I got engaged on a warm, still summer evening to the day that I handed back my beautiful engagement ring.
It is difficult to pinpoint exactly why or precisely when I knew that I had to call my wedding off. I had a sneaking suspicion that things were doomed when my partner and I would get into heated arguments about little things, like the way the refrigerator was organized. I just do not think tomatoes belong in the fridge. They get mealy. I also do not think this is cause for a meltdown.
As the wedding date crept closer, my mother-in-law to-be became increasingly involved in our engagement. You should know that I come from a big, boisterous family, so I am used to the comforting closeness of tight-knit relationships -- but this situation took "tight-knit" to the next level. Every move we made was evaluated, judged, commented on. The mere suggestion of eliminating a few people from our wedding guest list to make the event more personal and intimate became cause for hurtful words and finger pointing. As the wedding date drew ever closer, my mother-in-law to-be slowly revealed herself: she was less June Cleaver, more Sex and the City's Bunny MacDougal. (Truthfully, both scare me a little, but I bet June Cleaver makes really great chocolate chip cookies.)
These things seem silly and, sure, some of them are (what is a broken engagement story without some comic relief, after all?). I did not find it silly, though, when my fiancée turned to me one afternoon and said: "I think you should quit your job. I know we talked about graduate school, but you don't need to do that either." That was the breaking point, where all of our little issues culminated into a major moment where I realized I had lost myself. I had access to new information that I had not yet uncovered when I got engaged quickly, even hastily, after just a handful of months. I had to make a choice: was I going to quit my job, forget graduate school, and find another path for myself? Or would I do the smart thing -- the courageous thing?
Two-hundred-and-six people is, in my case, the number of people to whom you have to break the news. Usually this is done by some swift combination of you, your family, your wedding party, and your wedding planner, if you have one.
Sometimes, if you have already mailed invitations, this is best done at scale by small, discreet, elegant printed cards on the "thickest cardstock" in "dove grey" or "black" simple typeface, said my stationer.
You know, like a funeral.
The wedding of Miss _____________
to Mr. _____________
will no longer take place.

And sometimes, you think this is a complete waste of time, money, and energy and you would rather just do it over Twitter or something equally as inappropriate. Maybe LinkedIn. Feels more professional.

Just about three weeks after I called the wedding off -- minus one glittering engagement ring and 11.5 pounds (what I like to call the "post-breakup party favor") -- a girlfriend pulled me aside at an impossibly chic book party we were attending uptown. She told me quietly, almost conspiratorially: "When I called my wedding off, my mother was so mortified that she made me sit at the dining room table with her and hand-address apology notes to each and every guest. We did 450 of them."
Then, with an almost-shocking matter-of-factness, she plucked a smoked salmon puff off of a silver tray, popped it in her mouth, and nonchalantly chirped: "But that was my second broken engagement. For the first one, we did those, um, the card things. Really thick cardstock."

Eleven months is the amount of time that it took me to sit down and put my experience into words.
I am finally doing this because when I called my wedding off I found exactly zero thoughtful, candid, honest, heart wrenching, emotional, relatable, or otherwise simply practical pieces, books, or personal accounts of other women who had done the same. I am not sure if this is because most people just move on and try to forget it ever happened, or if they are scarred by the experience, or if they just don't really feel like rehashing it. I know I would have appreciated something, though. Somebody -- anybody -- who had gone through this who wanted to share her story to help another struggling girl who wasn't sure if things would work themselves out in the end.

This is not a "How to Figure Out if you are Engaged to the Wrong Person and When to Call It Off" guide -- and to be clear, that is not what I was looking for when I scoured the Internet for anything remotely applicable to my situation. Life is complicated. Relationships are tricky, personal, and distinctly individual. I am in absolutely no place to advise anybody else on whether or not his or her upcoming marriage is doomed for failure. I am just a normal girl, who fell in love, and everything was perfect -- and then, suddenly, it wasn't.

All I wanted to know after calling off my wedding was that somebody else went through my same experience. To know that somebody else endured all of the horrified "I'm SO sorry" texts, emails, phone calls, instant messages, and in-person run-ins -- when, really, the broken engagement was something to be celebrated. It was an event that was all-at-once smart, responsible, and mature.

I am not here to tell you whether or not you should call off your wedding. I don't have a checklist to help you quantify or second-guess. Not my place, not my message. This is a big decision -- and one that you have to make based on your own individual situation. My message is less about your relationship and more about you and what you should know.

If you are reading this and you are thinking about calling off your wedding, I hope that you are able to make the right decision for yourself -- and for nobody else. Not your partner. Not his or her family. Not for your parents -- but for you.

And if you are reading this and have already called off your wedding, you need to know that everything will be okay. It probably does not feel like it today, and it may not even feel like it tomorrow, or a week from now, or six months from now. You will hurt. You will feel painfully lonely. You might feel humiliated. You may even experience momentary regret or remorse for the decision.

And then -- one day -- you won't. Everybody will get over it. People will forget. You will forget.

Because, like John Lennon said, "everything will be okay in the end. If it's not okay, then it's not the end."
In fact, it is just the beginning.