As I was leaving the Hallmark Hall of Fame reception at 20th Century Fox' commissary, a studio guard wished me a good night to which I replied, "I can die now, I've met Betty White."
You have to understand that I grew up knowing about Betty White, though my earliest recollection of her was as a TV personality, not the wonderful actress she is as well. The Betty White I knew and adored alongside most of America was a ubiquitous panelist on game shows, did TV commercials and occasionally filled in as host of The Tonight Show and other talk venues.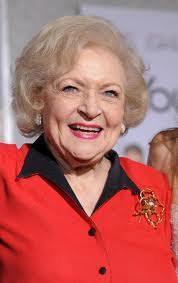 It wasn't until they were casting The Mary Tyler Moore Show in the early seventies that her career took off like a rocket as she approached fifty. They wanted a cooking show hostess who could evoke a warm, sunny personality on TV, but whose backstage demeanor was sassy and sexy. Someone like Betty White, someone said. Another replied, So why not get the real thing?
The rest is history as she joined the hugely talented supporting cast, won an Emmy and went on to further fame as one of The Golden Girls on NBC throughout the 80's. But, approaching 70, she didn't stop there and made countless TV appearances, most notably on ABC's Boston Legal. She became the personification of an irascible senior citizen and then, after a co-starring role playing Sandra Bullock's grandma in The Proposal she became one of the hottest tickets in town.
Now, at 89, she is still going strong on TV Land's Hot in Cleveland and with a starring role in the latest Hallmark Hall of Fame, The Lost Valentine, which airs Sunday night on CBS. What makes her particularly special in this role is that it's primarily a dramatic characterization. She plays a World War II widow, who makes a symbolic trip to the train station every Valentine's Day to wait for the return of her husband, missing in action in the Philippines and never officially reported dead.
Her life becomes intertwined with Jennifer Love Hewitt's character, a TV journalist who wants to do a piece about her and becomes enchanted not only with her but with Betty's grandson played winningly by Sean Faris.
That's all I'll say. Don't want to spoil the plot, but I have to hand it to Hewitt's business savvy as one of the executive producers not to mention her guts to share the screen with Betty White. The older actress is second-billed, but it became clear who the audience was interested in when the Hallmark executive, introducing the cast to the preview audience at the Fox Zanuck theatre, saved Betty for last and she, of course, received a standing ovation.
Her performance in the film was remarkable for the depth of emotion displayed. I don't often shed tears during a performance, but my eyes were soppy at the appropriate moment. What a revelation and how it showed this woman's range. And what a pity we were denied so many performances during the 1950's and 1960's.
And how terrific that this talented woman has had the good luck to be healthy and quick-witted at such an advanced age. Some of you may recall my article about Deborah Kerr, a beloved star and cinematic legend whose last twenty years were ravaged by Parkinson's disease and finally dementia, dying at 86. But Betty White, already three years older than that, was cracking to an aide summoning her out of the theatre to do a CBS interview after she'd already been seated, "I've been thrown out of better places than this."
How sharp she is, whether interviewed by David Letterman, Craig Ferguson or interacting with a longtime fan. Just prior to the screening, I left the wine bar reception to make sure I'd get a good seat. I'd noted that Hewitt was in the commissary with her boyfriend, but there was no sign of Betty White, who I figured probably hadn't come.
As I approached the theatre, I noticed a town car rounding a corner and as I peered through the window, I simultaneously heard someone on the other side say, "It's Betty White." So, I was fortunate to be front and center as she came up the stairs, already surrounded by fans. Suddenly she was right in front of me. When someone finished talking to her, I blurted out, "You are a national treasure." She smiled and shook my hand as I mentioned I'd met her late husband, Allen Ludden, the famed host of Password and GE College Bowl, who died almost thirty years ago. To that, she looked me in the eye and said, "He was a national treasure." What a dame, generously sharing the spotlight once again. And what a thrill it was for me to meet her.
Popular in the Community