By Grace Wong, WiSci STEAM Camp participant
Rwanda- a land of unknown possibilities that lies 8,996 miles away. There are now less than two weeks before I depart from Portland to Kigali. While I have traveled to other countries before, this upcoming trip is unique in that there is a purpose for this trip besides having fun and being cross-culturally enlightened, and that is STEM + Arts (STEAM).
STEM (science, technology, engineering, and mathematics) has presented challenges to me throughout my entire life. I have continuously been told by various forces in my life, whether it be my parents, friends or mentors, that it was OK for me to be bad at STEM and that it wasn't worth my effort. For a long time I believed them and in turn disliked everything to do with STEM, especially science.
Then I met Mr. D. He was my Science 1 teacher freshman year and he completely turned me on to science. The first few months were difficult and I spent many evenings crying over science homework. Mr. D, being one of the most patient individuals I have ever met, explained and then re-explained, balancing chemical equations with me, helping me to find study strategies that worked for me and most of all changing my attitude towards science. These past two years have certainly not been easy, and there have been many long nights that on occasion have ended in tears, but I have a new perspective towards science. My current motto is: I can do it.
This simple phrase may not make me the greatest scientist that has ever lived and will never make up for the years I spent telling myself that I could not enjoy or be successful at science, but it has changed my life tremendously. I now feel a passion for STEM that I could never have imagined. My 'I can do it' attitude has spread from science to math and even to technology.
I have always believed in gender equality and promoting women's leadership. Data has shown that women excel in STEM but many are not interested. For years I was a part of the 'STEM is not for me' boat but finally I am proud to say that I, Grace Wong, love STEM and believe that everyone should tell themselves I can do it. And they too may find themselves traveling to Rwanda to promote STEM.
As the days count down I am filled with emotion, primarily excitement, nervousness but also a little bit of fear. I am so excited for the cross-cultural learning and growth that I will experience. I am scared that I will get lost in the airport or be ridiculously inadequate compared to the other girls on our trip. I am nervous that I won't have any friends. The fact that I am even going to Rwanda hasn't really quite set in yet and I don't think it will until I get there.
If you asked me a year or two ago that I would traveling to Rwanda without my parents with girls that I don't know to work on STEAM, I would have said you're crazy! But the simple phrase, 'I can do it', has made this come true and I could not be more excited and grateful for this opportunity.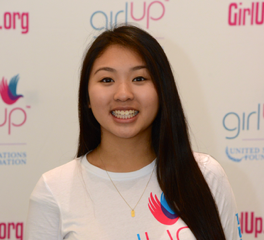 Grace Wong is a Girl Up Teen Advisor from the 2015-2016 class. She lives in Portland, Oregon and promotes empathy, equality and kindness.
REAL LIFE. REAL NEWS. REAL VOICES.
Help us tell more of the stories that matter from voices that too often remain unheard.