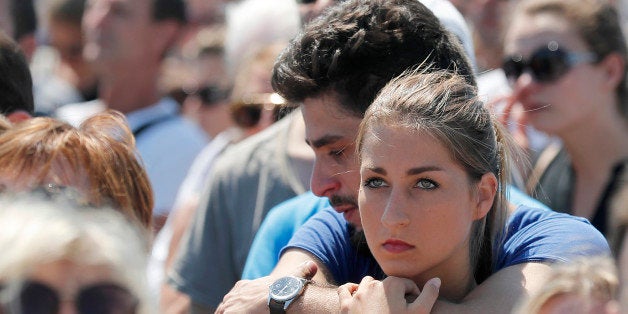 Yes, I am a press cartoonist! No, I will not draw about this topic.
I am sick of it! I've grown tired of seeing pencils that cry and flags that bleed.
When these barbarians got to Charlie, our reactions as cartoonists were, I believe, legitimate. Our colleagues and friends were cowardly killed, so we brought out our weapons, so pathetic and yet so strong. It was beautiful, spontaneous, touching...
At a certain point, one must know when to stop, and I am not convinced that my fellow citizens -- yes I am both a press cartoonist and from Nice -- have the heart to appreciate these digital or paper mournings one more time. And I am not speaking of those who take a risk in trying to find humor in a similar situation. I have a hard time understanding the practice of producing the official logo of carnage and then seeking to pass it on in posterity while these innocents pass over to the other side.
You will tell me, it's a tribute? Yes! And it's too bad, moreover, that anyone can "honor" and even harm (the profession and the rest) to such a degree. The thinking that goes "they kill us, we make them drawings," I think that it's becoming a bit ridiculous.
But it is hardly the most important thing, which is life or rather the lives of those that were taken, in Paris, Orlando, Brussels, Baghdad, Istanbul or Nice. For me personally those lost in Nice have another taste. The difference? Not much, but the disgusting taste stays in my mouth a little bit longer, that's all.
The feeling is uncontrollable, and very personal. Yet how to describe it? To see these images -- this carnage -- in this place that I know by heart, the ordinary for me, so synonymous with happiness, joy, and well-being.
The scene comes to me: Nice! The Avenue, the Castle, the Cours Saleya market, the Old City... It's my city! And then there's my "Promenade," my beach, my pebbles, my happy and sunny memories, my summer nights, my socca, my farcis, my motorcycle, my friends, my carefreeness, my childhood. And there you go, if I don't control myself, I'll almost go so far as to quote Dick Rivers for you.
Nice is the south, people speak a bit louder there, talk shit, laugh a little crudely. In the summer we go down to the beach in flip-flops, buying Pan Bagnat and Pissaladière. Coming back from the beach we see older people playing bocce, we all have a "pépe" who plays bocce.
Oh yeah, bocce... I love bocce.
So while we cry for the dead and everything else, powerless and still groggy, simply human, sharing the same vague feelings faced with the horror and barbarism, it seems to me that we must support each other, understand each other, united in pain and sadness.
I don't claim to be Nice, but Nice has always been a part of me and always will be...
This post first appeared on HuffPost France. It has been translated into English and edited for clarity
Calling all HuffPost superfans!
Sign up for membership to become a founding member and help shape HuffPost's next chapter