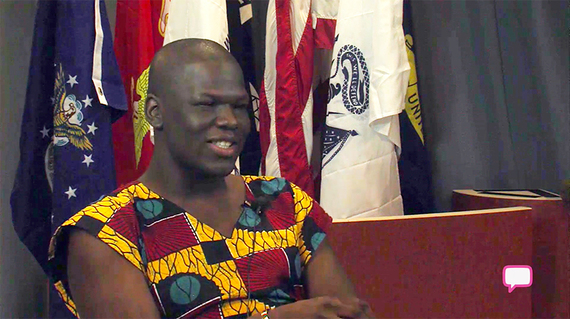 I'm From Driftwood is a 501(c)(3) nonprofit archive for lesbian, gay, bisexual, transgender and queer stories. New stories are posted on the site every Wednesday.
When Lester Mayers was 3 years old, his mother died by complications of AIDS. His father abandoned him and he went to live with his aunt. When he was 14 years old, his aunt passed away. Two weeks before his middle school graduation, his father showed back up in his life. Lester recalls:
Two weeks before I graduated, I met him for the first time in 11 years. And in those two weeks we went shopping, he took me shopping for shoes and we also went to lunch together. And I guess in those two weeks, he figured out who I was, which I am gay. And I guess, I didn't tell him, you know, and I've always been so open since I was 7 years old, I came out of the closet, and I've always had music in my voice, and I walk as if I'm listening to a beat.
After realizing his son was gay, Lester's father sent a text to his cousin that read, "I cannot have anything to do with a gay son, please don't contact me anymore." At just 14 years old, Lester was completely on his own. He started drinking, he dated a guy who mistreated him and wasn't going to school. But finally, it was going to school and finding passion that helped get his life back together:

When I got myself together I started to go to school more. I cared, I was in rehearsal, I wanted to perform at high school. I was in rehearsals until 7 at night. That's what I ate, slept and breathed, and that's what kept me alive. Rehearsal and theater and acting and writing poetry, and I look back on all that now, I'm thankful that I didn't give up because I have so much to offer.
And the best part, instead of repeating his father's bad parenting skills, he learned from the experience and is on the right track for being a wonderful parent:
And I pray that one day when I have my five children, my five girls running around, my five Toni Braxtons, that I will be a father to them. A mother to them. A parent. I will love them because they matter.
Calling all HuffPost superfans!
Sign up for membership to become a founding member and help shape HuffPost's next chapter