"Selma" had its New York City premiere on Sunday, the day after the Millions March, a civil rights protest in which at least 25,000 people walked through Manhattan demanding justice following the deaths of Michael Brown, Eric Garner, Akai Gurley.
While celebrating the film, director Ava DuVernay and the cast -- David Oyelowo, E. Roger Mitchell, Wendell Pierce, Omar Dorsey, John Lavelle, Stephan James, Kent Faulcon, Lorraine Toussaint, Andre Holland, Tessa Thompson and Colman Domingo -- stood on the steps of the New York Public Library, wearing shirts that read "I Can't Breathe." They held up their arms as a sign for "don't shoot."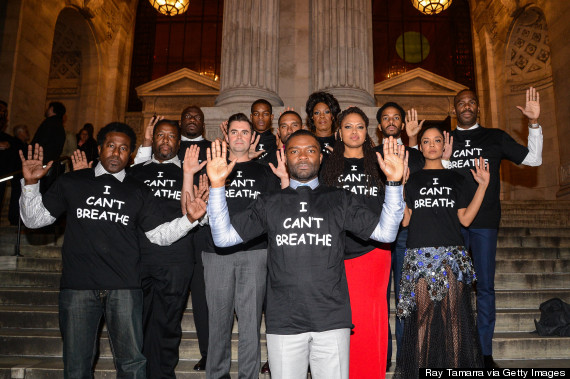 The shirts acted as a direct acknowledgement of the similarities between the events that take place in the movie, the 1965 marches from Selma to Montgomery, and police brutality against unarmed black men. Oyelowo, who plays Dr. Martin Luther King in the film, said at the premiere, "We couldn't have predicted what would happen in terms of what's going on, race relations-wise. We finished shooting in early July and by early August, Michael Brown had been murdered and now we're in the middle of the Eric Garner situation. I just think it shows ... We do not live in a post-racial America."
"Selma" is out in limited release on Christmas Day before a nationwide bow on Jan. 9.
Popular in the Community