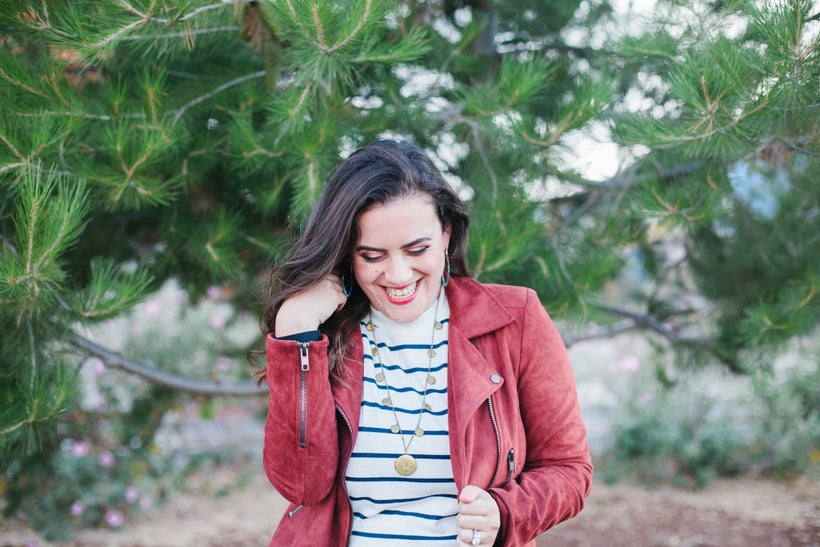 I am mom who is "in it" right now. Not that being a mom ever stops, but when you have a 3 year old and a 1 year old who you are with every day, man are you "in it." It affects every part of your day. It determines if you get to shower, if you get to go to the bathroom alone, how much time you have to get ready in the morning, how you shop (food shopping or clothes... it all becomes a challenge), and how you figure out a date night. I know, I'm painting a beautiful picture right now. I'm not saying it isn't worth it, or that I will miss it when they are older and in school and roll their eyes when I give them hugs. I'm just saying that right now I feel SO "in it" that knowing who I am without my children has sort of faded into the background.
I'm not really sure when it happened. Somehow I lost my sense of self. I used to pride myself on finding the time to go out with friends, go on dates, work out, get dressed etc. But all of a sudden I took a step back and realized that I no longer was finding the time for any of it. There is something to be said for knowing who you are that doesn't involve your job or the people in your life. Just you. Just who you are and what YOU enjoy.
I'm a personal stylist who helps women really focus on having clothes in their closet that they love, that represents them and makes them feel like the best version of themselves. So the fact that a few months ago, when I stepped into my closet I realized that I no longer felt like the clothes I was wearing were my style was kind of a big blow for me. That's an understatement. I was really beating myself up. How could I not know my style? It really threw me for a loop.
What I came to realize was that it wasn't that I didn't know myself or my style, it's that my style changed. I've changed. So it was time for a wardrobe and life refresh. I needed to check in with myself to ask why my clothes weren't serving me or representing me anymore. It all began with a closet clean out.
Let's be honest, it's always about so much more than clothes. This time it was about the fact that I wasn't taking any time for myself. I wasn't doing any of the hobbies I loved or taking the time to shop alone, or BE alone really. Like I said, I'm "in it". But I knew that I had to practice what I preached and that the outcome would be worth it. So I started from the beginning with a cleaning out my closet. While I've helped tons of women with their closets and wardrobes I have never had to go so far back to the beginning in my own life, but it was time. I needed a life and closet refresh. I wasn't the person I was when I bought my clothes and none of them were fitting me physically AND mentally anymore. There were three main factors that became apparent as I started my closet clean out.
I was holding onto clothes pre-pregnancy that at this point were 4 years old. Even though some of them technically fit, most of them fit my old, pre-kids body in a different way. Holding onto them was just a reminder that my body has changed. Even if I like my body now, no one needs to be put in old clothes to remind them they're body is changing. That just feels like an unnecessary game.
My lifestyle had changed. I used to work with clients one on one on a daily basis. Now, I do much more online work with my course The Confident Closet, and my one one one days are there, but much more limited. Having a wardrobe filled with pencil skirts and wrap dresses wasn't gonna fly at the park and on play dates. I needed to have more stylish clothes that could get dirty and I could run in. Kids are so darn fast!
My location and outside surroundings were really influencing my style. Maybe it's the former costume designer in me, but I am heavily influenced by where I live. When I lived in N.Y. I wore a ton of black, hats and scarves. When I lived in Connecticut, my style became much preppier and bright. Now that I live in California and it doesn't get as cold I find that I wear a lot more layers and dresses.
All of these combined forced me to realize that I needed to not only think functionally about my clothes, but to really ask myself what my style is now. I went to Pinterest, looked at fashion blogs, and designers that I loved. I allowed myself to be surprised and had no preconceived notions of what I thought I "should be" liking.
What I found was I knew myself better than I thought I did. By asking myself the right questions, and being loving and encouraging in the process, it actually became fun. I started to love getting dressed again. My clothes started to represent me and became a form of creativity and self expression. I'm not saying that I don't wear jeans and a t-shirt weekly, but it's a t shirt that I love and a pair of jeans that fit my body well. This mamahood thing is a journey and it ebbs and flows just like our style. Everyone gets up in the morning and has to get dressed, and giving up is not an option. I know that life gets busy and crazy and I'm so grateful that my clothes can be a positive part of my life and not a source of stress.
REAL LIFE. REAL NEWS. REAL VOICES.
Help us tell more of the stories that matter from voices that too often remain unheard.
This post was published on the now-closed HuffPost Contributor platform. Contributors control their own work and posted freely to our site. If you need to flag this entry as abusive,
send us an email
.