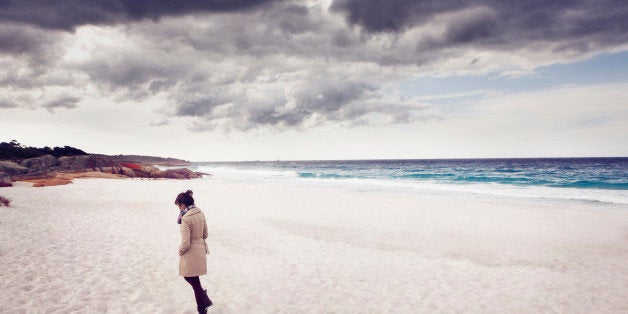 During holiday break, my husband and I took our three daughters on a wintery Cape Cod trail hike. They were resisting us. They were cold. Tired. Just wanted to go back home after our visit to the coffee shop. We always do this to them. We always make them walk. We're used to this kind of push back. And we're used to the same result. We can handle a little bit of struggle, because we know once those legs get some space to run and climb outdoors, the crankiness shakes off and they can't get enough. These trips are frequent and we often commit to them free from devices and distractions -- even the adults -- because we all benefit from being away. Even if it's just around the corner from home, it's enough to feel and appreciate the distance, the presence. This day went just as predicted.
After we made our way to the ocean, letting the wind whip our faces and the crisp salty air take our breath, we made our way around the backside of the trail. The sun was strong and direct. My middle girl, all ferocious and fast, was cruising ahead of us. When we opted to walk along the large rocks and jetties, she wanted to keep her pace. But she couldn't. I watched as jumping from rock to rock became unpredictable. She had to steady herself and assess each move. She had to decide where to slow down and when she could open up a bit. At first she was frustrated, her one reliable speed was failing her. But I watched as she got her rhythm, walking and climbing sometimes, choosing to go over or under or around. Sometimes she needed help and sometimes she slipped and had to get up and try again. I couldn't help but think of the metaphors seeping into this fiery girl, the lessons of life being taught to her by the wind and rocks.
Just after, we found a sandy, sunny reprieve and my oldest daughter ran up and scooped my hand into hers. She's quiet and had been walking along with us for some time in silence. I feel her growing every day -- up and away -- so I love when she comes unprompted and reaches for me, just like this. She has questions. And they come pouring out: Who? Why? When? She's looking at the water and the sand, the rocks and the trees. She's feeling her divine place. She begs to know what I believe. It's no mystery they only ask these questions when we're out here, when we're away from the things, the machines and messages, that are supposed to link us together. I believe in all of this, I tell her. I believe in living right here, with her hand in mine, and feeling the sun through the sting of the cold. She leans her head against me and I listen for her exhale.
I come here for answers too. I speak to the stones, pressing their sandy surface against my lips and tossing them into the tide as they wash my worries and share my wishes with the sea. I ask the sun to radiate through me, to fill me, so that I can shine out and fill others. It is the cleanest charge I know. At night, I feel the moon in my throat, buttery and whole, and I ask that my words come directly from that pure source. I want my girls to know this too. I want them to know which stick to lean on and which one will snap under their pressure. I want them to find their footing high in a tree, understanding what is certain and safe is up to them, that their bodies will tell them the truth if they are brave enough to listen.
I want them to nurture the space and the distance and each path. To create places to wonder and challenge, to bow and offer -- to trust. Only then, when we touch it all, breathe it in, feel it -- both the sharp rocks and the warm sandy corners -- can we begin to understand, begin to see our true connection. Begin to know the source of our power.