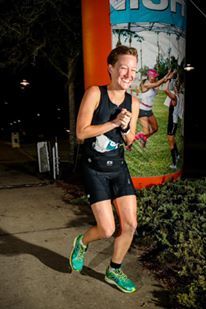 The air was buzzing with thick, nervous energy, though it may have been the impending lightning and the light rumble of thunder in the Naples, FL sky. Ironic, because local news stated that it was the first time in weeks that the beach city was projected to get rainfall, much less the 11-20 mph average winds and thunderstorm that came with it.
The irony stems from the fact that out of all days, it was HITS triathlon series' half and full iron races. The half iron distance race consists of swimming 1.2 miles, biking 56 miles and then running 13.1, totaling 70.3 miles. The full iron is double the amount: 2.4-mile swim, 112-mile bike and 26.2-mile run for a grand total of 140.6. Yours truly was scheduled to participate in her first full iron, and I would be damned if any part of the race was cut short due the inclement weather. There was too much money spent, too much time put into this and too many sacrifices made for a cancelation to occur.
While I and hundreds of other triathletes gathered on the beach, we received notification that the swim was indeed not cancelled or cut short. My excitement was barely containable as a grin leapt onto my face, hurting my cheeks. After the go ahead, a mass start of all athletes proceeded toward the 65-degree water.
With my feet no longer touching the sand, I proceeded to swim in a freestyle motion. The sky was a dark grey and the water was extremely choppy. Turning my head to breathe, I swallowed two gulps of salty water. My throat burning, I began to breaststroke, noting a building on my right hand side.
Minutes later and legs slightly burning, I looked again to the right to spot. The building was still there ― I hadn't moved. Panic settled in, and I switched back to freestyle, then breaststroke, head out of water freestyle, and, desperately, doggie paddle. More gulps of water ensued, I still wasn't moving, my goggles were foggy, and there were people all around me.
Right then and there, I wanted to quit. Finishing a mile swim only to proceed back in the water to do it again was not worth it to me. "If I stop now, this could be over," I thought to myself. "It would be so easy to get out of the water, quit and go home." Interrupting my thoughts was a lifeguard on her board: "Miss, do you need help?"
I responded, "If I hold onto your board to catch my breath, will I get disqualified?" When she smiled and shook her head no, I held on for about 30 seconds, coughing and finally calming down.
As I started to swim away, she shouted, "You got this." Those three words, though simple, did wonders for my wavering faith. I flashed back to a moment about three months prior during a bad 70-mile bike ride. It was windy as hell, I was going too slow, and because my bike light went out, I tried calling a few people to pick me up. No one answered, resulting in me calling an Uber to drive me to my car in the dark. Struggling to put my bike in the driver's trunk, I then proceeded to sob. Finally back at my car, I drove home, unloaded, showered and went to sleep, not even able to drive to the grocery store and eat because I was so mentally and physically drained. That day, I told myself I could also quit, and that it wasn't worth it. I could walk away, and it would be so much easier.
Flash forward to race day, where I clearly didn't take the easy way out. My family was there and my coworkers would be waiting to hear my results. I pummeled through, hearing Chance the Rapper's "Angels" in my head. Gathering a rhythm to the beat, I made my way to shore, stomach sloshing with seawater.
Proceeding back into the water for the final mile swim, I felt slightly optimistic. "Halfway through," I thought. The back of my neck burning and chaffed from my wetsuit, I rounded one buoy, and steadily made my way to the others. Right stroke, left stroke, right stroke, breathe, spot.
Hearing a roaring sound that sounded like applause, I stuck my head out of the water. It was the lightning alarm. The rain became stronger, and lighting flashed around me. I pumped and kicked my legs harder, pulled more water with my strokes, and made my way towards the last two buoys, my head sticking out of the water every hundred yards.
Finally onshore and telling the volunteers that I wanted pizza (true story), I jogged to the transition area. I made it by the skin of my teeth ― athletes were getting pulled out of the water on jet skis due to the lightning. I made it just in time.
After volunteers pulled off my wetsuit, I began to change into my other gear, taking my time yet moving steadily as I prepared to bike 112 miles. I was smiling, energetic, and ready to go. Big Sean's "Bounce Back" played in my head as I gingerly biked down the slick, slippery road.
The rain let up for a bit and the sun shown through. This was short lived as I soon became drenched with water for about half the ride and winds started picking up. I was diligent with nutrition and water and even stopped at the special needs station halfway to change out my soaked soaks and use the restroom. Yet nothing could have prepared me for the painful downpour of rain accompanied with winds towards the end. I was cautious ― this wasn't an Ironman branded race, and was instead very self supported. If I were to get hit by a car on the open course, injure myself or have a malfunction with the bike, help probably wouldn't arrive for hours. The thought of me unconscious on the side of the road was extremely frightening ― I gripped the handlebars tighter, turning my knuckles ghostly white.
The last five miles were the worst. The wind seemed to have picked up, and I was only biking at 11-12 mph. I finally arrived at the second transition area, shaking from the cold and numb in both my hands and feet. I tried racking my bike, but couldn't seem to feel my hands and get them to stop shaking. The volunteer allowed my family to come into the transition area, usually a no-no for races. Later, I learned he told my mother I didn't look so good, resulting in her scouting hospitals nearby. I probably didn't ― I was covered in goosebumps and was told I was very pale. "Get her to laugh, get her blood flowing again," he said.
My mother was trying to be cheery, but I was too disoriented. "You're breaking my heart, Natalya," she said. My brothers and their girlfriends held signs and were trying to make me laugh. Although I chuckled, I was a machine. Bike cleats off, dry socks on, run sneakers on, nutrition, bathroom, Vaseline, etc. I put on my brother's jacket and ran the first three miles, starting to feel my hands and feet again. "Show me your titties!" My brother Connor said, jumping out of the bushes. The look on a passing triathlete's face was priceless. I started laughing, and laughed even harder when Connor's twin Liam honked a horn and yelled, "Spring Break '96!" I handed the jacket back to him as he sat in my mother's minivan with "Eye of the Tiger" blasting.
I was alone. I moved steadily, smiling and saying words of encouragement to others. Running was my strong suit ― I felt confident again. That is, until the sun set.
"What are these?" I asked as a volunteer handed me a tiny flashlight on a string. It was for the dark course, which they informed us was lit. Upset, I held the tiny light, trying to navigate my way on the slightly uneven sidewalk, stopping at the booths for liquids. It was getting cooler out, and I was ill prepared. Shivering slightly, I made my way to the transition area halfway through the run. Swallowing Aspirin and grabbing a poncho from a volunteer, I hugged my arms for warmth and proceeded to jog for the remaining 13.1 miles.
The remainder of the run was a disoriented blur. I shuffled by with about a 12:35 pace, fueling at aid stations. A few of the stations were out of plain water and even volunteers, causing triathletes to serve themselves and have questions unanswered. As discouraging as this was, I kept on.
I now had a mile and a half to go. My feet were swelling, causing a bit of pain. I wasn't sure where my family was, and wanted them so desperately to see me at the finish line. I slowed down to a speed walk and breathed hot air into my poncho, stooped over and rubbing my hands together to stay warm.
Hearing my name, I paused and looked around. I heard it again, but it was difficult to decipher where it was coming from. Walking forward, I saw my mother's van and my siblings. She ran out, covered me with the jacket, and I walked to the finish line. Pausing, I took off my jacket, adjusted my bib, and was ready to walk through. This was my moment, and I wanted to savor every single bit. My name was announced, the medal was placed around my neck, and I climbed (barely) into the heated van. "I still feel like I need to do more," I slurred, out of it. "No, Natalya," my mother quickly responded, driving off to the hotel.
That shower was one of the best showers to date. Two slices of pizza and a bowl of pasta later, I was surprised with balloons, flowers, a card, and triathlon themed bracelets from Alex and Ani. Sleep went pretty well, albeit waking up at five in the morning to eat two more bowls of pasta.
The next day was the award ceremony - I placed first in my age group. It was confirmed later that the two other girls in my group either dropped out or did not show. My heart aching for them, I was also shocked that I was the only one who surpassed the horrible weather among the difficult distance.
Following lunch with a friend that drove up to see me, we headed home. There, exhaustion hit as I slept in and out for two days straight and watched Netflix, unusual for a girl who doesn't watch tv. Back at work, I was able to walk without much stiffness. The swelling in my cheeks and feet went down. I was surprised with a cake, decorated desk, and tons of hugs.
It is currently a month later, and I've only exercised twice in the form of a yoga class and three mile run. Not for lack of desire, though - after wrapping up the process of decluttering my apartment and finishing a book I was reading, I'm ready to exercise on a regular basis before training for the Chicago Marathon.
The six months of training for my ironman distance consisted of late nights, early mornings, two-a-days, learning what the word "diet" meant (ugh), long hours training alone, dehydration, blisters, chafing, saddle sores, bug bites, bee stings, horrible tan lines, tight muscles, cramping up, fatigue, tons of preparation, foam rolling, missing out on social events, never-ending meal preps, countless amounts of laundry, and mental exhaustion. Yet, it was worth every second.
I'm proud to finally cross this off my bucket list, and I can't wait until I do another one. 140.6.