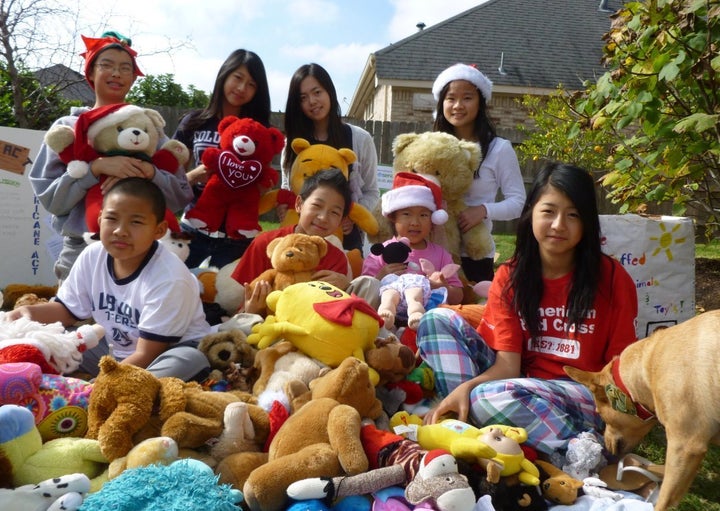 This is part of our new series "Gen: Change," in partnership with Youth Service America, featuring stories from the 25 most influential and powerful young people in the world. Click here to read more about Grace and her amazing story.
My parents were both born and raised in poor villages in rural China, always struggling for enough to eat and the money for school supplies. Although they now hold PhDs and work at Baylor College of Medicine, they have never let me forget my heritage. I've grown up eating rice and vegetables with chopsticks and celebrating Chinese New Year by attending festivals in Chinatown -- regardless of whether it was a school day. When I visit China, it seems like second nature to switch from English to Chinese, to spend my days and nights immersed in the culture and the language.
Sometimes, I catch myself thinking in Chinese.
May 12, 2010. "We estimate about 10,000 people were killed in this catastrophe that hit Sichuan, China." The first thing that registered in my mind was that the reporter butchered the Sichuan's pronunciation. Then came the realization that if what he had said was true, something bigger was at stake.
I usually heard about earthquakes and tsunamis in the impassionate texts of my history books or the monotonous words of my teachers, and I was never able to link their words with the all-too-real death and destruction I was now seeing on the screen. The sight of mountains of debris that had once been buildings threatened to overwhelm me, and the knowledge that there were people buried underneath was almost too much for me to handle.
When the reporter interviewed a survivor, I didn't listen to the voice of the translator, but rather the man himself. In trembling Chinese, he described the sensation of the world falling down around him, and his fear for his wife, who he had not yet found.
This was the first time I had felt such a personal connection to a disaster, and with it painted in gory detail on a color screen, I found that it was impossible for me to forget.
The next day, I asked my classmates about the earthquake, desperate to find someone to share in this all-consuming grief. No one understood why I was so devastated, and few had even heard about the earthquake. After all, it had happened halfway across the world, and the news hadn't yet reached anyone in our small town.
My indignant young self decided that everyone had to know about this, and that, more importantly, we all had to do something. The next morning, our entire family got up early to make an informative newsletter and create donation boxes. The first day, we collected $84, an enormous sum for a 12-year-old girl. Eighty-four dollars could cure all the world's ills, I thought to myself, feeling smug.
The next day, we printed 50 more copies and took our donation boxes to the Chinese community center. The following week, my siblings and I talked to our schools' principals. In the weeks that followed, we signed a third-party agreement with the Houston chapter of Red Cross, made presentations in our local afterschool and made bookmarks using our own art to sell in various locations to raise money. Within three months, we collected more than $6,000 dollars for the victims and made three more issues of our newsletter.
Three months after the earthquake, my parents arranged a trip for our family to meet the earthquake victims in China and to visit the site ourselves. We brought our collected donations as well as copies of our bookmarks to five children who had lost their homes -- and, for some, family members -- to the earthquake in Dujiangyan, Sichuan.
Meeting these students was a life-changing experience for me. Their gratitude and positive attitude despite the disaster motivated me. Although they had lost so much, they were still working hard, not only to make ends meet, but to do well in school. For them, English was a required subject, and weighed heavily in the most important test of their lives -- the college entrance exam. However, they had no access to any materials in English. While I had a thousand different ways to access English books, they had none. With this experience and knowledge, I was determined to do more to help them. When I came back from Sichuan, China, I wrote my very first grant to propose collecting and sending books to students in Sichuan. The proposal was funded and my siblings and I collected over 1,000 books to send to the students.
It was then I decided that this wasn't just a hobby or a fun thing to do, but rather something I wanted to continue for as long as possible. That year, my siblings and I officially formed We Care Act, a nonprofit dedicated to helping kids across the world recover from disasters.
When Hurricane Ike struck Galveston, we organized various drives to collect books, jackets, and more, and recruited other students both locally and nationally to help. My siblings and I delivered a full van of items to two elementary schools in Galveston just before Christmas in 2008. The knowledge that Christmas for these children would bring warm clothes and new books to read was both motivating and heart-warming.
After the 2011 earthquake and tsunami in Japan, we started a new project: Letters to Japan. By posting it on the web and by mobilizing everyone in We Care Act, we received over 6,000 letters and origami cranes and sent them to the children in Japan. In the meantime, we collected and sent over 1,000 stuffed animals to children who lost their homes in the tornado in Joplin, Missouri.
Now, We Care Act has engaged over 20,000 people from 17 countries and helped over 14,000 kids recover from natural disasters. I never would have anticipated how much our organization could grow from just a small, family-run charity to an international 501(c)(3) nonprofit. Even now, it's difficult to imagine how far we've come -- and how much further we have to go.
Through my work, I've realized that service is power, but more importantly, that service is empowering.
Support HuffPost
The Stakes Have Never Been Higher
Related
Popular in the Community