"The hardest part is being afraid. Afraid that people are going to find out the truth. [But] once you stop being afraid you're free." Steven Carrington, Dynasty circa 1987
Since publishing "The Woman In Me" a little over eight weeks ago, my courage and confidence has grown by leaps and bounds. Admitting my truth and embracing myself has been so powerful. It's freedom. Being brave enough to be myself on the street when I'd only previously done so (without fear of judgment or retribution) behind closed doors has been life changing; liberating. I've noticed that I face my life differently. It's as if I take a breath and react in a more grounded less frustrated manner than previous. If you can believe it (because sometimes I still can't) I'm less hard on myself.
It was a shock to me the day I realized I wasn't getting angry in a situation when I would normally get angry. It began to sink in that by accepting, embracing and exposing my true self to the world I had become more relaxed in navigating the ups, downs, twists and turns of my life. I had released myself from my self-made prison of fear and shame. Gilded as it may have been inside with all its pretty things (art, champagne, high heels and shiny pieces of jewelry) it was still a prison. I had to get out of my own way, spread my wings, fly. I could no longer be contained behind the wall of my home.
On a recent Friday I paid a visit to the Gucci store on Fifth Avenue. It proved to be quite a positive experience. I don't know how many of you have seen the new studded leather navy (or red) and white striped platform pumps from Gucci's SS16 collection, but I have personally been obsessed with them since I first laid eyes on them in the pages of Harper's Bazaar and Vogue. They're art -- sculptural; stunning. Said visit was about seeing the shoes in person in all their beautiful, full-color, 3-D glory.
When I stepped off the top step, having arrived at the third floor of the Gucci store, I saw them sitting on a table. All the available color options from tan to green to silver & black to the aforementioned striped, which has pointed studs and a feline head detail. They were inviting me to come over and look at them, touch them. Never one to be content with admiring beautiful things from a distance I walked myself straight to that table and all but Carrie Bradshaw'd a "Hello Lover" at them all. Is it cheating if you've got hearts where your eyes should be and you've yet to truly commit to loving one more than the others even if you already know you like one more than the others?
Anyway, there I was in Gucci and a sales associate, Sherice, was asking me if she could be of assistance. Instead of just admiring the shoes I told her I wanted to try on a pair. She didn't blink an eye as she asked me what size I wear.
"I wear an 8 in men's," I responded.
"That's a 10," she replied quickly, which translates to a European 40.
I told her I was particularly drawn to the navy and white striped platforms. She promptly went to the back in search of my size.
Sadly, they didn't have the navy and white striped in a 40, but they did have the red and white striped. From the display we took the shoe for my right foot. I tried it on while she went in search of its mate. It fit perfectly. I was Cinderella...without the prince (as I'd put the shoe on my own foot). I bobbed up and down around the shoe salon admiring the reflection of my foot in that shoe in all the mirrors. Then I noticed that all the sales associates in the room were admiring too. They began to remark overwhelmingly with positive comments. Not "to-make-a-sale" comments either. Just positive, uplifting, judgement-free comments.
Ava, another sales associate, chatted me up while Sherice was in the back searching for the mate to the shoe I had on my foot. I began to tell her about my current journey, about the above mentioned piece I had written and the favorable response to it. She listened with total interest then told me if I decided to buy the shoes I had to wear them out into the world. She applauded my co-workers for their support and applauded me for doing that little ol' thing of finally being myself in public.
Those shoes nearly screamed "I belong on your feet! Buy me!" Every sales associate I encountered in Gucci that day was so supportive of me and thrilled when I chose to make the purchase. I couldn't have felt more at ease in a group of strangers.
Even more interesting was the fact that I initially wanted the navy and white striped (which was more subdued), but it was the red and white striped that truly made a statement. There was no other option. The navy and white striped could have been ordered for me, but I knew, as did everyone else watching me walk and smile and laugh, that it had to be the red.
Ava was right about wearing them out into the world too. They're too beautiful to keep hidden behind the walls of my apartment. I didn't know when I'd find the courage, but I knew I would, just as I'd found the courage to walk out into the world wearing eyeliner. I had to. I wanted to.
Two days later I was wearing those shoes at work.
It was a beautiful spring-like winter Sunday. I wore those shoes for every hour of my 6 hour shift. I opened myself up to the possibility of stares and laughter and even name calling. My hackles were up. I was prepared...and I wasn't.
What I received was a generous outpouring of positive support. Comments ranging from, "Beautiful" to "How can you walk in those?" to "You are giving me life right now!" resulted in a dialogue of sorts, with no conversation or question shaded negatively. I knew I had chosen a safe space in which to experience my grand initiation of wearing unmistakably women's shoes in public, but I wasn't prepared for the feeling of joy that flooded my heart. I received hugs of encouragement and watched as faces masked with astonishment transformed into smiles. I can't begin to express my gratitude for the support of my co-workers. I thankfully work in an industry that embraces all of us -- human beings. And I have a set of core friends who support me no matter what. I basked in that encouragement and support; breathed it in; let it fill me up.
There were a couple of obvious (to me) straight men that I passed while walking through the building. I heard them laughing behind me. I'm not sure if the laughter was about seeing a grown man in a pair of women's platform shoes or if it had nothing to do with me at all. I wasn't necessarily the punchline to a joke. I just presumed I was. Regardless, I kept my shoulders back, my head held high and walked, with nary a teeter, back to my office. If they were laughing at me then that's their own insecure shit rearing its ugly head. I rocked those shoes with ease, grace and style.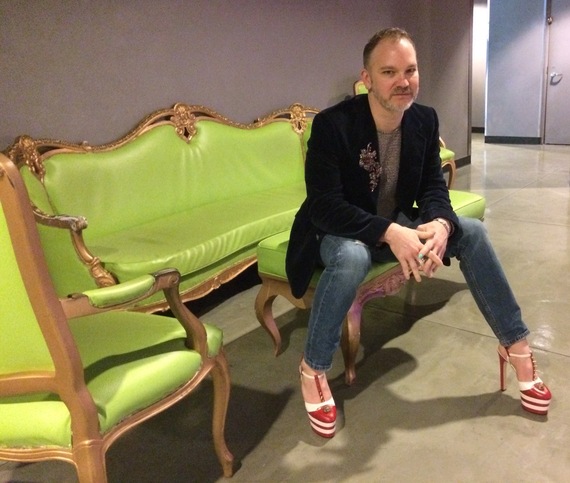 I don't need to tell you how important it is to surround yourself with supportive people. What I may need to remind you of though is how important it is to be supportive. We're all in this life together. We have a choice: stand together or tear each other down. "United we stand, divided we fall."
The title of this piece comes partially from the song "Bird Set Free" from Sia's new album This Is Acting. The album is filled with songs and lyrics that empower me, feed my courage and make me want to be even more brave. It has become the soundtrack to my current journey. My walk has become a strut of confidence and her album is punctuating every step with positivity.
I'm still afraid but my fears are weakening. I'm freer. I'm supported. I dared to be me and it's paying off. I'm surviving my own demons. You might even say I'm kicking them in the ass. I love myself more.
Remember that line from The Goonies, "It's our time down here."? Well, "down here" is right now, and it's my time right now. It's all of our time right now. Be yourself...confidently. I dare you!
I'm here. I'm queer. I'm gay. I'm homosexual. I'm gender expansive. I'm feminine. I'm masculine. I'm pretty. I'm handsome. I'm alive. I'm a bird set free. I'm unstoppable. I'm me.
Popular in the Community